What We Know About Barron Trump's Relationship With Tiffany Trump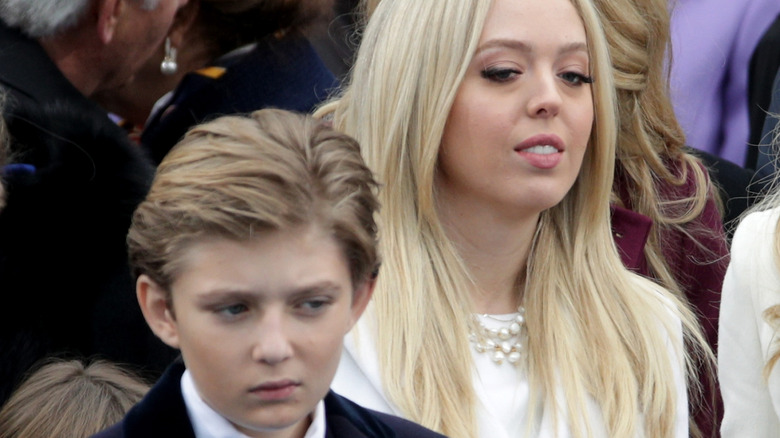 Alex Wong/Getty Images
The names Donald Trump Jr., Eric Trump, and Ivanka Trump seem to go hand-in-hand. After all, they're Donald Trump's first three children, from his first marriage to Ivana Trump, and they grew up together in New York.
His second two marriages also brought children — or, at least, one child each. The former president's union with Marla Maples produced Tiffany Trump, and his current marriage to Melania Trump produced Barron Trump, the teenage boy who moved into the White House at age 10 and spent some of his formative years there.
During the Trump presidency, Tiffany and Barron seemed to linger in the background and were barely heard from. This was unlike their older siblings, who were often on the campaign trail, working as senior White House advisors, running the family business, or posting videos defending their father's actions on social media. 
However, it turns out that the youngest two Trump children, who seem to crave the least amount of fame, seem to have a great sibling relationship.
Tiffany Trump kept Barron Trump company at the White House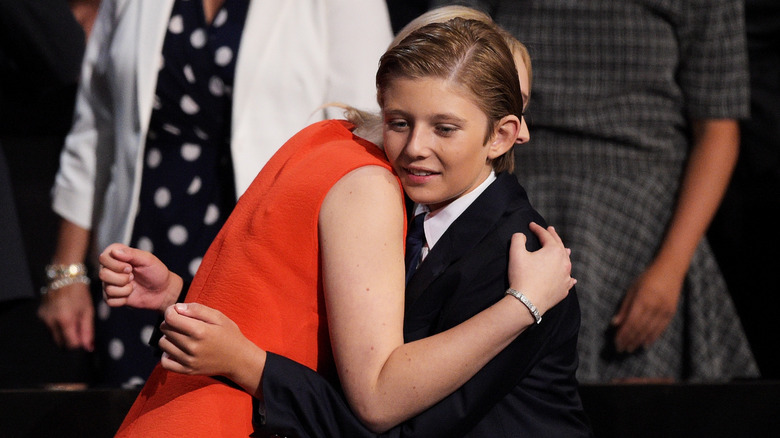 Jeff Swensen/Getty Images
Although Barron Trump got up and went to school each day at St. Andrews Episcopal School in Potomac, Maryland, he didn't have other kids with him at the White House, like Sasha and Malia Obama did when Barack Obama was president (via Town & Country). However, Barron did have his half-sister, Tiffany Trump, nearby.
Although Tiffany grew up in California with her mother, Marla Maples, after her parents divorced, she went back to the East Coast for college. Like her father and siblings, she graduated from the University of Pennsylvania, in 2016 (via Biography), and even posted photos of herself with her family, including little brother Barron, on Instagram when she graduated.
Tiffany then went on to attend law school at Georgetown University in Washington, D.C., so she was right near her family for the Trump presidency and often stopped by the White House to visit young Barron, according to South China Morning Post. The outlet reports that Tiffany was also frequently seen sitting next to Barron at events.
Barron Trump's big sis remembers his birthday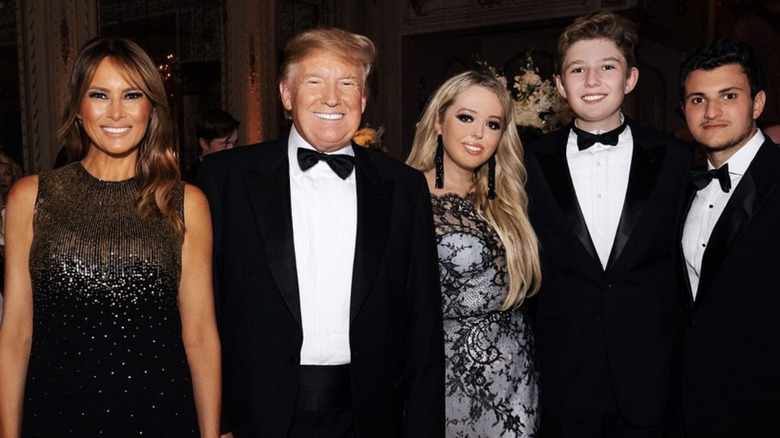 Tiffany Trump/Instagram
Although Barron Trump's other siblings seem to let his birthday come and go without a thought, Tiffany Trump remembers her little brother when his big day arrives each year. In 2020, when Barron turned 14, Tiffany shared some family photos to Instagram with Barron included, alongside a sweet message: "Happy 14th birthday to the best 'little' brother I could ever ask for! You mean so much to me, Barron, I wish you all the happiness in the world! Love you!"
The next year, when the Trump family was no longer in the White House, Tiffany remembered her brother once again with a birthday Instagram post. She shared an adorable photo of herself and Barron when he was just a little boy, alongside a giant stuffed Minnie Mouse toy. She added a sweet and simple message: "Happy 15th Birthday B! I love you!"
While Tiffany and Barron might not seem to have a very close relationship with their older siblings, they do, at least, seem to have each other as a shoulder to lean on.