Carmeon Hamilton Reveals How To Create A Cohesive Design Aesthetic
We may receive a commission on purchases made from links.
HGTV's "Design Star: The Next Gen" has served as the jumping-off point for interior design professionals, with a win often resulting in major success. In 2020, Memphis, Tennesee native Carmeon Hamilton secured her spot as the next big star in her field by winning the title of Design Star, catapulting her to fame. Since her triumphant win, Hamilton has seen great success in the design world as she's made a name for herself in households across America. In September, Hamilton's own show, "Reno My Rental," pointed cameras at her work in her home city.
Long before she made her television debut, however, Hamilton was on a different life path. After graduating high school, the young would-be design superstar headed off to college. She attended the University of Central Arkansas, where she intended to obtain a degree in the physical therapy field. Proving that she could do a lot with a little, friends at Hamilton's university often gushed about how nicely she was able to decorate her dorm room. They pushed her to pursue design as a career, a move that felt natural. "It felt like a perfect merger of all of my favorite things: Math and analytical aspects but also creativity," she told House Beautiful. "Which I had never been able to explore although I've been a creative my whole life."
Having anchor pieces of the same style holds it all together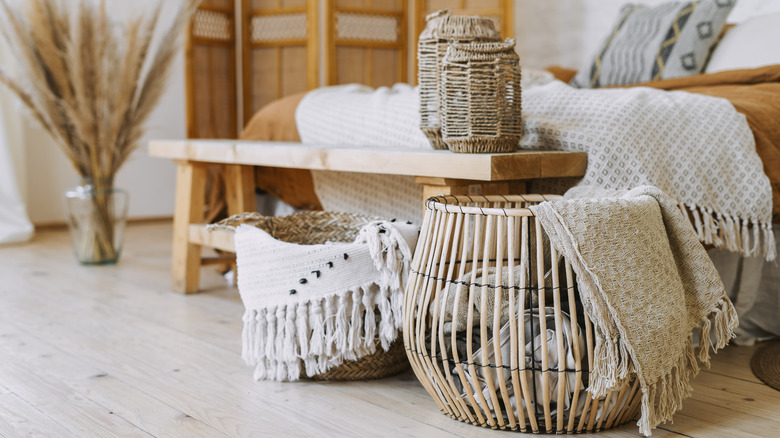 brizmaker/Shutterstock
Carmeon Hamilton maintains a blog on her website filled with her regular posts about interior design, and the blog is aptly titled "Cohesive Randomness." Coming from the queen of making it work, the posts are filled with design tips and tricks to help you embody the designer's immaculate aesthetics. In a post titled, "Design 101: How to Create a Cohesive Design Aesthetic," Hamilton dives into the details on how to create a cohesive look for yourselves. Hamilton doesn't keep any of her design secrets to herself as she maps out simple steps to follow.
To start, she writes in her blog post about the importance of streamlining your foundation. To Hamilton, this means that, regardless of how eclectic your style may be, it is important to have a clear aesthetic when it comes to the larger furniture pieces in each room of your home. "Having each room have a substantial piece in the same style will start the commonalities, i.e. cohesiveness," Hamilton says of this tactic. She cites modern vibes as an example and recommends finding a table, sofa, bed, etc. that aligns with the same aesthetic to lay the groundwork of your cohesive home interior.
Have some fun with your layers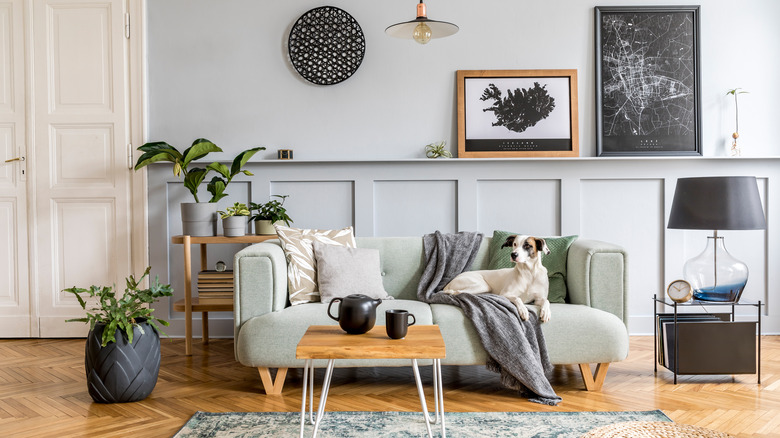 Followtheflow/Shutterstock
Once you've laid the groundwork with your larger furniture pieces, Carmeon Hamilton notes on her website that your smaller furniture pieces should be the statement pieces when it comes to style. This includes things like dining chairs, coffee tables, and dressers. This method can also help you save a bit of money in the design process, says Hamilton, as these pieces tend to run a bit less expensive than the larger staple pieces.
Once you've got your furniture pieces in place, Hamilton says it's time to have fun. Lamps, end tables, and accent chairs can all add a super special touch to a room, and, since these pieces aren't large, they can make a statement more comfortably than something on the larger side. The design guru does note the importance of having some recurring themes throughout your home to create the desired cohesive aesthetic and uses things like modern lighting, a black accent, or wicker furniture as great examples of things to repeat throughout your home.
Hamilton swears by these methods, saying, "These are tried and true methods that I use no matter if I'm creating for a client's space or for my own home." From a professional like Hamilton, this is advice that won't steer you wrong. Have fun, enjoy the process, and be sure to check out some episodes of "Reno My Rental" if you need more inspiration from the "Design Star" herself.