Here's What Blake Lively Looks Like Going Makeup-Free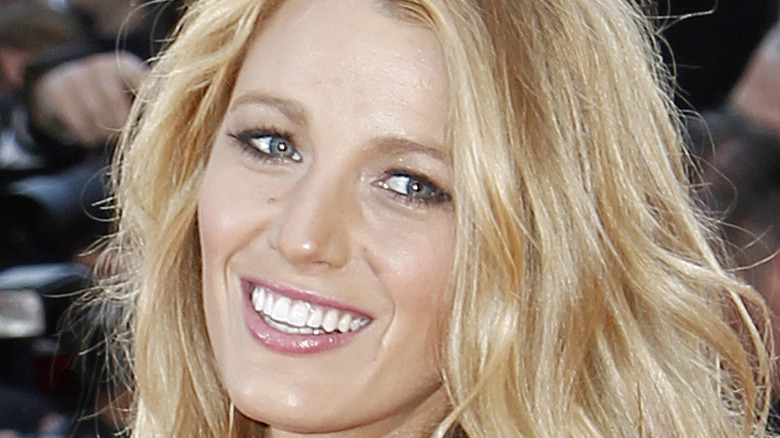 Andrea Raffin/Shutterstock
Ever since her breakout role as Serena van der Woodsen on "Gossip Girl," actress Blake Lively has become something of a fashion and beauty icon — both on screen and on the red carpet. 
She landed the role in 2007 at the age of 20 and played the perfect Upper East Side "it girl" for 121 episodes, until the show ended in 2012, per Nicki Swift. "Gossip Girl" made her a household name, which lead to roles in 2010's "The Town," 2018's "A Simple Favor," and 2011's "Green Lantern," where Lively met Ryan Reynolds, who is now her husband.
Despite her busy schedule as an actress, wife, and mother of three, Lively often shares glimpses of her daily life on social media. In 2017, she posted a now-deleted Instagram picture of herself wearing a full face of makeup, including a dramatic smoky eye, per BuzzFeed. Every bit the prankster as her husband, she captioned it, "no-makeup selfie." Yet, many people didn't get the joke and called her out in the comments.
But that doesn't mean Lively is afraid to ditch the makeup and truly go bare-faced.
Blake Lively went makeup-free for a new film
A case in point is the transformation that Black Lively shared on Instagram in January 2020 from the set of her movie "The Rhythm Section." The side-by-side shows Lively with a natural look in addition to another shot where she has dark circles under her eyes and a poor complexion. While you might be quick to think that the latter shot was the makeup-free version, but you'd be wrong.
While on "The Tonight Show Starring Jimmy Fallon," Lively talked about spending hours in the makeup chair to achieve this shocking transformation, according to Us Weekly. The goal? To make her look "a little rough," she said.
She wanted to set the record straight because there was confusion about the side-by-side shot. Some fans thought that the right picture was her before-makeup look, and some thought that it was the after-makeup shot. Lively found it funny that some people think she looks like the not-so-flattering post-makeup shot IRL.
This led Lively to talk about the "unrealistic expectations" for women when it comes to beauty, including how they're expected to wake up and basically look perfect without any effort. 
Can we get an Amen?