Inside The Marriage Of Bold And The Beautiful's Kayla Ewell And Tanner Novlan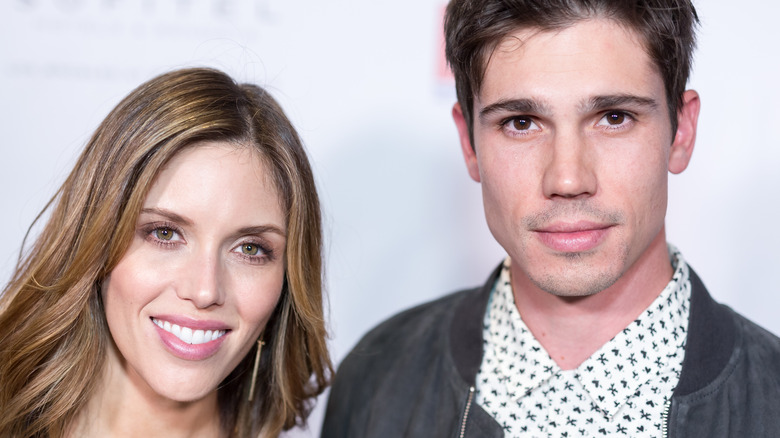 Greg Doherty/Getty Images
On "The Bold and the Beautiful," Tanner Novlan's character, Dr. John Finnegan, aka Finn, is now happily married to Steffy Forrester (Jacqueline MacInnes Wood) after a whirlwind romance that resulted in the birth of their baby boy, Hayes, before they ever walked down the aisle. In real life, Novlan is also a happily married man — to an actress who once appeared on "The Bold and the Beautiful," although that's not where they met.
Kayla Ewell played Caitlin Ramirez from 2004-2005 on "The Bold and The Beautiful" according to She Knows Soaps. Four years later, both Ewell and Novlan appeared in a music video for the band Sick Puppies and hit it off.
"It was my birthday, and I got a phone call to do a music video," Ewell told People. "I was with my girlfriend at lunch and she was like, 'It's your birthday and you got a phone call out of the blue to do this music video? I think you should do it!' I joke with Tanner that he was the best birthday present that I ever got."
Tanner Novlan and Kayla Ewell marry in a lavish ceremony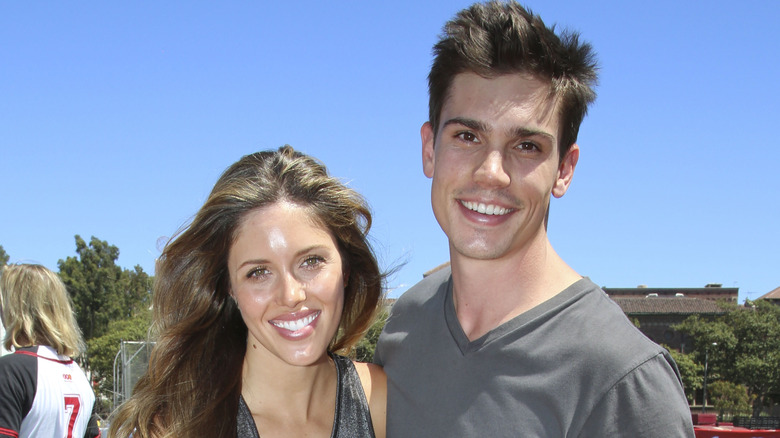 Rachel Murray/Getty Images
The pair dated for five years before they decided to take the plunge and wed, according to People. But on September 12, 2015, they made it official with 200 of their closest family and friends in attendance.
They also kept their ceremony sentimental and traditional, with the bride's uncle giving her away and Novlan not seeing his bride until she walked down the aisle. "It was really important for both of us to have that real moment," Ewell told People, with Novlan, who is known for being the "Liberty Bibbidy" guy in Liberty Mutual commercials according to Soaps In Depth, adding, "It's emotional."
The pair honeymooned in Belize and have been going strong ever since, and became parents two years ago when daughter Poppy Marie was born (via She Knows Soaps). They even got to reunite on "The Bold and the Beautiful" set when Ewell made a surprise appearance as a surprise character in 2020.
COVID-19 brings Kayla Ewell back to The Bold and the Beautiful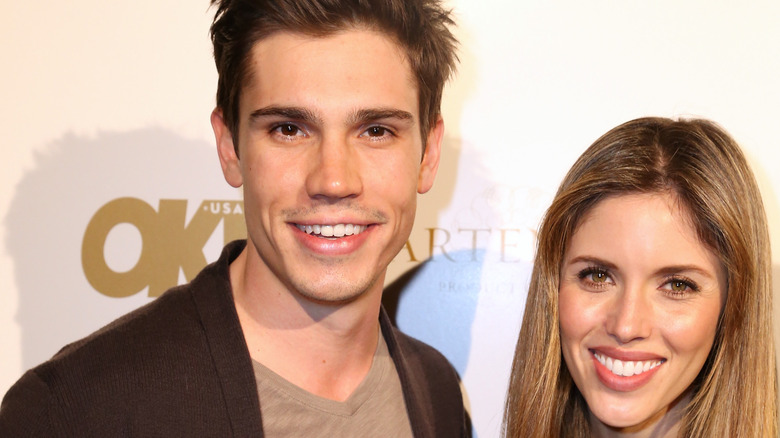 Justin Baker/Getty Images
Tanner Novlan and Kayla Ewell got to work together again when "The Bold and the Beautiful's" COVID-19 safety precautions brought her back to the set. The soap made some headlines after actors and crew returned to the set in the summer of 2020 after the initial COVID wave.
The soap chose to use blow up dolls for some simple love scenes, but for more intimate moments, it used performers' spouses and significant others as body doubles, only filming the doubles and dolls from the back, according to Forbes. That's when Ewell got to make her soap comeback as Steffy in love scenes with her own husband.
Ewell even took to Instagram to share a photo of the pair heading into the studio with the caption, "When Mom [and] Dad get to work together."
Novlan later told Soap Opera Digest that having his wife on set for his first soap love scenes was the best possible scenario. "For me, it's been great because your partner understands the industry," Novlan said. "For me, her having been on ['The Bold and the Beautiful'] before and getting some tips on what it was going to be like and then, on top of that, having her come in and be Jacqui's intimacy double, she enabled us to be able to do a lot of the storyline that we, because of the pandemic, would not have been able to play out."