These Foundation Brushes Will Make Your Makeup Look Airbrushed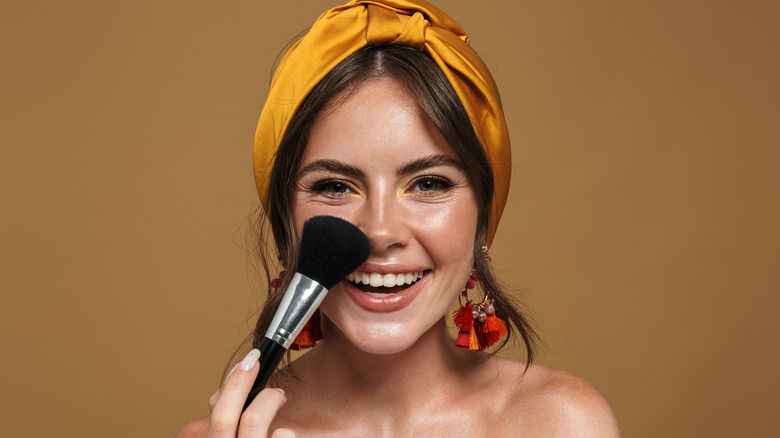 Dean Drobot/Shutterstock
For many of us, makeup is meditative: a relaxing process of glittery aesthetics and textures that make us feel like we're in a "Get Ready with Me" vlog. After a quick greeting to the imaginary (or real) camera — "Hey guys, welcome back to my channel" — we're ready to delve into the specifics of our routines. If we have a lot of time on our hands, we're bringing out the false eyelashes and multiple eye shadow palettes. But if we have an Uber waiting, a hasty touch-up is all we can afford. However, with almost any look, we need a base. Pick your fighter: BB cream, concealer or foundation.
If you picked foundation, you like a uniform base to work on. While it's important to be picky with the product you pick, a foundation is only as good as the tool that blends it. And while we love getting our fingers in the product, a foundation brush is unrivaled in giving your skin an even airbrushed finish. Regardless of the kind of product you prefer (liquid, cream, or powder), we've picked a few brushes that work hard to keep you filter-free.
These makeup brushes work with any kind of foundation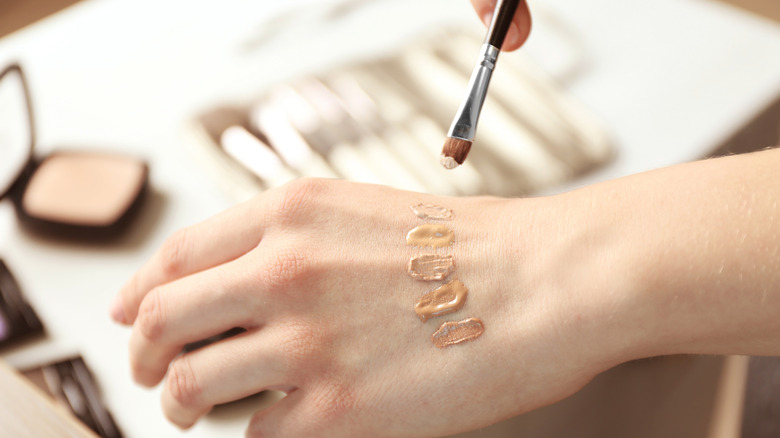 Africa Studio/Shutterstock
A liquid foundation is your best bet for an even layer, and the YSL Foundation Y Brush ($45) is a favorite amongst experts. Makeup artist Min Min Ma told Allure, "I love the aesthetic of the YSL Y-Brush and how easy it makes my job when doing base. I load liquid foundation directly on the bristles and apply it onto the skin in a circular motion. I can also apply foundation with my fingertips then buff it in with the brush." In general, a flat-top brush works well with most kinds of foundations, per Makeup, and you could also look to Mac ($37) or Fenty Beauty ($34) for an airbrushed look. The Real Techniques Makeup Brush ($9.99) is an affordable alternative for liquid foundation, too — it has 4.7 stars out of 5 on Ulta from 3,000 reviewers.
Two foundation brushes that do it all are the Chanel Foundation Blending Brush ($50) and the Shiseido Daiya Fude Face Duo ($40). The Shieseido brush has won awards from Allure for its multipurpose ability to work in powder, liquid, and cream foundations, while the Chanel foundation brush is a go-to for makeup artists. "This Chanel foundation brush is a bit denser and wider, but it really helps to apply a layer of foundation on the skin without wasting a bunch of product," Jenna Kristina, who works with Jasmine Tookes, told The Zoe Report.