Meet Beyoncé's Doppelgänger On Lookalike Love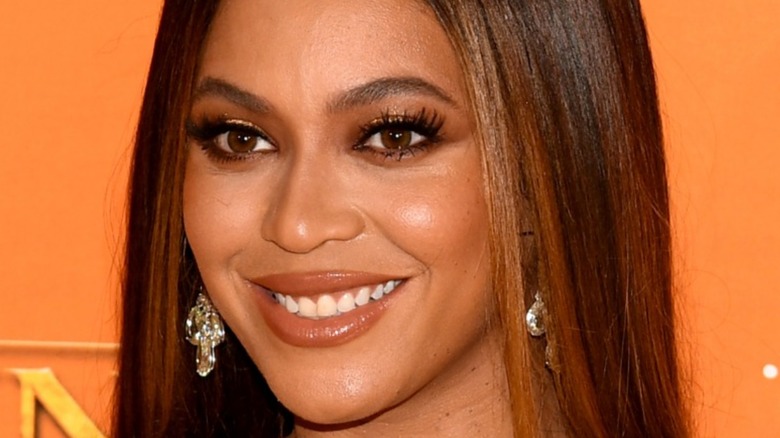 Gareth Cattermole/Getty Images
Reality star Yuriel Young, professionally known as Michell'e, channels Queen Bey's energy both on- and off-screen. Michell'e, who stars on Lifetime's "Lookalike Love," is Beyoncé's doppelgänger and is often mistaken for the iconic singer. She regularly posts convincing videos of her performing as Beyoncé on her social channels, which explains why her 92K Instagram followers are so invested in her journey. In one Instagram video, Michell'e re-created Beyoncé's intense dance routine from her Grammy award-winning Netflix concert documentary "Homecoming" (via Recording Academy).
According to Daily Mail (and her Instagram bio), Michell'e's number-one goal is to become the top Beyoncé impersonator. But imitating Queen Bey isn't her only modus operandi. The drag performer uses her platform to stand up for the trans community. In a November 2018 interview with non-profit In the Meantime Men, Michell'e spoke on her role as a transgender activist (via YouTube). "I believe the trans community needs unity," she explained. "We need to come together because neither one of us can do it ourselves. To come together means power. To have power, voices are heard. And that's how change is made."
Michell'e revealed how her time on "Lookalike Love" has impacted her as a performer.
What Michell'e wants fans to get from watching Lookalike Love
In June 2021, Yuriel Michell'e opened up to Hype Magazine about why she joined "Lookalike Love," and her response to the criticism she's faced online for imitating Beyoncé. "Honestly, [I had] no hesitation at all [of joining this show]," Michell'e explained. "The team is absolutely amazing. I feel like with what I do, I get a lot of flack online and things for, you know, me wanting to be somebody else and not really understanding the job. So, for me, [this show] was also an opportunity to let people know, like, the background and what goes on and why I do love what I absolutely do."
The reality series focuses on more than just Michell'e's experiences as a celebrity impersonator. It also highlights the effect of her demanding career and lifestyle on her relationships (via Daily Mail). A brief snippet from the trailer hints at Michell'e's frustrations with her partner at his absence, to which he replies that it "takes time" and "preparation," because it's hard to keep up with her expensive lifestyle (via People). Living in the spotlight comes with its ups and downs.