How Ivanka Was Crucial In Eric Trump's Proposal To His Wife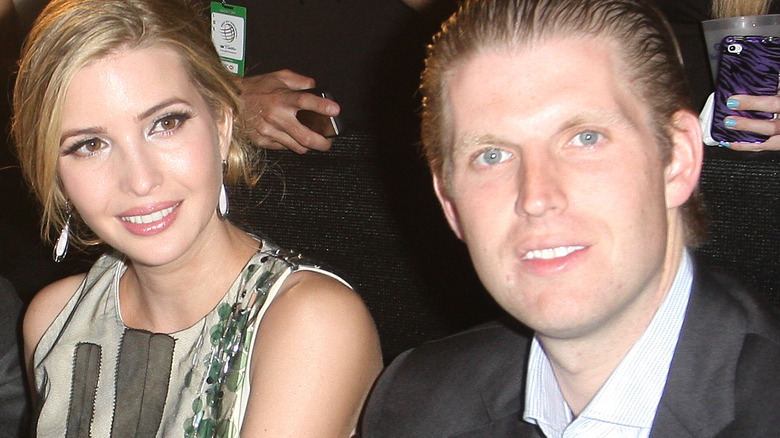 John Parra/Getty Images
The lives of the Trump children have always been lavish. Although Donald Trump grew up in an upper-class neighborhood in Queens, New York, in a large home filled with siblings and a domineering father, he treated his own children like royalty when he became a household name as a real estate developer, reality TV star, and New York City gossip-column headliner.
Trump Tower became a place for opulence, as the world could see on June 16, 2015, when he descended a golden escalator to announce a candidacy for president that would change the world.
The former president's three children with his first wife, Ivana Trump, have never wanted for anything material, with daughter Ivanka Trump learning better than her siblings how to market a brand just by putting one's name on it. 
When it was time for her younger brother, Eric, to propose to his longtime girlfriend, Lara Yunaska, a producer at the time for the tabloid news program "Inside Edition," it was Ivanka's branding that helped him pull off the proposal just right.
Ivanka Trump supplied the ring in a very Trump way for Eric's big proposal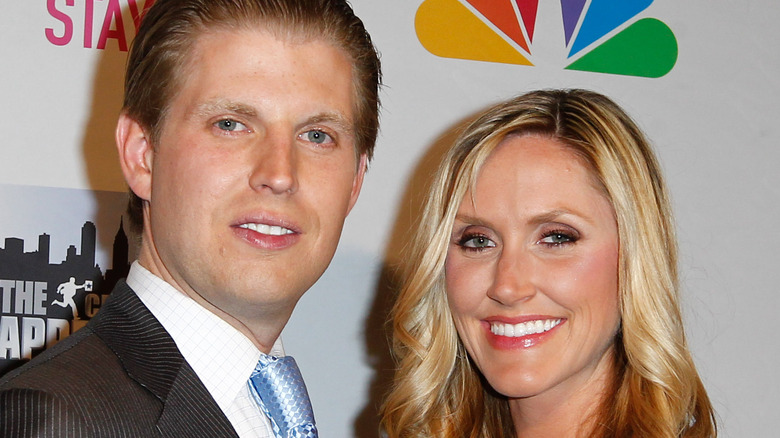 Debby Wong/Shutterstock
When Eric Trump and Lara Yunaska got engaged on July 4, 2013, it became New York gossip fodder the next day, making its way to The New York Post's Page Six as Trump family stories have for decades. 
According to Page Six, Eric proposed in a most lavish way in Westchester, New York, at the Trump Seven Springs estate in Bedford. The pair was out walking their dog on the grounds, and Eric had a bucket of champagne with two glasses ready on their route.
And the ring? Well, it came from the Ivanka Trump Fine Jewelry Collection, of course, with Eric keeping it all in the family — including the family business. Since then, the Ivanka Trump Fine Jewelry Collection has been shut down. In 2017, CNN reported that Ivanka, who sold rings for nearly $1,000 and diamond necklaces for nearly $20,000, decided to focus on more accessible and affordable costume jewelry.
Ivanka Trump also supplied the flower girl for the wedding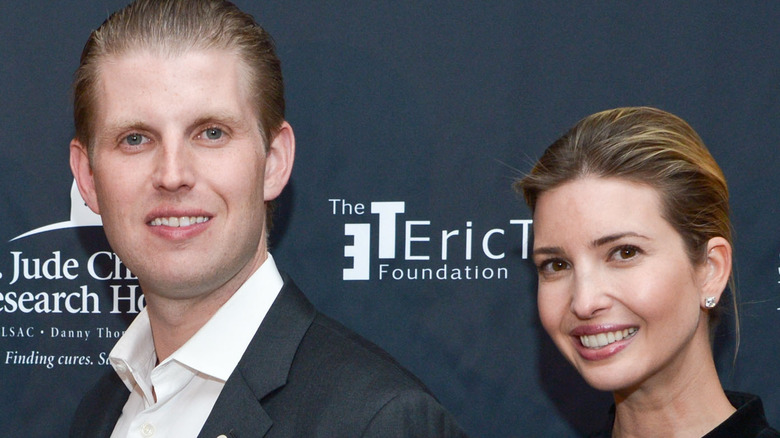 Grant Lamos Iv/Getty Images
Eric and Lara Trump's wedding was a major Palm Beach affair in 2014 with the entire Trump clan happily in attendance at Donald Trump's Mar-a-Lago club. According to Town & Country, Donald Trump Jr. acted as his brother's best man, Ivanka Trump was a bridesmaid, and Ivanka's daughter with husband Jared Kushner, Arabella, was the adorable flower girl. 
The guest list numbered 400, and it was everything an opulent wedding should be. However, there was one problem for the bride on her big day: Just weeks before the wedding, she broke both wrists thanks to a horseback riding accident.
Still, Lara Trump made the best of things and wore a beautiful pair of fingerless gloves to cover her bandages that matched her lavish wedding gown (via Town & Country). After all, she had to make sure everyone could see her stunning engagement ring straight from the Ivanka Trump Fine Jewelry Collection.