Here's What Tori Spelling Did When Asked About Divorce Rumors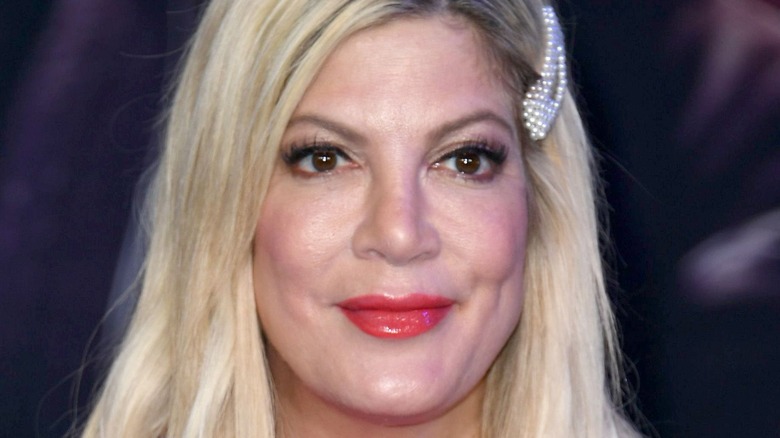 Jon Kopaloff/Getty Images
Tori Spelling and husband Dean McDermott are in the middle of some heated divorce rumors at the moment. The couple, who walked down the aisle in 2006, share five children together. However, things haven't been easy for the duo. They're often at the center of speculation and even endured a cheating scandal in the past (via People).
According to Page Six, Spelling was spotted out earlier this month as she went to an appointment with her lawyer. Photographers snapped pics of the former "Beverly Hills 90210" star outside of the office as the actress talked on the phone and held a notepad in her hand. A closer look at the paper revealed Spelling's handwritten notes, which included topics like "custody," "support," and "assets." The pics only added fuel to the divorce rumors.
Meanwhile, Spelling and McDermott haven't been seen together in public for months, per The Sun. In addition, the Canadian actor has also been seen leaving the house sans his wedding ring. 
"Tori and Dean are totally stuck together right now. Neither of them can afford to go through divorce proceedings," an insider told the outlet. "They have five kids and a ton of pets. Their home is always a disaster — it's just a total mess. Right now divorce isn't on the horizon because they can't swing it financially. They are in a living nightmare."
This week, Spelling was asked about her marriage during a televised interview.
Sources claim Tori Spelling feels trapped in her marriage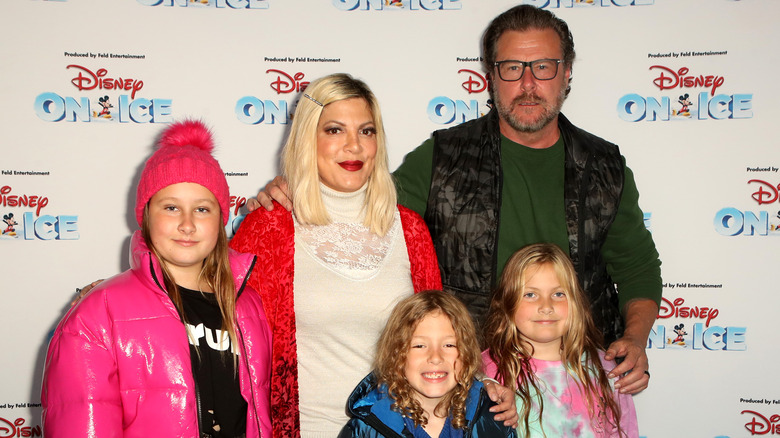 Ari Perilstein/Getty Images
According to Yahoo, Tori Spelling recently appeared on "The Wendy Williams Show," which is currently being guest hosted by comedian Whitney Cummings. During the chat, Cummings got to the tough stuff and bluntly asked Spelling about her relationship with McDermott. 
"You're allowed to hit me in the face, but I do have to ask, what is going on with that guy?" Cummings asked her guest. However, it appears that Spelling isn't quite ready to make any public statements about what's going on in her marriage. "What? You know I'm not going to answer that," the "90210" alum told Cummings, who is also her friend.
Meanwhile, sources are telling Us Weekly that Spelling definitely wants to end her marriage to McDermott and that she's feeling "trapped" in the relationship. The insider claims that things are rocky between the two as their prenup agreement would mean that McDermott wouldn't get any money from Spelling if they divorce. 
However, he could seek child support or spousal support if they decide to end their marriage. The informant went on to reveal that Spelling has been "miserable" in her marriage but has continued to stay with McDermott "for the kids."
Only time will tell if Spelling and McDermott will actually take the legal steps to end their marriage or if they'll try to work through their issues and stick it out.