Did Ivanka Trump And Jared Kushner Really Do This After The Capitol Riot?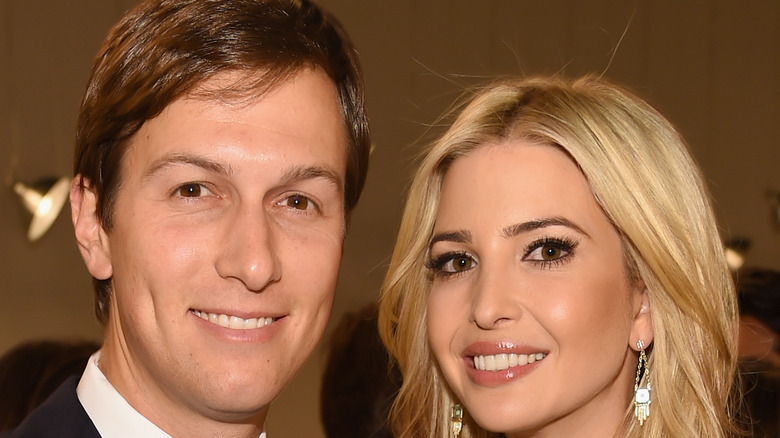 Dimitrios Kambouris/Getty Images
Much like her father, Ivanka Trump was heavily criticized for her reaction to the deadly Captiol riot. As The Guardian reported at the time, former President Donald Trump's favorite child described those who stormed the building on Jan. 6, 2021, as "American patriots" on social media while simultaneously urging them not to resort to violence to make their point. 
In a since-deleted tweet, sent while the attacks were taking place, Ivanka wrote, "American Patriots – any security breach or disrespect to our law enforcement is unacceptable. The violence must stop immediately. Please be peaceful." 
Conspicuous by their absence were the condemnation of the shocking events or calls for the so-called protestors to abandon their cause. The first daughter was roundly mocked for her choice of words, subsequently clarifying, "No. Peaceful protest is patriotic. Violence is unacceptable and must be condemned in the strongest terms." 
But the damage was done, with journalist Jake Sherman, who was stuck in the Capitol building at the time, pointing out, "American patriots? I'm sitting here in lockdown. The capitol has been breached and people have guns drawn. What are you talking about?" 
Elsewhere, White House correspondent April Ryan described Ivanka as being "complicit" in her father's crimes, considering that he instigated the riot with a rally immediately prior. Trump encouraged supporters to stop Joe Biden's victory from being ratified any way they could. 
Now, it seems that Ivanka and husband Jared Kushner were even less concerned with the events of that terrible day than her tone-deaf tweets suggested.
Ivanka Trump and Jared Kushner weren't willing to cancel their plans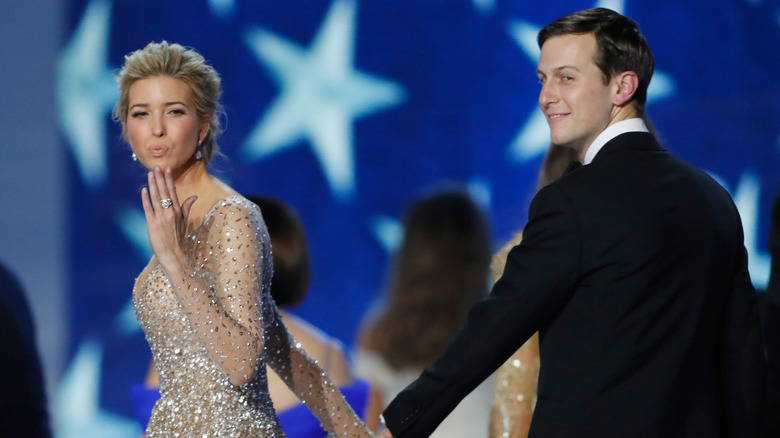 Aaron P. Bernstein/Getty Images
In journalist Jonathan Karl's book "Betrayal: The Final Act of the Trump Show," he reveals that Ivanka Trump and Jared Kushner held a swanky dinner party mere hours after the devastating attacks on the Capitol building. The Independent reports that the couple invited over key members of the Trump administration for food, drinks, and festivities shortly after a police officer was killed in the riot, with many more deaths subsequently confirmed. 
The dinner party in question took place on Jan. 7, 2021, when most of the country was still reeling over what had occurred at the Capitol. Longtime Trump staffer Stephanie Grisham, who has also written a tell-all book about her time with the administration, was one of many who quit in the wake of the attacks.
Jared and Ivanka's dinner was a light-hearted affair, with zero discussion about what happened less than 24 hours prior. Guests included former White House aides Larry Kudlow, Brooke Rollins, and Kevin Hassett. The assembled crew did find time to discuss the future of the Republican party, however — in particular, their compatriots' worrying move to the left. 
"Remarkably, there was no mention of the fact that a mob had just stormed the Capitol days earlier, ransacking the offices of Democratic leaders and trying to prevent the certification of Joe Biden's election victory," Karl writes. "There was no mention whatsoever — whatsoever — by Jared and Ivanka or any of their guests — of January 6."