How To Recreate Kate And Pippa Middleton's Classic Blowout At Home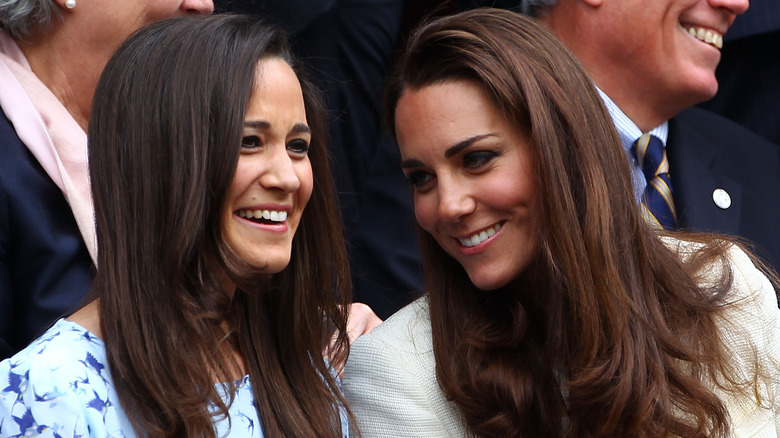 Clive Brunskill/Getty Images
We may receive a commission on purchases made from links.
Kate and Pippa Middleton are known for their regal beauty. Everything from their clothes to their makeup to their hair is scrutinized by the press, especially when the pair don similar ensembles (via Cafe Mom). Although websites have devoted entire articles to the Middleton sisters' impeccable fashion sense, there's one aspect of their appearance that is the most common source of envy (via Town & Country). We're talking about the famous Middleton blowout.
Those perfectly coiffed tresses are as dream-worthy as they are unattainable. Or so we thought, anyway. If you've similarly gazed upon Kate and Pippa's classic blowout and wished you could recreate those gorgeous locks at home, we have some tips and tricks that may help. Kieran Tudor, a Remington Session Stylist, took a closer look at the Middleton blowout for Express and broke down the step-by-step instructions to recreate this look at home.
All you need are the right products and tools and you'll be feeling like royalty in no time.
Recreate Kate and Pippa Middleton's classic blowout with these styling tools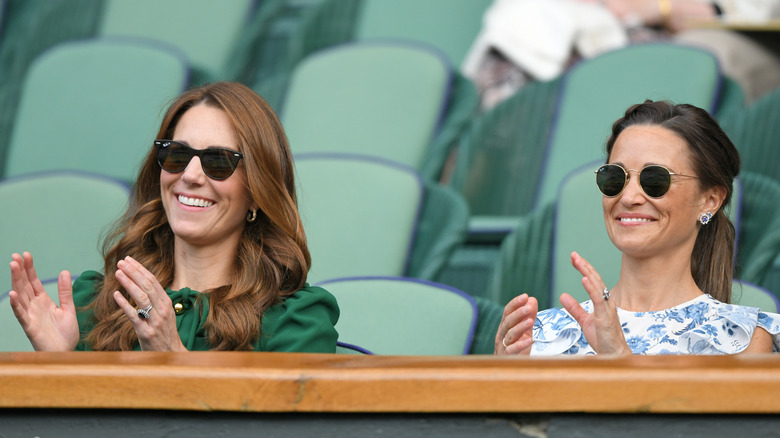 Karwai Tang/Getty Images
Looking at Kate and Pippa Middleton's classic blowout, the natural assumption is that the look is achieved with the use of a high-end blow dryer. Surprisingly, you can actually pull off a blowout look without a hair dryer, and Kieran Tudor has the receipts to back up this claim. Speaking exclusively with Express, Tudor described the perfect way to recreate the Middleton sisters' immaculate tresses with the use of one styling tool.
To start, you'll need to pick up a Remington Curl and Straight Confidence Rotating Hot Air Styler. Tudor recommends starting with wet hair, so you'll want to recreate this look when you're fresh from the shower. Use the concentrator attachment on the Remington Styler to dry your hair until it's about 70% dry.
Next up is the paddle brush attachment, which you'll carefully run through your hair starting at the back of your head. "Slowly glide the brush through the hair through to the tips, using the teeth to lift the roots to add volume where necessary," says Tudor. Once you've completed this step you'll need to use the tong attachment to add volume and shape to your tresses. 
Tudor suggests sectioning your hair and using the barrel of the tong attachment to create curls. Wrap the strand of hair around the barrel, then hold the coil in place for approximately six seconds before unwinding it. Repeat this motion until all your hair is curled. Then, give your hair a quick tussle and add a spritz of Kate's preferred L'Oreal Elnett hairspray (via Hello! Magazine). Et voilà! You'll be ready for tea with the Queen.