Here's How To Pull Off A Blowout Look Without A Hair Dryer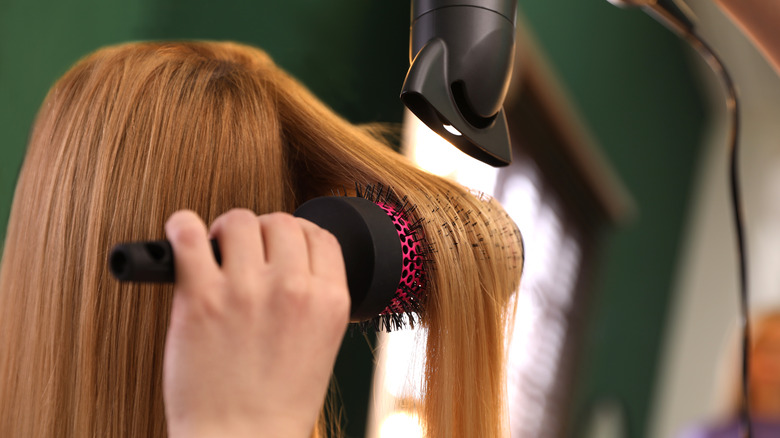 Shutterstock
If you've ever gotten a blowout from your salon or given yourself one, you know that it leaves your hair looking fabulous. In fact, you'd probably do a lot to make your salon blowout last longer. It seems like all you need is washed hair, a good brush, a good heat protectant, a hairdryer, finishing cream, and a bit of patience to achieve this gorgeous style for yourself at home, according to Allure. It's not easy to replicate, but you can get a salon-quality blowout with some patience and hard work.
However, if your blowdryer breaks or you're somewhere without one, you might still be able to get a similar look even without the main thing you'd think you need to get the coveted style, according to L'Oreal Paris. Another reason you might want to skip the hairdryer step of a blowout is that you want to avoid heat damage to your luscious locks. Whatever your reasons, you can give yourself a gorgeous style in just a few achievable steps, even without the heat.
Here's why volume is the key to a blowout look without the hair dryer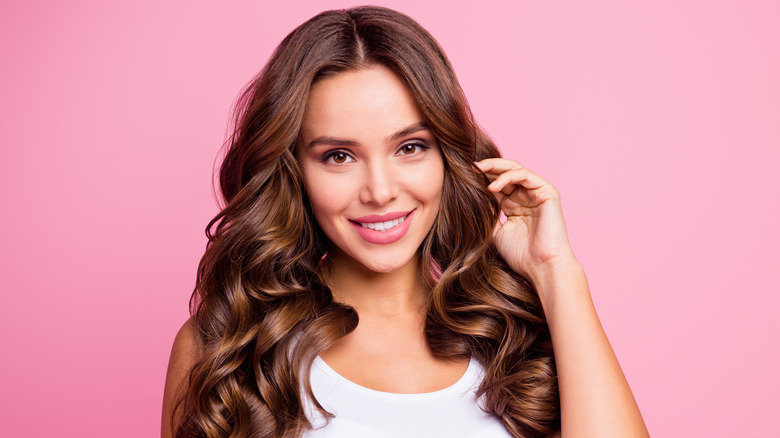 Shutterstock
The key to making your hairstyle look like a blowout is volume. Much like a blowout with a hairdryer, your no-heat version starts in the shower with an excellent volumizing or thickening shampoo and conditioner that gives your hair some body without weighing it down (via L'Oreal Paris). Allure recommended choosing ones that address any specific issues you're having with your mane. Next, the beauty brand recommends using a mousse and root-lifting spray to really pump up the volume and help your style last all day long with that great blowout texture, even if you won't blast your tresses with warm air. 
L'Oreal Paris suggested that you allow your hair to dry. Once it's no longer damp, pull up small sections of your hair near the crown of your head, and spray them with volumizing hairspray, teasing the roots with a fine-tooth comb. Lightly comb the teased sections to smooth without reducing the volume and smooth out flyaways. Use a non-greasy serum to help de-frizz your lengths. Finally, finish the whole hairstyle by misting it from at least 8 inches away to keep everything in place. While it might take longer than a traditional hair dryer blowout due to air drying, doing one yourself without heat is sure to save you some heat damage in the end.