Is This Really What Meghan And Harry Did The Night Before Their Relationship Went Public?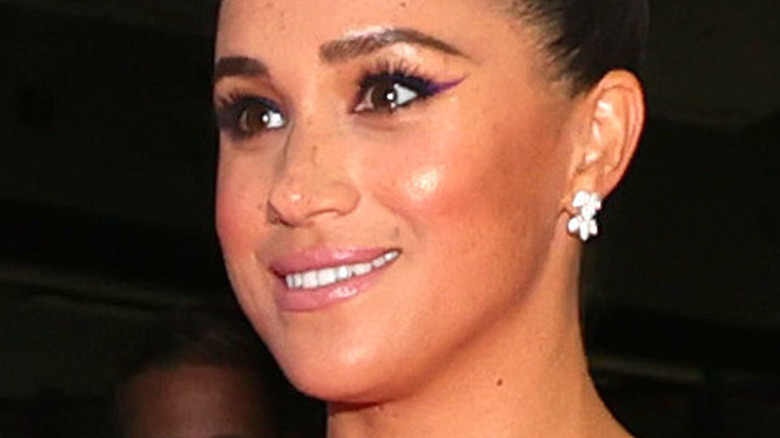 Dia Dipasupil/Getty Images
Prince Harry and Meghan Markle were both famous well before becoming a couple, and their relationship only seemed to heighten the world's fascination with them. But what was their life like together before they went public with their relationship?
These two first met on a blind date in July 2016, and they instantly hit it off. News of their romance leaked on October 31, 2016, and after months of some more rumors, they officially announced that they were engaged in November 2017. They tied the knot on May 19, 2018, they welcomed a son, Archie Harrison Mountbatten-Windsor, into the world on May 6, 2019, and they had Lilibet Diana Mountbatten-Windsor on June 6, 2020 (via Town & Country).
In a November 18 appearance on "The Ellen DeGeneres Show," Markle discussed how the family of four spent Halloween, with Lili dressing as a skunk and Archie not really being a fan of his dinosaur costume. While on the show, she also talked about another important Halloween moment.
Meghan Markle and Prince Harry had "one final, fun night out"
This year, the Duke and Duchess of Sussex celebrated Halloween by dressing their two children up in costumes, but what about Halloween 2016?
On a November 18 appearance on "The Ellen DeGeneres Show," Meghan Markle stated that Prince Harry, his cousin Princess Eugenie, and Jack Brooksbank went to visit her in Toronto during that time ... a time when their romantic relationship was still on the down-low.
"The four of us snuck out in Halloween costumes to just have one fun night on the town before it was out in the world that we were a couple," Markle said. She added that they were "able to just sort of have one final, fun night out," as they attended a party with a post-apocalyptic theme and wore "very bizarre" costumes that helped hide their identities (via People). The way they spend this holiday now may have changed, but they will always have this special story of how things were once upon a time!