Here's How Lilibet Diana Compares To Her Big Brother Archie And Famous Cousins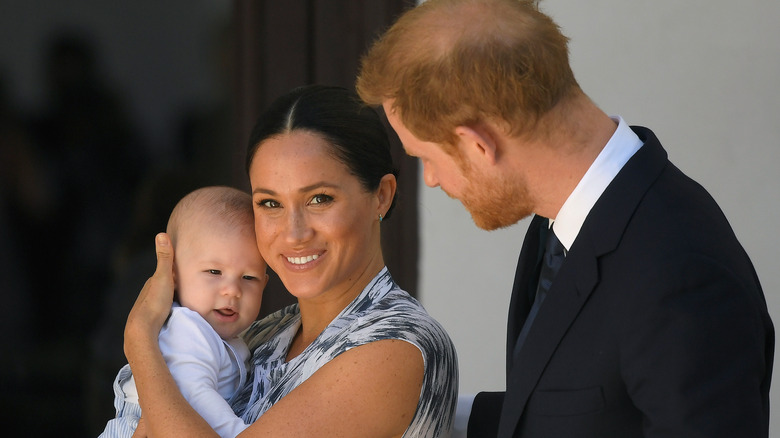 Pool/Getty Images
On June 6, Prince Harry and Meghan Markle announced the birth of their daughter, Lilibet Diana Mountbatten-Windsor, in a statement on the website of their foundation, Archewell. Lilibet was born on Friday, June 4 at 11:40 a.m. at Santa Barbara Cottage Hospital in Santa Barbara, California. The couple's daughter is named after Queen Elizabeth, who was given the nickname Lilibet by the royal family. She was given her middle name in honor of Prince Harry's mother, Princess Diana. But unlike the Duke and Duchess of Sussex's son, Archie Harrison Mountbatten-Windsor, and their royal cousins, Lilibet Diana's birth was not announced through Buckingham Palace, per Daily Mail.
Compared to their royal cousins — Prince George, Princess Charlotte, and Prince Louis — both Archie, who weighed seven pounds and three ounces, and Lilibet, who weighed seven pounds and 11 ounces, were much smaller at birth. In fact, according to Daily Mail, at eight pounds and seven ounces, Prince Louis, the third child of Prince William and Kate Middleton, was the largest baby to be born into the royal family in the last hundred years. Prince Louis' brother, Prince George, weighed eight pounds and six ounces, and his sister, Princess Charlotte, weighed eight pounds and two ounces at birth. 
Many other differences exist between Lilibet and her brother and their royal cousins, too. Keep reading to learn more.
Lilibet Diana won't be given a royal title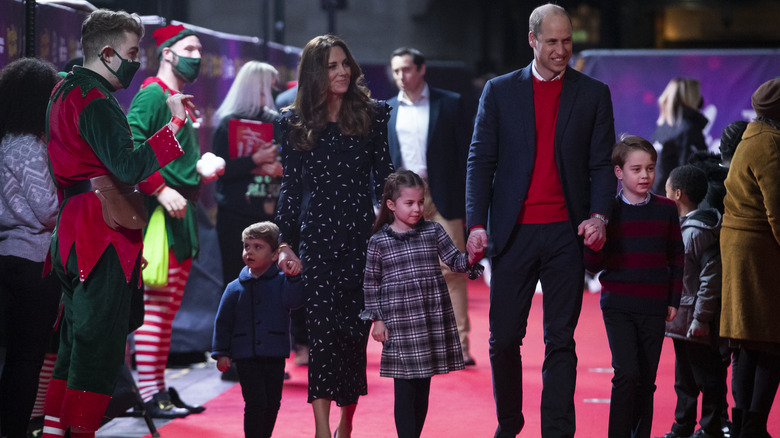 Wpa Pool/Getty Images
Upon her birth, Lilibet Diana became the most senior royal to be born overseas, per CNN. Currently, Lilibet Diana is eighth in line to the British throne. Her father, Prince Harry, is sixth in line to the throne, while her brother, Archie, is seventh in line to the throne, per The Sun. Prince George, Princess Charlotte, and Prince Louis, meanwhile, are third, fourth, and fifth in line. 
According to rules previously stated by the royal family a century ago, the great-grandchildren of the current monarch are not permitted to be given the titles of "Prince" or "Princess." However, when Prince George was born, Queen Elizabeth II issued a Letters Patent that ensured all of Prince William's children would be given the "Prince" or "Princess" titles, as they're in the line of succession, according to the Evening Standard. Though Archie was entitled to receive the courtesy title of Earl of Dumbarton, Prince Harry and Meghan Markle decided instead to not bestow that title upon their first-born child. 
Unlike their royal cousins, Archie and Lilibet will live fairly normal lives in California, and they won't receive royal titles. "So Archie and his sister will live a much more, I don't want to use the word 'normal,' they will be living the lives of very wealthy parents," royal expert Marlene Koenig told Express. "I expect Archie and his sister to be taught the importance of helping others... They will be very different, a less formal life."