Hairstylists Reveal Their Must Have Blow-Dryer Brushes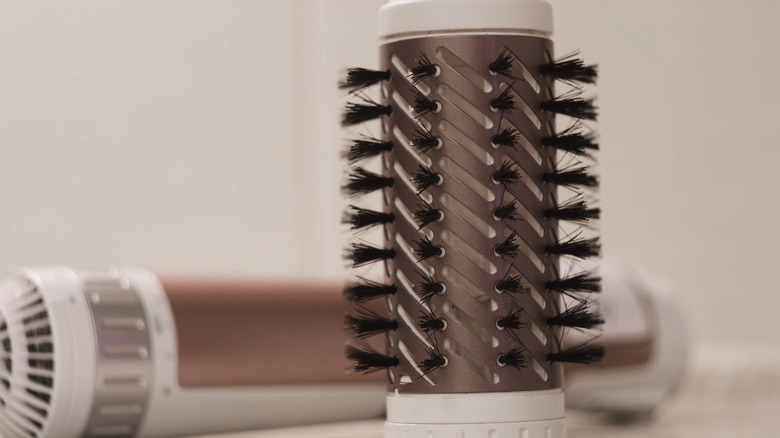 Media Whalestock/Shutterstock
We may receive a commission on purchases made from links.
If you're looking for a new way to style your hair that takes less time and fewer tools, you might consider a blow-dryer brush. They're basically round hairbrushes with a blow dryer feature. You may remember your mom using one in the 1980s or 1990s, as these styling tools aren't exactly new. However, they've recently experienced a surge in popularity. 
According to L'Oreal Paris, this hair tool does double duty, leaving you juggling fewer items as you try to tame your tresses. In addition, these round brush dryer helps you style your hair in one step, achieving a great blow-out style in less time while protecting your hair from excessive heat damage and lessening your fatigue. "Any individual who has tried to give themselves a blowout with a traditional round brush and dryer knows how challenging it can be," Drew Schaefering, master stylist and senior educator at Rob Peetoom Salon, told The Strategist. "Blow-dryer brushes take away the shoulder fatigue and allow more mobility and ease."
Plenty of brands created their versions of these blow-dryer brushes, making it difficult to wade through to figure out which one is the right one for you. Some cost an eye-popping amount of money, while others are more affordable. If you're struggling to figure out which one would work best for you and your needs, you're in luck. Several professional hairstylists have revealed which one of these tools is their favorite.
The best hairbrushes for a perfect at-home blowout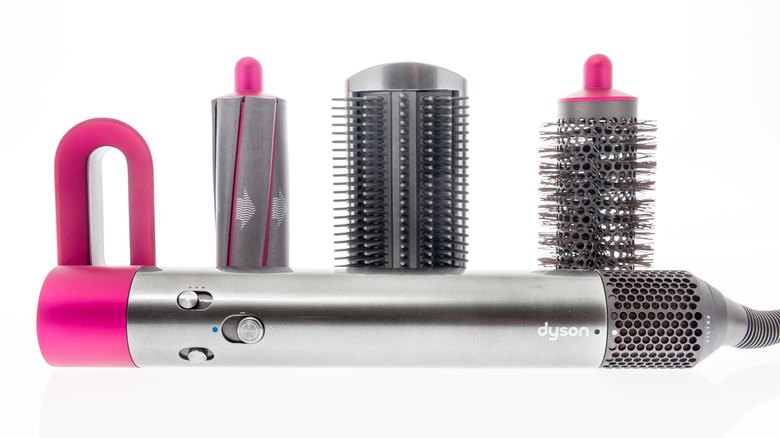 Keith Homan/Shutterstock
The Strategist explains that when you look for a blow-dryer brush, you should check out models with multiple heat settings, at least two types of bristles, and a frizz-fighting tourmaline barrel or ionic technology. Which brush is the best, though? 
Well, Drybar's Double Shot Blow-Dryer Brush ($150) took home the best overall honors. But, of course, the Drybar version is just the brush dryer. If you're looking for something with multiple attachments, then you might want to check out the much more expensive Dyson Airwarp Styler ($549.99). Speaking to The Strategist, stylist Drew Schaefering called it "an all-around Swiss army knife for blowing out hair." It offers a wide array of different styling options due to the attachments, and because it's higher-end, it also allows for better heat control. 
The most affordable blow-dryer brush stylists love is the Revlon One-Step ($34.88). Stylists liked that this brush works well for people with thick or curly hair. If you want to try out this type of hair tool at a lower price, you aren't risking much to see how it works for you. Finally, if you need something lightweight, the L'ange Le Volume 2-in-1 Volumizing Brush Dryer ($99) is the most affordable lightweight blow-dryer brush, weighing in at a mere 1.25 pounds. If you're looking to cut down on your styling steps and heat damage, these brushes are worth trying out.