The Best Styling Tools For Curly Hair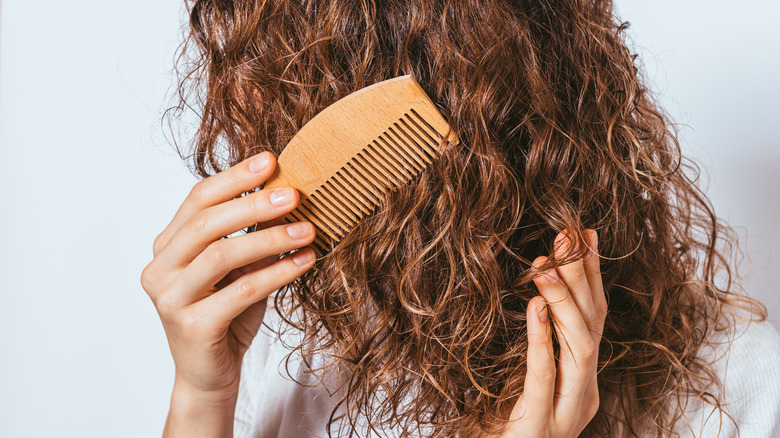 Shutterstock
Have you been struggling to achieve defined spirals, even though you've been using all the right products for your curly hair? You might need to change your styling tools. The right brush, towel, and hair dryer can transform frizzy strands into soft, bouncy curls and give you a hairstyle that lasts all week long. But which tools are worth the money, and which ones are not?
According to Shape, the Denman Classic Styling Brush is a must-have for curlies. The parallel rows of teeth help to clump wet strands together, while the rounded handle helps create spirals and optimize curl shape. Editorialist notes that the Denman brush is best for curly hair and not wavy hair, and each row of teeth is removable. Fewer rows of teeth tend to work better for large curls, while extra rows of teeth work best for tight curls. One of the downsides, however, is that pushing the rubber base back into place after removing rows of teeth can be difficult. You may also consider buying the Original Wet Brush Detangler if you are looking for a cheaper, no-fuss alternative, via Influenster. Once you've found the right brush for your curls that helps smooth out and revitalize your strands, you're ready to try out the perfect drying tools.
Microfiber towels and diffusers work well for defining curly hair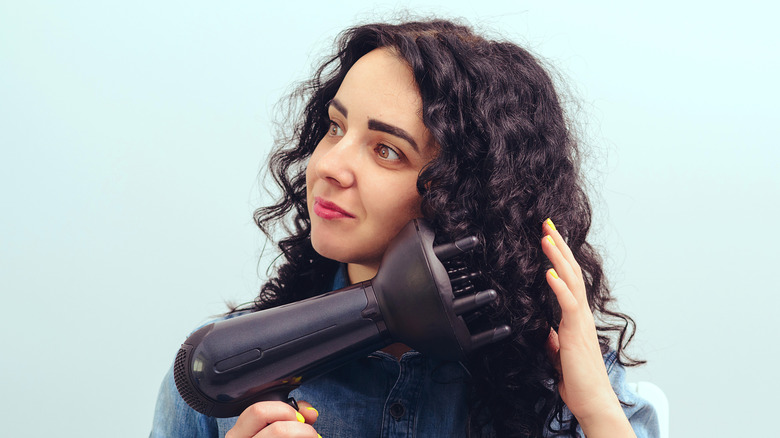 Shutterstock
After you have defined your curls with the right cream, gel, and styling brush, it's important to lock in your hairstyle with a microfiber towel and a diffuser. A smooth microfiber towel works wonders for wet curls, because it absorbs water without separating the curls or creating frizz, per Naturally Curly. These towels are the only kind that you should use for plopping curly hair. For those who don't know, this is the drying technique where you gently wrap your wet, styled hair into a towel and tie it up on top of your head, letting the towel slowly absorb the moisture, via Cosmopolitan. If you don't want to purchase a microfiber towel, a soft, smooth t-shirt or a smooth pillowcase will work remarkably well.
By plopping your hair for 10 to 30 minutes, you will reduce your drying time and create more springy curls. Blow-drying your hair will also speed up drying time significantly, and a diffuser will keep your curls intact. Diffusers, when used correctly, prevent frizz and protect your natural curl pattern, per Naturally Curly. The best diffusers have large, wide bowls which can fit large sections of your hair at a time. Per Who What Wear, some top stylists shared their picks for best diffuser dryer, including The Curly Co.'s collapsible option and the Dyson Supersonic Diffuser Attachment. Armed with your new tools, you should be on the path to defined, bouncy curls that last for days.