What To Make For Thanksgiving Dinner If You Don't Like Turkey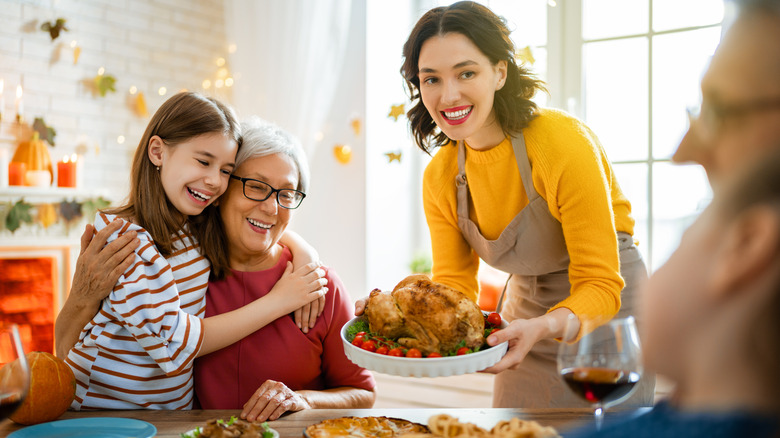 Yuganov Konstantin/Shutterstock
Thanksgiving is around the corner, which means you will soon get to binge on all of your favorite fall-themed staple dishes. But if "turkey day" doesn't sound appetizing to you, there are several other main-course alternatives you can cook for Thanksgiving. Whether you are a vegetarian or just don't like the taste of turkey, there is a Thanksgiving main dish for you.
If you still want a poultry dish, you can try roast chicken with a side of cranberry-apple-raisin chutney that will give the perfect seasonal touch to an evergreen favorite (per Food & Wine). Another take on roast chicken is to coat it in a honey-lemon glaze that incorporates soy sauce for a Peking duck-inspired dish. Taste of Home recommends trying glazed Cornish hens. The recipe uses a sweet-and-sour glaze and a traditional rice stuffing with pecans and golden raisins. Per Food & Wine, buttermilk-marinated quail with herbed raita and blood oranges is a dish that will pack a punch of various flavors. The refreshing mint and yogurt in the raita contrasts with the charred flavors of the quail.
But if poultry isn't your thing, or if you want to try something a little different, keep reading for other Thanksgiving main dish ideas.
Meat dishes you can cook for Thanksgiving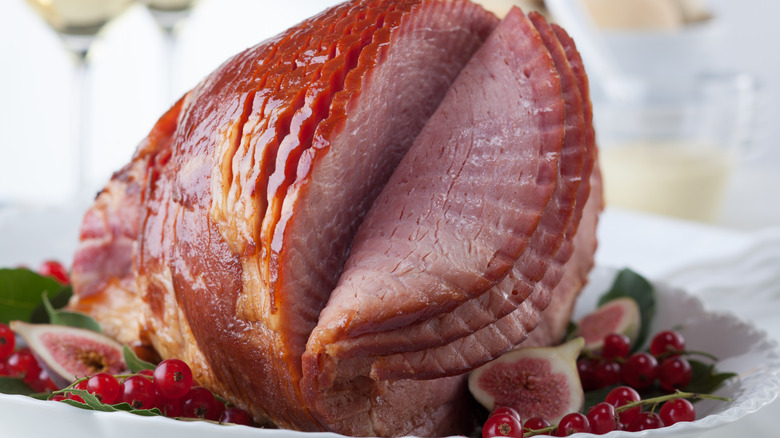 Jim Bowie/Shutterstock
According to Food & Wine, honey-bourbon-glazed ham is a great alternative that blends a sweet glaze with spices like fennel, coriander, and star anise. For a more festive take on glazed ham, try clove and cider glazed ham. The glaze incorporates apple cider, brown sugar, mustard, bourbon, and sweet spices. 
Another pork-based dish to try is the holiday crown pork roast, per Taste of Home. This simple festive dish is flavored with hearty spices like rosemary, sage, and thyme. If you like lamb, then you might want to try Zinfandel-braised lamb chops with dried fruit (via Food & Wine). This dish incorporates lamb-shoulder chops, accompanied with Zinfandel jam and dried fruit.
For those who like to try dishes from different cultures, NYT Cooking has several recipes that take inspiration from all over the world. Liberia, a country in west Africa, is one of the few other countries outside of the U.S. that celebrates Thanksgiving. So, trying Liberian chicken curry could be a great way to spice up your Thanksgiving. This dish combines the heat of habaneros with sweet red bell peppers to create a sweet-and-spicy curry that complements the chicken flavor and Maggi seasoning. 
Eprax, a Kurdish casserole that incorporates stuffed vegetables and lamb chops makes for a filling main dish. Vegetables like squash, potatoes, and tomatoes are stuffed with a spiced lamb and rice filling. The casserole is eaten with pita, hummus, or a cucumber sauce.
Vegetarian main course options for Thanksgiving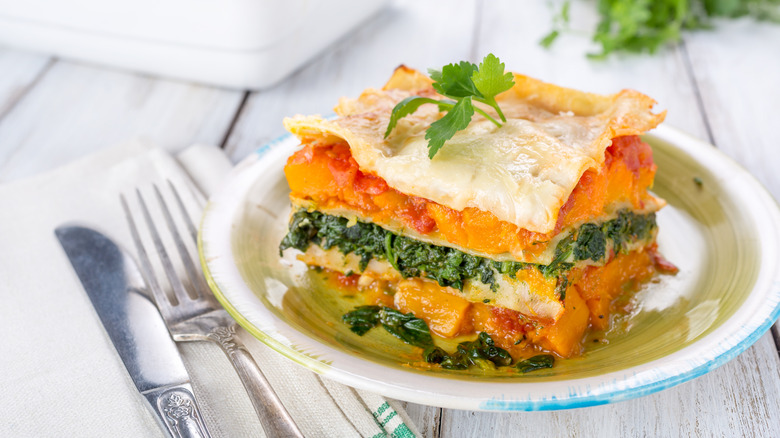 Olga Nayashkova/Shutterstock
Spiced cauliflower steak incorporates roasted fennel seeds, black pepper, and orange zest, which all work together to create a sausage flavor, sans the meat (via Food & Wine). This is the perfect dish for those who are transitioning into vegetarianism, but still miss the taste of meat. Vegetable pot pie is a hearty dish that uses canned beans or lentils, as well as edamame in the filling (per Taste of Home). 
Lentil loaf is another great option that is jam-packed with fiber and nutrients. If you want an ethnic dish that will fill you up, try Persian rice-stuffed onions (per NYT Cooking). The onions are stuffed with saffron-infused basmati rice, toasted nuts, and dried fruit.
For pasta lovers, the good news is that there are several vegetarian options that work well for Thanksgiving. Taste of Home recommends sweet potato tortellini with hazelnut sauce. Pumpkin lasagna is a seasonal take on a classic that replaces marinara sauce with a creamy pumpkin sauce, per The Spruce Eats. 
Another recipe you can try is butternut squash lasagna, which involves layers of bechamel sauce and roasted squash with sage. Sweet potato gnocchi topped with either brown butter or tomato sauce is another hearty vegetarian option. Sage-pecan butternut squash ravioli is another festive take that works well for Thanksgiving (via Taste of Home). Looks like you can still have a Thanksgiving without the turkey with any of these delicious main course alternatives.