Why The Liberian Olympic Team Is Causing Such A Stir In The Fashion World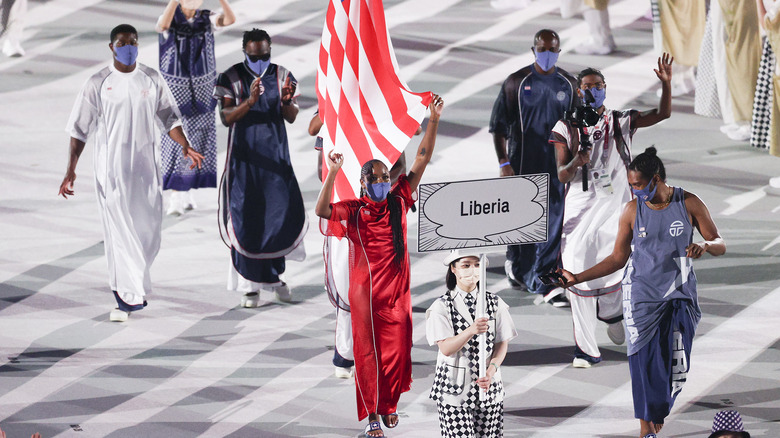 Patrick Smith/Getty Images
When you think of fashion, you might think of France or Italy. But you should think again. The Liberian Olympic team is making a statement this year with their outfits, thanks to fashion designer Telfar Clemens. Clemens owns the New York City-based brand called Telfar, which is known for their gender-neutral clothing and "Shopping Bags" (via Okayplayer). Telfar Shopping Bags are rectangular vegan-leather handbags that come in various colors and feature the "T" logo, per Vogue. They have become a fashion sensation with celebrities like Alexandra Ocasio-Cortez and Beyoncé using them (via Okayplayer and USA Today).
Clemens is a Liberian American whose family moved to the U.S. amid the Liberian Civil War in 1990 (via Paper Magazine). In the past, Liberia has struggled to find sponsors after losing their sponsorship with New Balance in 2000 (via The New York Times). Liberia's economy especially struggled to recover after the Ebola epidemic and is one of the poorest countries in the world, per World Bank Group.
In a moment of serendipity, though, Emmanuel Matadi, one of the Liberian Olympic athletes, saw that his girlfriend was following the Telfar brand on Instagram and realized that Clemens was of Liberian descent (via the Times). Matadi informed their Olympic attache, Kouty Mawenh, and Mawenh approached Clemens in hopes of collaborating. Clemens became the sole sponsor of the team, designing and providing outfits, as well as covering travel and food for the Liberian team made up of three athletes. Clemens was the designated flag-bearer during the opening ceremony.
What did Telfar design for the Liberian team?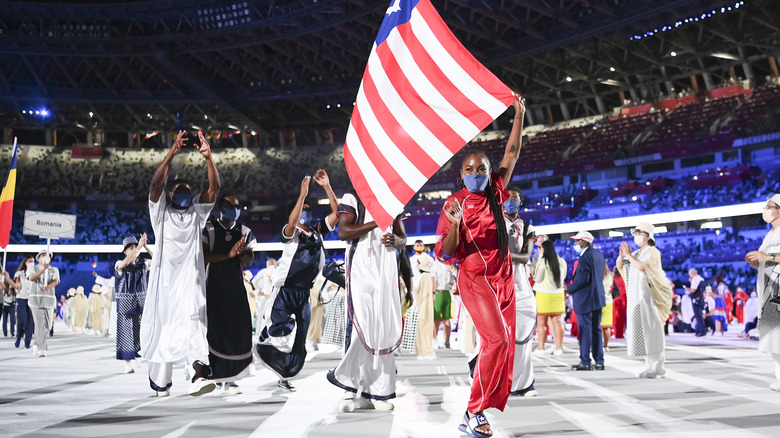 Matthias Hangst/Getty Images
In line with Telfar's brand, Liberia's Olympic athletic wear is versatile, meaning it can be worn by both men and women (via The New York Times). During the opening ceremony, the athletes wore the "three hole top," which was a silk and mesh long tunic-meets-basketball jersey. The tunic jerseys ended at their ankles and gave a regal look. Underneath the tunics, the athletes wore matching palazzo pants. For the games, Clemens designed a "half-tank," which is a one-shoulder tank top with a stylish cutout as well as the "what!" shorts, which are compression shorts perfect for track and field.
Overall, Telfar produced roughly 70 pieces in four months. Matadi told the Times that the Telfar athletic wear provides a "psychological boost: If you feel like you look good, you perform well." Mawenh added, "We've always had elite athletes, but they have never felt important. Now they feel important." For Mawenh, the stylish Olympic clothes go beyond making the athletes feel confident. "I want people to see this and say, 'Oh, that's Liberia,'" adding, "War is not what Liberia is about any more. My goal in all of this is to change perception."
The inspiration behind the Telfar brand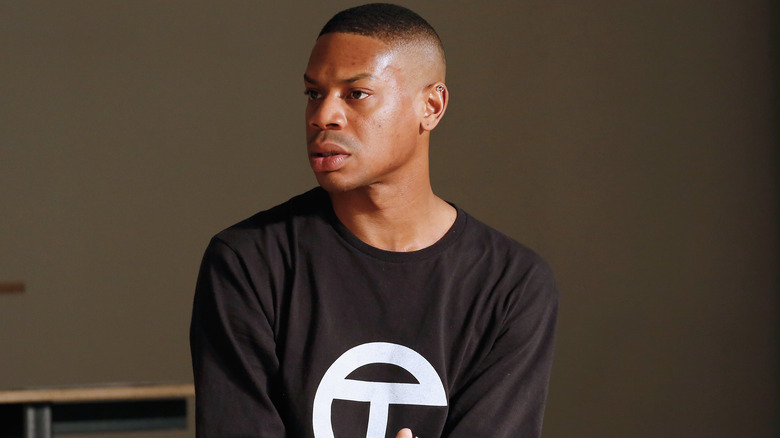 Mireya Acierto/Getty Images
Telfar Clemens drew inspiration from his own background as a self-taught Black, queer designer when he started Telfar in 2005. According to Okayplayer, a previous bio on Clemens' website said, "Become a queer, Liberian-American eighteen-year-old, travel back to 2004 and establish a 100% unisex fashion line in New York City ... Try to make clothes that do not exist on the market — just as you don't exist in the world." His androgynous designs feature stylish cutouts and one-shoulder athleisure looks, which are featured in the Liberian Olympic uniforms as well.
His overall mission is to make fashion accessible to the masses. In an interview with Dazed, Clemens spoke about the commercialization of fashion. Unlike several other high-street and luxury brands, Clemens says he wants the masses to be able to wear his designs. "I'm not running away from it, I want to be mass-marketed in a way that's scary. It's like a Michael Kors bag. Everybody has one of those. But it's even dumber than that. I want to be Michael Kors, but on purpose," Clemens told the outlet.
He even redesigned White Castle's uniforms in 2017, which sparked discussion regarding "downmarket collaborations." Clemens responded to that idea, telling Dazed, "It's corny to talk about 'elevating' things — we want to make fashion horizontal."