The Most Expensive Rings Ever Used On The Bachelor And Bachelorette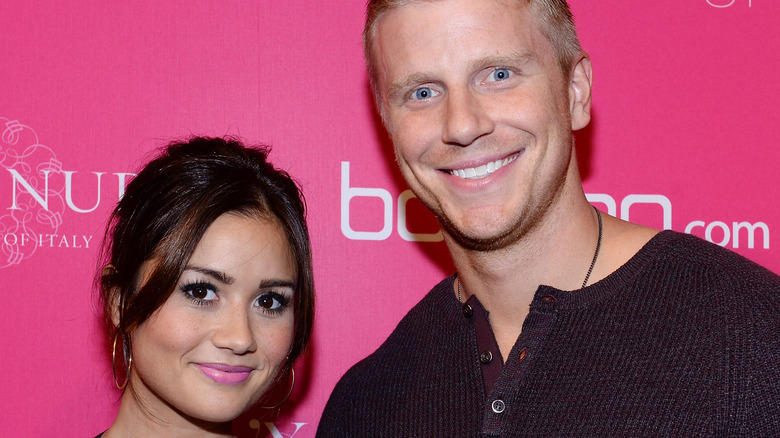 American Media/Getty Images
Fans of "The Bachelor" and "The Bachelorette" have seen enough seasons to know that the shows usually ends with an epic proposal followed by the woman slipping on a gorgeous diamond ring. Viewers have watched many times as ring designer Neil Lane usually pops up to help the men pick out the perfect sparkler for their lady love, per Cheat Sheet. Lane sits and talks with the men and helps them figure out which ring their partner would like.
"I have hours of filming to get at the dramatic moment where we finally settle," Lane told Elite Daily of helping the contestants choose the perfect ring. "He might think, 'Oh, she's really elegant, she loves that 1920s look.' Or he might go [with] something more romantic, with a pear shape," he continued. "I have to coach them. A ring is a huge deal. It's a serious thing, and their hearts are on their sleeves when I'm working with them."
Of course, there are plenty of options including vintage, modern, and romantic, and while Lane may be there to offer up his expertise, it's ultimately the guys' decision with which ring they'll be proposing. While the guys aren't obligated to pay for the ring, the stars of the show do sign a contract stating that if they break up within two years after the show's final airing date, they must return the engagement ring.
So, after multiple seasons of the shows, which women walked away sporting the most expensive engagement rings?
Lauren Bushnell's ring was worth six figures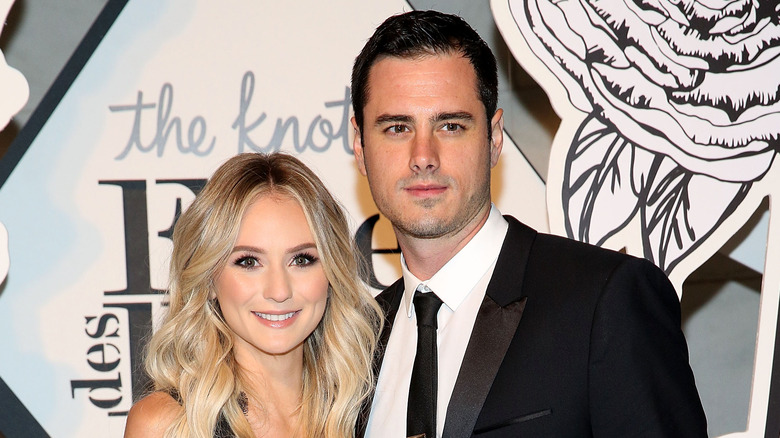 Robin Marchant/Getty Images
According to The Richest, the engagement rings that fans see on "The Bachelor" and "Bachelorette" are worth some serious cash, and with the network footing the bill, it seems safe to say that the contestants aren't worried about choosing a ring that's too extravagant for what they hope will be their future bride. "Bachelor" Sean Lowe met his future wife Catherine Giudici during Season 17 of the show, and when he finally got down on one knee to pop the big question, Lowe did so with a stunning 3.1-carat diamond that was said to be worth about $80,000.
However, Giudici's engagement ring price pales in comparison to that of the ring that fan-favorite "Bachelor" Ben Higgins gave his winner Lauren Bushnell in 2016. Higgins actually helped to design his ring for Bushnell, which included 240 round and baguette cut diamonds with a large radiant diamond. The gorgeous ring was said to weigh in at 4.25 carats and cost about $100,000.
Clare Crawley and Kaitlyn Bristowe took home some expensive sparklers of their own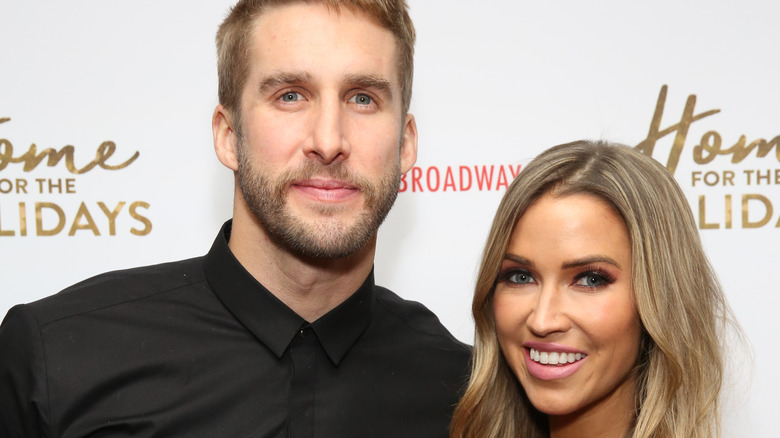 Walter Mcbride/Getty Images
However, it seems to be "The Bachelorette" stars who have raked in some of the most expensive rings in "The Bachelor" franchise (via The Richest). Viewers will remember Clare Crawley's season as one of the most controversial of all time. Crawley immediately formed a bond with contestant Dale Moss and after just a few weeks of filming. Crawley was adamant that she had found her future husband and no longer wanted to film the show. She and Moss quickly got engaged before leaving the show, allowing Tayshia Adams to step in as the new leading lady. Moss proposed with a ring that was estimated to be from 4-5 carats and be worth anywhere from $100,000-$150,000.
But for now, it may be Kaitlyn Bristowe who was given the largest and most expensive ring. Bristowe was proposed to be Shawn Booth at the Season 11 finale of "The Bachelorette" in 2015. At the time, Booth chose a large 5.09-carat ring with an oval stone and thin, gold band. The piece of jewelry was said to cost around $150,000. Sadly, Bristowe and Booth ended their engagement in November 2018 after three years of dating, which means she got to keep the ring.
It seems that "The Bachelor" franchise spares no expense when it comes to choosing stunning engagement rings for the men to propose with, and fans can't seem to get enough of the incredible jewelry from over the years.