Where Is The Carrie Actress Today?
The term "cult classic" has been thrown around often to describe movies that have developed a small but incredibly dedicated fan base (via Live About). These movies are often outside of mainstream popularity and are so bad that they're good. These movies have gone on to become much more popular than they were when they originally debuted in theaters.
No movie screams cult classic like the 1976 film "Carrie." A remake was made in 2013, but nothing can beat the original. The movie consists of topics like intense high school bullying, magical powers, overly religious parenting, and sexuality (via Dazed). The movie has become a horror movie hit and a Halloween must-watch.
Carrie, the film's lead, was played by actress Sissy Spacek. She remembers the process of creating the film fondly and is proud that she got to be a part of it. She told Coming Soon, "It was just a perfect film made at one of those moments in time where all the elements just came together perfectly. I love that it's a modern classic. I love that it is a rite of passage. Every year a new generation gets to see it and that's wonderful."
Where is Sissy Spacek now?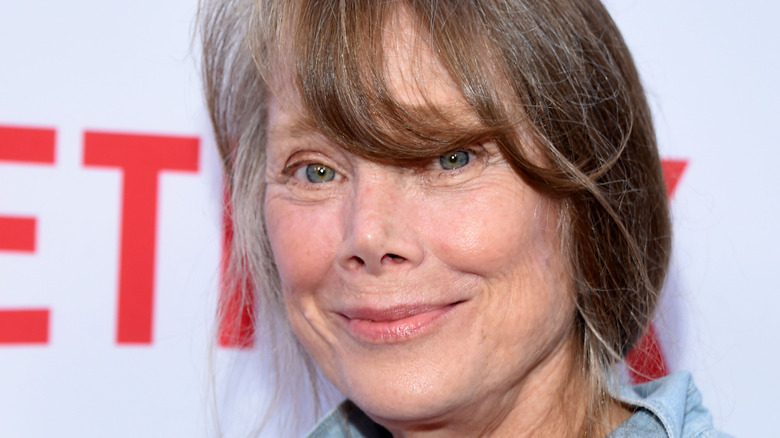 DFree/Shutterstock
Fans of the movie "Carrie" would be happy to learn that Sissy Spacek is still acting today. She's landed numerous films and television roles including playing Mrs. Walters in "The Help," Sally Rayburn on the show "Bloodline," and Ruth Deaver on "Castle Rock," amongst several others (via IMDb).
According to Deadline, Spacek is currently working on a television show called "Lightyears" alongside Lily Cardone and Lowrey Brown. The show is a sci-fi drama produced by Amazon Studios in which Spacek is the lead. On the show, she and her husband (played by J.K. Simmons) discover a chamber in their backyard that leads to a deserted planet.
While Spacek continues to find success in Hollywood, her role in "Carrie" will always be how fans remember her. She loves that fans still adore the movie, adding that the scene where fake blood comes raining down on her is her favorite scene to watch fans react to. She said, "Jack [her husband and art director on "Carrie"] and I used to go to the movie theater for the last five minutes just to see the whole audience come out of their seats" (via Yahoo!).