The Real Meaning Behind Adele's Can I Get It
Adele's hotly-anticipated fourth studio album "30" is finally here, and with it comes a brand new collection of tear-inducing tracks that are sure to get emotions running high. The first cut from the 15-time Grammy winner's latest record was the powerful lead single "Easy on Me," which stormed to the top of the charts around the world and even broke the Spotify record for earning the most streams in a single day (via Variety). 
Per NME, the Academy Award-winner then debuted three additional tracks ahead of the album's release during the CBS special "Adele One Night Only," with live performances of "I Drink Wine," "Hold On," and "Love Is a Game."
On Friday, Nov. 19, Adele's "30" was released after months of hype surrounding the record, and fans were finally able to listen to the album in all of its glory, including the brand new track "Can I Get It." According to Mamamia, the hitmaker collaborated with the masters of Swedish pop, Max Martin and Shellback, while working on the song. 
But, what is the real meaning behind "Can I Get It"? 
Adele revealed the true meaning being Can I Get It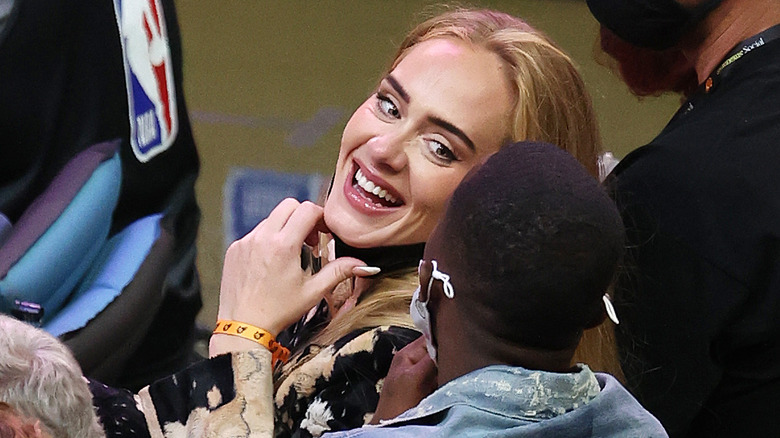 Ronald Martinez/Getty Images
During an interview with Rolling Stone ahead of the album's long-awaited release, Adele shed some light on the true meaning of "Can I Get It," revealing that the song is about longing to be in a real, meaningful relationship instead of one that was rooted in casual sex. 
Speaking to the publication, the "Rolling in the Deep" performer shared that while dating in Los Angeles, casual sex seemed to be the only thing that was good for her, and joked that she "lasted five seconds" dating in LA. In the interview, the singer also revealed that the song is about her not wanting to slip back into any old bad habits with casual dating as it would do more damage to her than good. 
"Pave me a path to follow / And I'll tread any dangerous road / I will beg and I'll steal, I will borrow / If I can make, if I can make your heart my home / Throw me to the water / I don't care how deep or shallow / Because my heart can pound like thunder / And your love, and your love can set me free," Adele sings during the song's verse (via Genius).
The chorus of "Can I Get it" continues, "So can I get it right now? / MmmCan I get it right now? (Can I get it here?) / Can I get it right now? / Can I get it right now? / Let me, let me just come and get it."