The True Meaning Behind Adele's I Drink Wine
Adele's highly-anticipated fourth studio album "30" has finally dropped after months of hype and speculation among some of her most dedicated fans. The first taste of the singer's latest record was the smash-hit lead single "Easy on Me," which shot straight to the top of the Billboard Hot 100 in the United States upon its release and broke the Spotify record for the most streams in a single day (via Variety). 
On Nov. 1, the 15-time Grammy Award winner released further details about her forthcoming album ahead of its release on Friday, Nov. 19, sharing the official "30" track-list on social media. Among the album's track-list was the hotly-anticipated track "I Drink Wine," which became something of a fan favorite online despite not actually being released at the time.
Now, following the release of Adele's "30," fans can finally listen to the track in all of its glory. But, what is the real meaning behind "I Drink Wine"? 
Adele revealed the true meaning behind I Drink Wine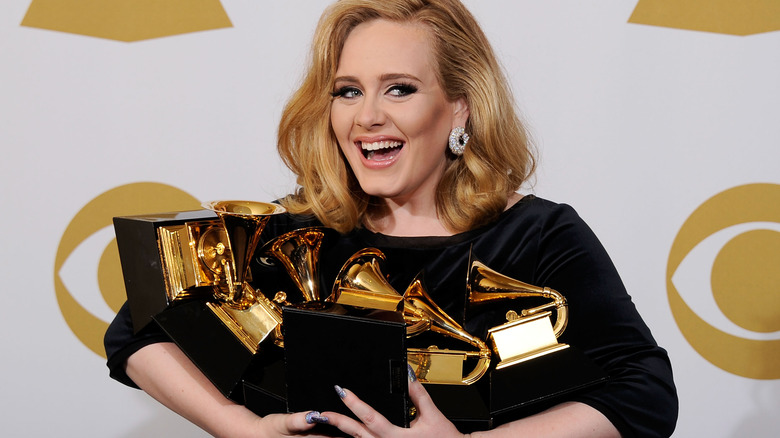 Kevork Djansezian/Getty Images
According to Elle, the song draws inspiration from Adele's divorce from her ex-husband, Simon Konecki. Speaking to Oprah Winfrey during a recent CBS sit-down interview, the singer revealed that she "stopped drinking" while writing her latest record in order to properly cope with the breakup of her marriage. "That's one great way of really sort of getting to know yourself, is just drinking water and being sober as anything," she told Winfrey, while also sharing that alcohol "took my dad from me."
During a recent interview with Rolling Stone, the Academy Award-winner revealed further details of the song's true meaning, explaining that "I Drink Wine" is a self-reflection on how she wasn't able to let anyone in until she had worked through her own issues. "I took everything so personally at that period of time in my life, so the lyric 'I hope I learn to get over myself' is like [me saying] 'Once I've done that, then maybe I can let you love me," she told the publication. 
"So I hope I learn to get over myself / Stop tryin' to be somebody else / So we can love each other for free / Everybody wants somethin', you just want me," Adele sings in the song's chorus (via Genius).