Kate Middleton Sparkled Like An Emerald At A Recent London Appearance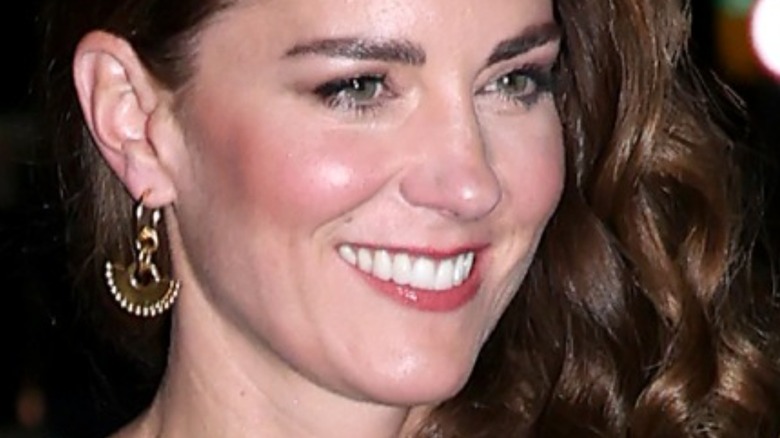 Chris Jackson/Getty Images
While controversy and scandal seem to follow the British royal family around like Joe Btfsplk's rain cloud, they've also got their own personal ray of sunshine in the form of Kate Middleton. She consistently ranks at the top of the royal popularity charts (via YouGov), not just for the peacemaker role she plays in the family, but for her sweetly relatable girl-next-door looks. Kate seems like the kind of mom you'd want to sit next to at a PTA meeting or share a glass of wine with at the book club (where you just know her pick would be a pretty fun read).
Middleton has also become a somewhat unlikely fashion icon due to the fact that she manages to look cute and stylish even in her "grubbies," while she cleans up to look every inch the glamorous queen she's going to be some day. One recent look was particularly striking: the gorgeous green sequined number she wore to the Royal Variety Performance on November 18 (via Twitter), which perfectly offset her auburn curls.
Kate Middleton's green dress was recycled from an earlier event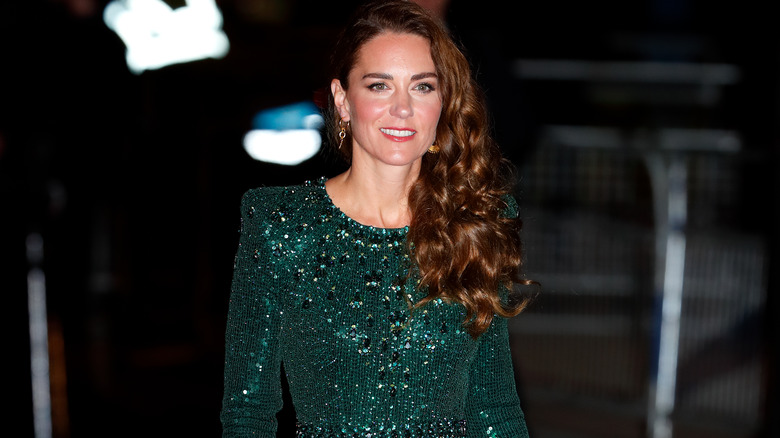 Max Mumby/indigo/Getty Images
One of our favorite things about Kate Middleton is the fact that she doesn't have that annoying rich person habit of wearing an expensive outfit just once and then declaring herself done with it. Kate knows that if you're going to spend good money on an outfit, then you want to get good use out of it! As Insider relates, Kate's Jenny Packham evening gown was created for her to wear to a 2019 reception held at the National Monument in Islamabad. Green is the national color of Pakistan, and the dress as originally worn included the dupatta scarf that is traditional for women in that region.
The second time around, Kate made a few tweaks to how she wore the dress, choosing to omit the dupatta and accessorize with nothing more than gold earrings (and shoes of some sort, although those did not appear on-camera). As le tout Twitter agreed, Kate looked absolutely stunning. Judging by photos of the event, it appears that one famous singer also in attendance couldn't have agreed more. As one person commented, "Find someone to look at you the way Ed Sheeran looks at Kate..."