What Eric Trump Has Been Up To Since His Dad's Presidency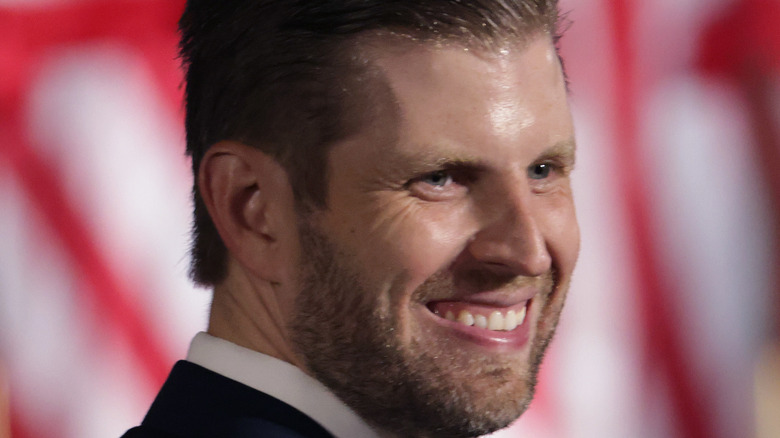 Alex Wong/Getty Images
Both Eric Trump and Donald Trump Jr. did not spend the Trump presidency in the White House as constant advisors to their father like their sister, Ivanka Trump, and her husband, Jared Kushner. Nor did they live in the White House like their younger half-brother, Barron Trump. However, they were both quite visible during Donald Trump's four years as president, as both would often comment on political goings-on, both via social media and cable news outlets that decided to interview them.
Before his father even contemplated running for president and while he was enjoying life as a reality television star on NBC's "The Apprentice," Eric was one of the few people in the Trump Organization executive offices. In 2006, Eric became executive vice president of development and acquisitions, becoming the Trump Organization VP who helped the company invest in the golf club industry, via Biography. During the Trump presidency, Eric remained with the Trump Organization, but found himself in a bit of trouble when Forbes reported that his charity, The Eric Trump Foundation, had used funds to pay for events at the Trump golf courses. His life after the Trump presidency has been business as usual, with a few bumps along the road.
Eric Trump has been busy, both personally and professionally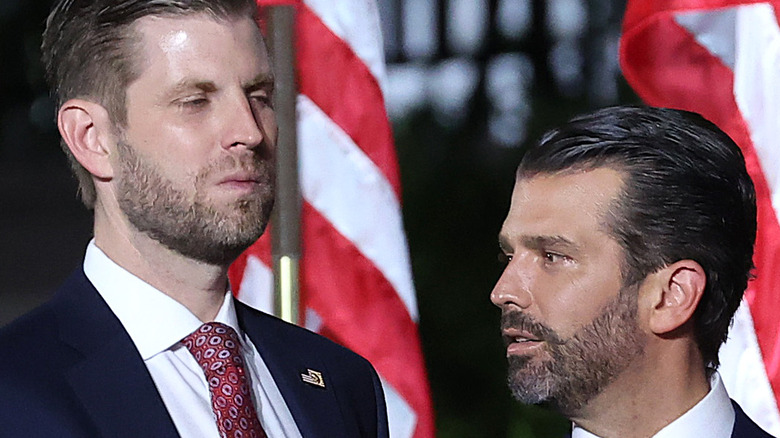 Chip Somodevilla/Getty Images
Eric Trump was the one Trump child who had his own child during the Trump presidency, as sister Ivanka gave birth to her third child during the 2016 campaign. Eric Luke Trump was born in 2017, making Eric a father for the first time, according to Business Insider. In 2019, daughter Carolina Dorothy was born (via Today), so Eric has certainly been a busy dad alongside his wife Lara Trump — and a busy businessman dealing with legal troubles in the Trump Organization.
In July 2021, the Manhattan district attorney, Cyrus Vance, handed down criminal indictments against the Trump Organization, as well as its chief financial officer, Allen Weisselberg, for tax crimes. At that point, Eric and his brother, Donald Trump Jr., became the two men in charge of the company, but it's unclear what Eric's job has been with the company since then (via Bloomberg).
Eric Trump has defended the Trump Organization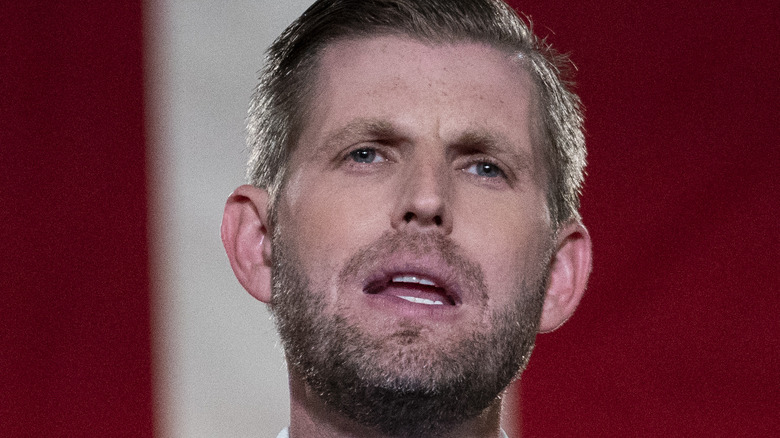 Drew Angerer/Getty Images
When the Manhattan district attorney handed down the indictments against the Trump family business and its CFO, Allen Weisselberg, Eric Trump was clearly bothered by the allegations in the indictment and didn't keep his feelings a secret. During an appearance on Fox News, Eric claimed the criminal charges were political and disparaged New York in general, despite it being the city where he grew up. Eric called New York "dirty" and "disgusting," according to HuffPost.
The lawsuit in question accused the Trump Organization of paying various personal expenses to its few employees, including Weisselberg, and then using those expenses as a tax write off (via The Associated Press). When Eric appeared on Fox News soon after the indictment, he saw no problem with what his family company did.
"Well, these are employment perks," he said. "These are corporate cars, which everybody has ... I bet you there are people in every company in the country that has corporate vehicles. This is what they're going after. This isn't a criminal matter."
While there has yet to be a trial in the Trump Organization case, reports emerged in November 2021 that Manhattan convened a new grand jury to look into more criminal matters with the company Eric now runs with his brother, Donald Trump Jr., according to The Washington Post.