Could Kimberly Guilfoyle Be In Hot Water Over The Capitol Riots?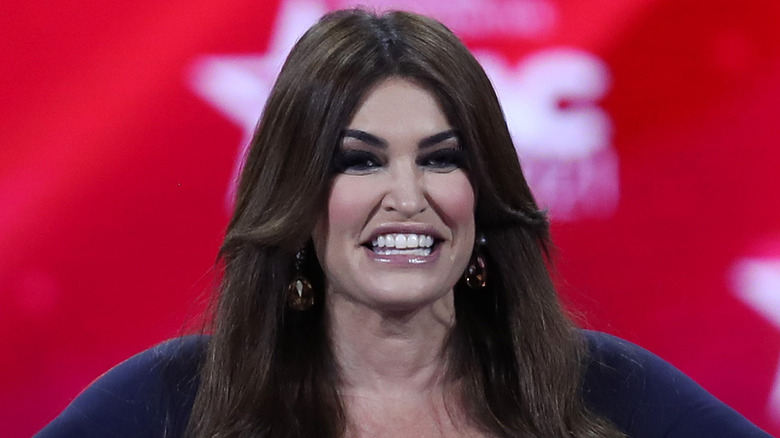 Joe Raedle/Getty Images
Kimberly Guilfoyle, Donald Trump Jr.'s current girlfriend, has been ruffling feathers in more ways than one (per Yahoo News). Most known for her provocative speech at the 2020 Republican National Convention, Guilfoyle led former president Donald Trump's finance team for the 2020 election. (via Vox).
Just this past July, rumors swirled around a possible strain in her relationship with Donald Trump after she publicly announced her support for U.S. senate candidate Eric Greitens of Missouri, and joined his team as the national campaign chair (via HuffPost). The former president allegedly said, "Why the f**** is she working for him?" Greitens is a controversial candidate who resigned as Missouri governor after alleged sexual misconduct accusations swirled around him in 2018. Donald Trump was allegedly not planning on endorsing Greitens because of his "problematic" behavior and was unhappy about Guilfoyle's support of Greitens, without his prior approval.
Guilfoyle, the former Fox News host fired amidst sexual harassment allegations and ex-wife to Democratic California governor Gavin Newsom, apparently has Trump concerned as to whether she is using his name to gain mileage. According to Politico, Trump's donors were displeased with Guilfoyle's unprofessional behavior which apparently consisted of bragging about her sex life with Trump Jr. at fundraisers. At one fundraiser, she even allegedly offered a lap dance to whoever donated the most.
To make matters worse for Guilfoyle, ProPublica published a bombshell report just yesterday that possibly implicates her involvement in the Capitol riots.
Kimberly Guilfoyle's texts related to Capitol riots may spell trouble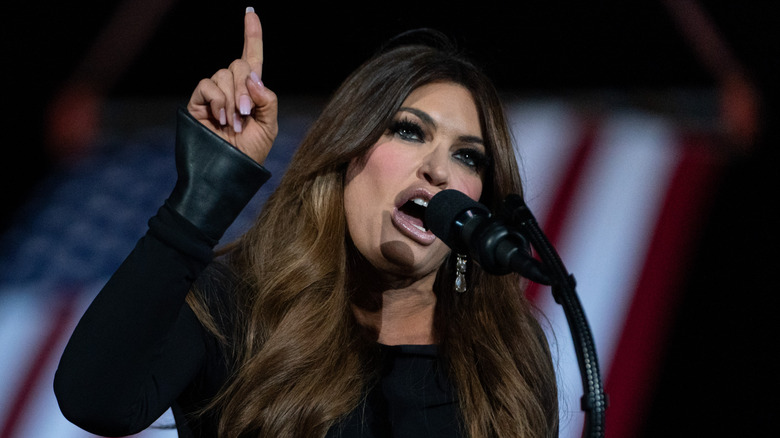 Bloomberg/Getty Images
ProPublica uncovered a text message chain from January 4, 2021 between Kimberly Guilfoyle and Katrina Pierson, White House liaison to the "Save America" rally held on January 6 — the rally that preceded the Capitol Hill riots. The text messages from Guilfoyle state that she wanted to speak at the "Save America" rally but was concerned she would not be allowed to do so. Pierson replied stating that Donald Trump himself came up with a limited set of speakers.
Upon receiving this text, Guilfoyle then stated that she wanted to introduce her boyfriend Donald Trump Jr. and felt like she had helped by fundraising for the rally. Guilfoyle stated, "Literally one of my donors Julie at 3 million," in reference to a Publix supermarket heir, Julie Jenkins Fancelli. According to The Wall Street Journal, the rally cost roughly $500,000, of which Fancelli's donations paid for $300,000.
Joe Tacopina, Guilfoyle's lawyer, stated that Guilfoyle's texts were not related to the January 6 "Save America" rally and that the "content of the message itself" was "inaccurate" and "taken out of context." Per CNN, the House select committee that is tasked with investigating the Capitol Hill riot has subpoenaed over 30 of Trump's allies, Trump administration officials, and event organizers. While Guilfoyle hasn't been subpoenaed thus far, Pierson and Guilfoyle's former deputy Caroline Wrenn have been. Time will tell whether Guilfoyle's texts will land her in trouble as well.