Is Mike Pence Still Upset With Donald Trump Over The Capitol Riot?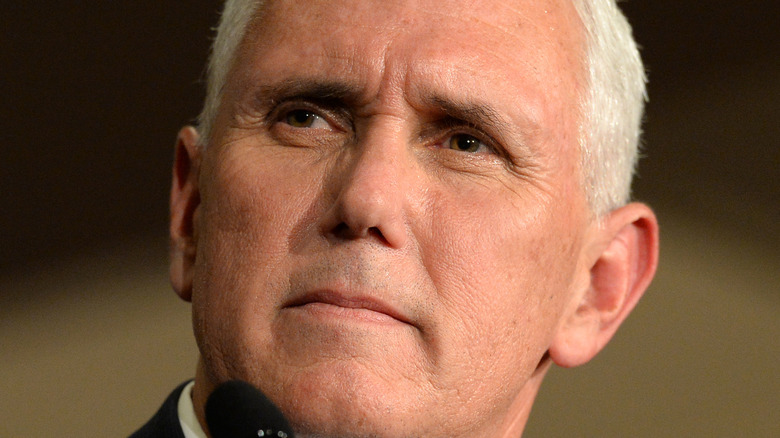 Gino Santa Maria/Shutterstock
On January 6, 2021, thousands of Donald Trump supporters marched to the Capitol Building in Washington, D.C. and instigated a violent riot in an attempt to subvert the 2020 election results. According to USA Today, the chaos occurred shortly after the former Republican president's "Save America Rally" that had taken place earlier that day on the Ellipse park close to the White House.
During his speech, Trump told a crowd of his dedicated admirers, "We fight like hell, and if you don't fight like hell, you're not going to have a country anymore ... So we are going to walk down Pennsylvania Avenue — I love Pennsylvania Avenue — and we are going to the Capitol."
At the same time, lawmakers had gathered in the House of Representatives chamber to count Electoral College votes and confirm Joe Biden as the next president of the United States. However, during the session, Trump supporters began storming the Capitol in an attempt to prevent the process from going ahead, forcing the former vice president Mike Pence, among other senior figures, to evacuate the chamber. 
On the day of the Capitol riot, Trump had also tweeted that Pence "didn't have the courage" to protect "our Country and our Constitution" by failing to support the former president's unproven claims of mass voter fraud (via Fox News). Despite Trump's comments, Pence said that it was incorrect of people to assume that he had the power to "accept or reject electoral votes unilaterally" as vice president.
Mike Pence is still not happy with Donald Trump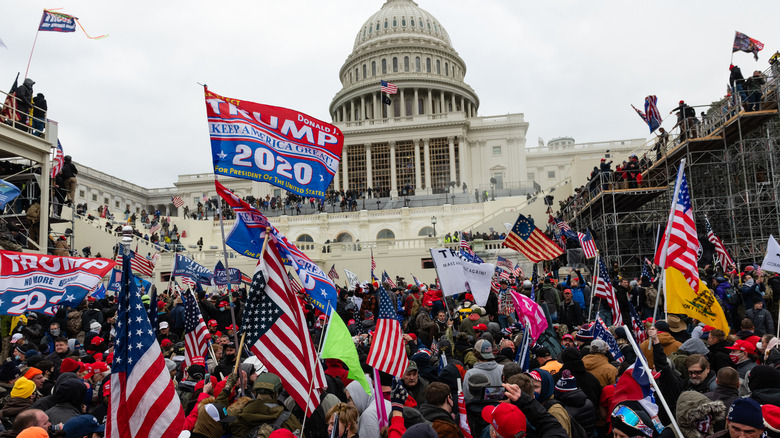 Bloomberg/Getty Images
As The Guardian reported, chants of "hang Mike Pence" were heard at the Capitol riot on January 6, 2021. Writing on Twitter, Reuters picture editor Jim Bourg, who was in Washington on the day of the insurrection, revealed that he had heard "at least three different rioters" saying that they hoped to "find Vice-President Mike Pence and execute him by hanging him from a Capitol Hill tree as a traitor." He added, "It was a common line being repeated. Many more were just talking about how the VP should be executed."
According to Vanity Fair, sources close to the former vice president have revealed that Pence is "still angry that Trump placed his and his family members' lives in jeopardy." Speaking to the publication in October 2021, the sources also revealed that, although Trump and Pence have pretty much gone their separate ways, "they still trade phone calls sporadically" (via Yahoo! News).
Meanwhile, Pence is also rumored to be considering a presidential bid in 2024 and has been "making real money for the first time in his life" on the public speaking circuit since leaving his position as vice president. "Running for president is also a great way of making six-figure speeches," the sources close to Pence added.