What You Should Know Before Using CBD Oil On Your Skin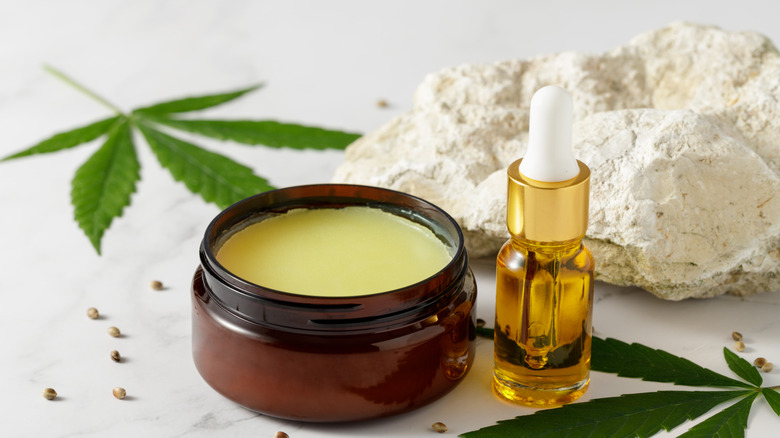 BartTa/Shutterstock
After the U.S. legalized hemp in 2018 (via the FDA), celebrities have been overtly endorsing it, and shelves have been overflowing with CBD products. The ingredient's been touted as a miracle for skincare, which means you now have to navigate endless bottles of serums, oils, and moisturizers. 
"CBD has been used for centuries to successfully relieve pain and treat skin conditions such as eczema, psoriasis, and rosacea — even sunburn and bug bites — when used topically," Cindy Capobianco, co-founder of CBD company Lord Jones, told The Zoe Report in 2019. She added that it can help with "mood stabilization, relief from anxiety, and promoting a calm sense of well-being."
CBD, or cannabidiol, is a natural compound found in cannabis plants, commonly hemp and marijuana, per Healthline. Your skincare products will most likely include CBD made with hemp as opposed to marijuana because laws require them to have less than 0.3% of THC, the psychotropic counterpart of CBD; marijuana-derived CBD can have more than 5% (via The Zoe Report). However, many beauty brands market CBD for skincare and barely include CBD in it, per the Mayo Clinic, which means you need to read your labels before adding CBD to your skincare routine.
Always read the labels before buying CBD products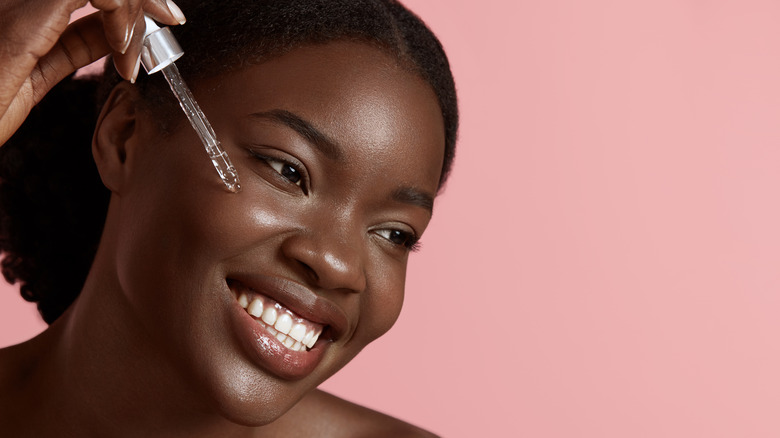 puhhha/Shutterstock
CBD for skincare can work for any kind of skin. But it's especially great for people with acne or dry skin. Dermatologist Dr. Jennifer Vickers told The Zoe Report in 2019, "Some studies have shown that topical CBD can also help reduce oil production in addition to reducing inflammation in the skin, which are two main players in the generation of acne ... It also has antioxidant and regenerative qualities to help offset damage from the sun, pollution, and aging." 
CBD is also an ingredient that works well with other skincare ingredients, such as hyaluronic acid, ceramides, or niacinamides, per Byrdie.
However, with many brands using CBD for its hype rather than in their products, you should look for "CBD, hemp CBD, full-spectrum hemp extract, phytocannabinoid-rich hemp oil, and hemp extract oil" on the label, per Byrdie. And when you do find a product you like — Ildi Pekar's Tissue Repair Serum ($148) and Kiehl's Cannabis Sativa Seed Oil ($52) have editors raving — introduce it into your routine while patch testing and apply it topically. For the most part, it should be safe to use every day. But as research is still relatively new on this ingredient, it's best to consult your dermatologist before making a decision.