Camila Cabello Reveals Stunning Post-Breakup Hairstyle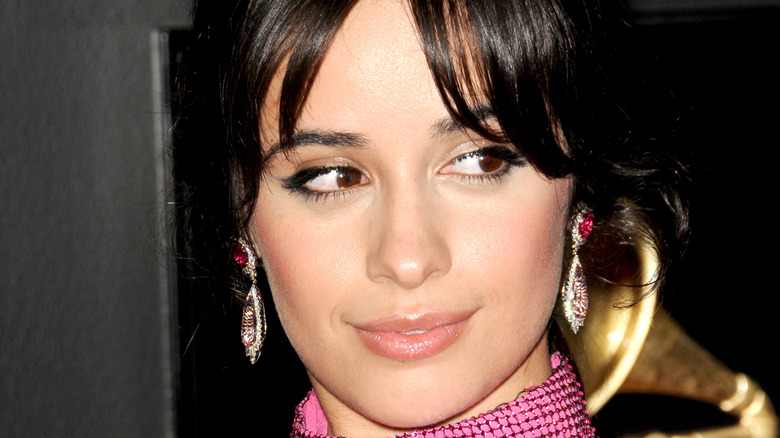 Kathy Hutchins/Shutterstock
Stars, they're just like us. They often seem like a different breed of human, inducing us all to get star struck at the mere sighting of them. But, when it comes down to it, they also respond to a breakup with a drastic hair change — well, at least Camila Cabello does. 
Cabello and Shawn Mendes have been a polarizing Hollywood couple since their beginning. While some fawned over the pair and declared them relationship goals, others shuddered at videos of them kissing passionately and deemed it a PR stunt (via Showbiz CheatSheet). Regardless of whichever side you took, everyone was floored when they announced their breakup on November 17, 2021, with an Instagram story statement they both composed, sharing, "Hey guys, we've decided to end our romantic relationship but our love for another as humans is stronger than ever" (via Page Six). 
Ever since, fans have been fixated over theories of who initiated the breakup (via Elle). Meanwhile, Cabello is seemingly focused on going through the unofficial stages of grief — relatably beginning with a hair revamp.
Camila Cabello goes full-on mint green
Camilla Cabello and Shawn Mendes both insisted in their announcement posts that they intend to remain friends and that there were no bitter feelings. A source exclusively shared with E! that Mendes "initiated the conversation," and, while Cabello was upset, "she has a huge support system and is feeling renewed now."
While fans have been speculating about what caused the breakup, Cabello jumped straight into a hair salon chair as we naturally all would. She took to Instagram to share a completely new look with stunning makeup to match. In true Cabello fashion, she had to include a funny 'before' selfie and caption the post, "I clean up ok[ay]."
The post showed Cabello sporting an entirely new bold hairdo by going for a drastic change: dying her hair mint green, which matched her plunging dress and magically shimmery eye makeup. It's unclear what this look was created for, although it seems to be a photo shoot or, perhaps, a music video. Either way, it's always a win when a post-breakup hair shakeup doesn't involve the all-too-familiar bangs move.