This Reported Detail About Meghan And Harry's Latest Trip May Surprise You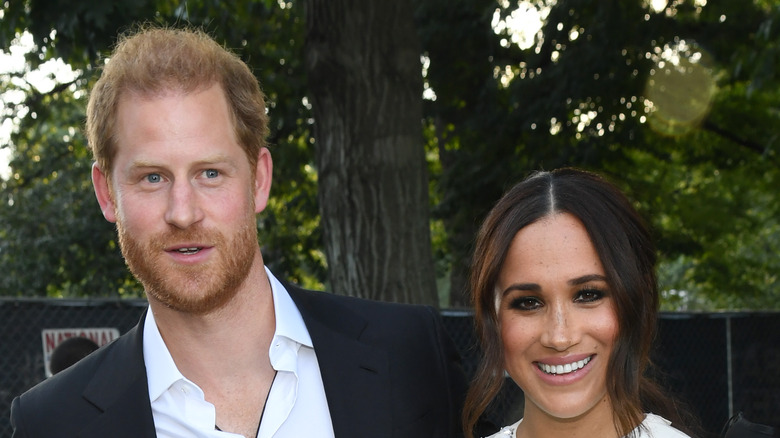 Kevin Mazur/Getty Images
Prince Harry and Meghan Markle seem to live a glamorous life, even after stepping down from their royal duties in 2020. They live in a $15 million mansion in Santa Barbara, California which boasts nine bedrooms and 19 bathrooms, as well as a library, gym, a sauna, home cinema, arcade, games room and an elevator. The Duke and Duchess of Sussex are also surrounded by plenty of famous names. Some of the celebrities that live nearby include Ellen DeGeneres, Kevin Costner, Tom Cruise and Oprah Winfrey (per Love Property). "They both love California, and Santa Barbara has a magic to it — the mountains, oceans, vineyards, flowers, gardens," a source close to Meghan and Harry told People. "It's so beautiful."
And during their November 2021 trip to New York City, the couple reportedly stayed in a luxury apartment at United Nations Plaza on Manhattan's East Side. "They had eight bodyguards and a surveillance van on site — and they'd go in and out through the basement." a source told Page Six. "They were staying in a friend's four-bedroom apartment with river views." 
But when it came time to fly back home to California to reunite with their two children, son Archie and daughter Lilibet, Harry and Meghan decided to live just like the rest of us.
Prince Harry and Meghan Markle skipped the private jet for this trip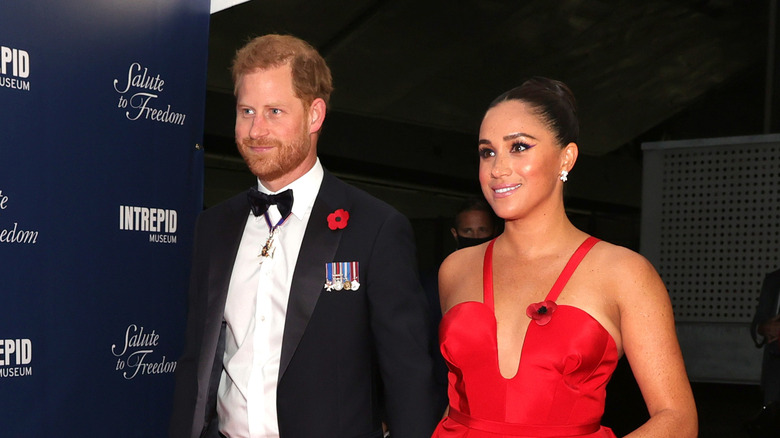 Dia Dipasupil/Getty Images
After dazzling on the red carpet at the Salute to Freedom Gala in New York City, Prince Harry and Meghan Markle returned to California. But instead of boarding a private jet like many would assume, they took a commercial flight back home, according to Daily Mail. "Ok this might sound unbelievable and I couldn't get a good picture and I get [sic] you can say this could literally be anyone ... BUT ... Prince Harry and Meghan were on our flight to LA last night!" a fellow passenger posted. "We were held up for about 20 minutes from our departure time and they were snuck into the last 2 seats. We didn't even know until a girl waiting to get off the plane next to us pointed them out. I couldn't get my phone out fast enough but it was them. They were quickly whisked away and we were in shock that we were so close and breathing the same air as our beloved royals!"
The move came after the couple was criticized for flying home in a private jet after attending a climate change event in New York City in September 2021. In addition, Harry and Meghan's Archewell Foundation has vowed to become net zero by 2030. "Our co-founders, Prince Harry and Meghan ... have a long-standing commitment to the planet, both together and prior to their union, with global projects and partnerships dating back over a decade," a statement read.