The Star Of Ellen's Meghan Markle Interview Isn't Who You Think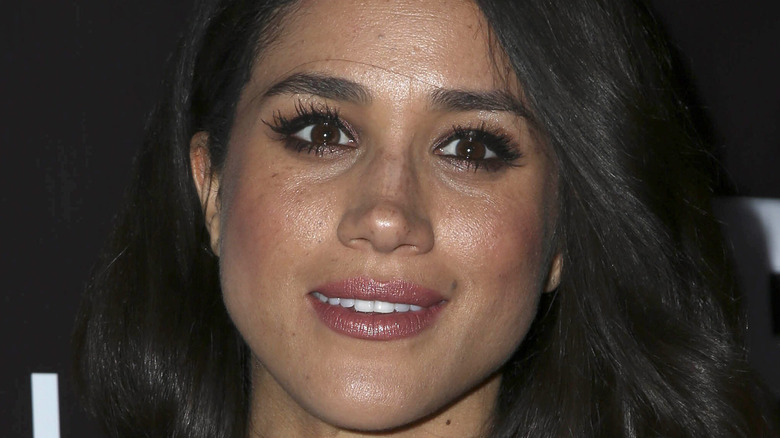 Kathy Hutchins/Shutterstock
Meghan Markle has faced a lot of flack for her surprise appearance on "The Ellen DeGeneres Show." Even "Good Morning Britain" host Susanna Reid got in on the commentary (via the Independent).
On her show, Reid commented on Markle's interview. "Goodness me, she put a rocket under practically everything frankly, from the royal family to this program," she said. "You would imagine that they would put out a clip perhaps about Harry, or perhaps her feelings about the royal family, or perhaps about everything that has happened in the wake of that. But no, we go right back to her humble, hard-working roots."
This is likely a nod to the story Markle told about her time as a struggling actress in Hollywood when she used to frequently show up to the studio lot "Ellen" is filmed on for auditions (via Newsday).
Since Markle rarely has an easy time with the press, fans and critics alike found a different member of the royal family to be the real star of her "Ellen" interview.
Meghan Markle's son was the star of the show
Viewers of the surprise episode seem to be in agreement that Meghan Markle wasn't the star of her interview with Ellen DeGeneres — rather, another member of the royal family took the spotlight. It was her son, Archie, of course!
During the interview, Markle shared a new photo of the son she shares with Prince Harry (via Access Hollywood). Archie, now a toddler, was hanging out in a chicken coop with a family of chickens. Markle even gushed about her son's new role as big brother. "He loves being a big brother, but everybody tells you ... when you have one kid it's a hobby and two's parenting, and we realize what it is like for the second child, but no one talks about the adjustment for the first child when the second one comes along, so they had that moment of this is fun, oh, this is how it is now" (per Access Hollywood). 
During her interview with DeGeneres, Markle also shared her son's adorable reaction to the children's book she wrote (via People). The toddler noticed himself in the book and even the family dogs. Markle told Ellen, "On that first page you open and you see our dogs and he goes, 'That's Pula! That's Guy!'" 
Twitter went crazy for the adorable little guy, with one viewer writing, "What really makes me really happy is seeing how King Archie is growing up confident, secure, happy and loved. Out of reach of all toxic vipers." Clearly, Archie was the breakout star of this interview.