Why Katherine Kelly Lang Has Trouble Remembering Her Lines On The Bold And The Beautiful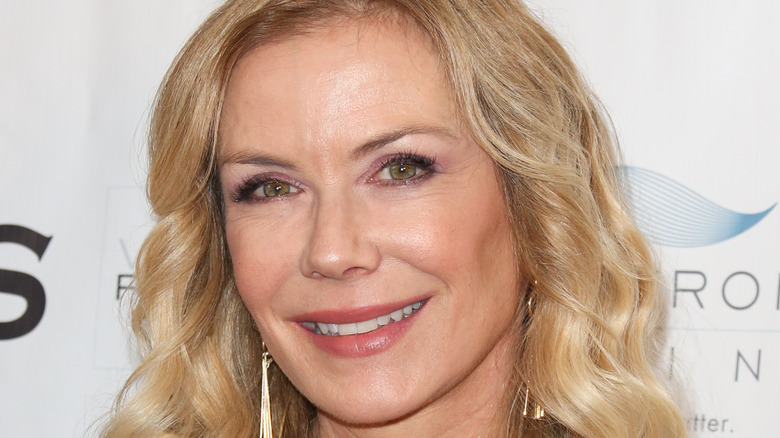 Paul Archuleta/Getty Images
Katherine Kelly Lang has been playing Brooke Logan Forrester on "The Bold and the Beautiful" since the show first premiered in 1987, per her IMDb profile. In fact, Lang and John McCook, who plays her husband, Eric Forrester, are the two last remaining original cast members on the CBS half-hour soap. Over the last 34 years, Lang took Brooke from college student working her way through school to chemist, business tycoon, mother, and now grandmother, according to Soap Central. And knowing the twists and turns of a long-running soap, Brooke has dealt with her fair share of drama.
Along the way, Brooke has been married and divorced numerous times and even had an affair with her daughter's husband, producing her younger daughter. With almost daily work for more than three decades, Lang has had to memorize countless pages of dialogue in a near-endless stream. While she is used to it, she also admits that it's not the easiest thing in the world to do, considering the number of pages the show tapes in a day.
The Bold and the Beautiful packs a ton of dialogue into one day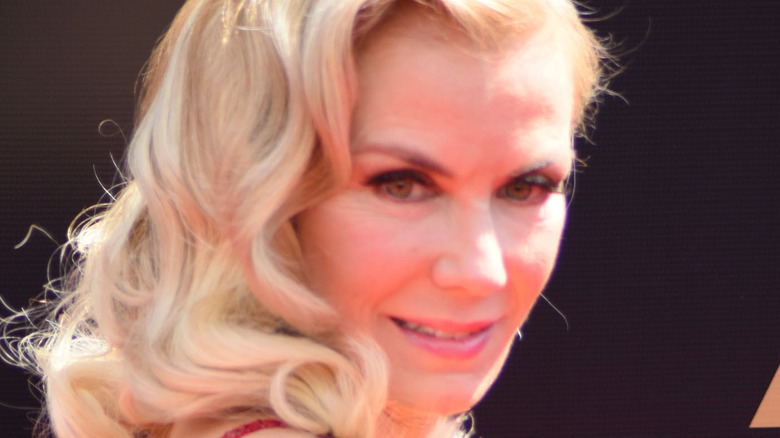 Michael Mattes/Shutterstock
With the budget cuts that have hit soaps in recent years, as Soap Opera Digest reports,  all four remaining daytime soap operas try to pack as much into one shooting day as possible. In 2014, Katherine Kelly Lang told News.au.com that "The Bold and the Beautiful" tapes two episodes in one day, with actors and crew working from 8:30 am to 6:30 pm. Sometimes, the actress has to memorize up to 63 pages of dialogue a day, which can be taxing on even the most seasoned soap performer. "You work all day," she said, and then referred to the scripts: "But you still have to do your homework at night."
Still, that doesn't mean Lang would give up her job for a second. After all, it allowed Lang to raise her three children, Julian, Jeremy, and Zoe, with a regular acting job. (She also has two grandkids!) As she told News.au.com as she celebrated 28 years with the soap, she couldn't imagine her life without it.
"It's been 28 years that I've done 'The Bold and The Beautiful' and I still enjoy it," Lang said. "I can't imagine not doing the show. It's been a part of my life for so long so it's strange to think if it wasn't there, what would I do? I mean, I always fill my time and my life up, I'd miss Brooke for sure because she's like another part of me. I love acting and I love being able to act every day."