What Other TV Shows Did Dave And Kortney Wilson Do Before Masters Of Flip?
HGTV's "Masters of Flip" introduced American viewers to lovable duo Dave and Kortney Wilson, who worked together and were married too (via IMDb). Although the Wilsons have since parted ways, their relationship today remains strong thanks to the three children Kortney and Dave share and continue to co-parent. As with many of HGTV's most popular shows, the appeal of watching "Masters of Flip" comes from watching the two interact, bicker, and eventually figure things out. The Wilson's call Nashville home and, as a joint interview with River City Sisters notes, they originally moved down from their native Canada to (separately) pursue careers in country music. 
As Dave acknowledged, turning their attention to house flipping wasn't a conscious decision. Rather, "Our house in Nashville flooded while we were in Canada for Christmas and so we took the insurance money and remodelled. Our agent, at the time, thought we did a good job and suggested that we might be good house flippers. We bought our first house a few weeks later." The couple initially funded their music careers with the money earned from flipping but then, "As our kids got older and we wanted to be home more, we shifted to singing less and flipping more." The rest is HGTV history. However, it might surprise you to learn that "Masters of Flip" wasn't the couple's first foray into reality TV. 
Dave and Kortney Wilson are major stars in Canada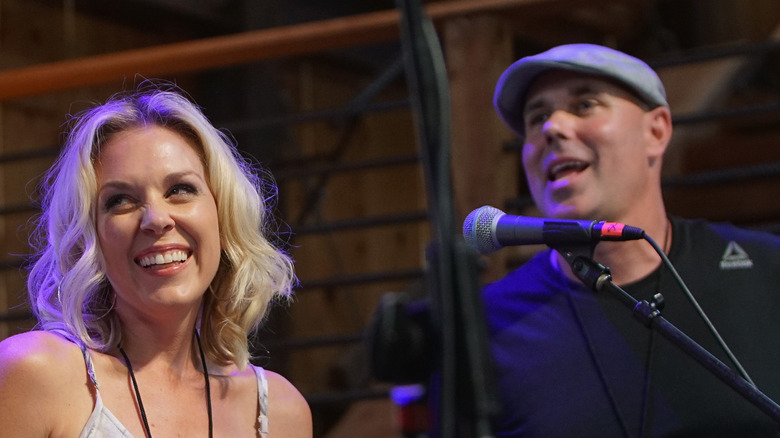 Anna Webber/Getty Images
As PopSugar notes, although most of us met Dave and Kortney Wilson through "Masters of Flip," at home in their native Canada, these two are bonafide reality stars. The Wilsons featured on two different shows before moving down south, to the extent that constantly having cameras around no longer bothers them. "When you're married and you have three kids and you have like a hundred jobs, you're really busy. Our world doesn't revolve around us being on TV necessarily," Kortney said. "We're still just a couple with three kids and trying to do the best that we can." River City Sisters details how the former couple's original, family-oriented show, "Meet the Wilsons," debuted all the way back in 2009 on CMT Canada. 
Although it only ran for two seasons, clearly Dave, Kortney, and their adorable brood were a hit since the pair were subsequently tapped to front their very own daytime talk show, also on CMT, entitled "Kortney & Dave: By Request." Aside from "Masters of Flip," the duo also hosted "Making It Home With Kortney and Dave." But, on the heels of their breakup, she took charge with new co-host Kenny Brain, per O Canada. Kortney made it clear that everything is still going well. "It was probably the hardest years of my life, but it was time for me to get back to work and do what I love, and just do it a little differently," she explained.