Angelina Jolie And Brad Pitt Chose This Famous Godfather For Their Twins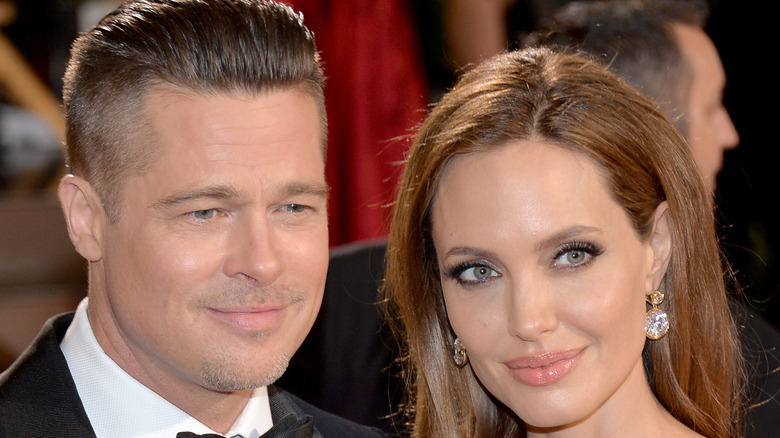 Michael Buckner/Getty Images
When Brad Pitt divorced Jennifer Aniston and subsequently began a relationship with his "Mr. and Mrs. Smith" co-star Angelina Jolie, it was one of the biggest celebrity scandals of the early aughts, if not one of the biggest celebrity scandals of all time, per Us Weekly 
As Pitt and Jolie explored their newfound love in front of the world, Aniston was upfront about the hurt and pain it caused her. "There are many stages of grief," she told Vanity Fair in 2005 (via Us Weekly). "It's sad, something coming to an end. It cracks you open, in a way — cracks you open to feeling. When you try to avoid the pain, it creates greater pain. I'm a human being, having a human experience in front of the world. I wish it weren't in front of the world. I try really hard to rise above it," the "Friends" star added. 
After Pitt began his relationship with Jolie, it seemed like the two were in it for the long haul. According to Glamour, they announced they were having their first child together in January 2006, and Pitt formally adopted Angelina's children, Maddox and Zahara. Over the years, Pitt and Angelina would go on to finally get married, have twins Knox and Vivienne, and adopt their child Pax together. However, they too would go the way of so many couples before them: In August 2016, Jolie filed for divorce from Pitt, due to irreconcilable differences.
Angelina and Brad's humanitarian work inspired their choice of godfather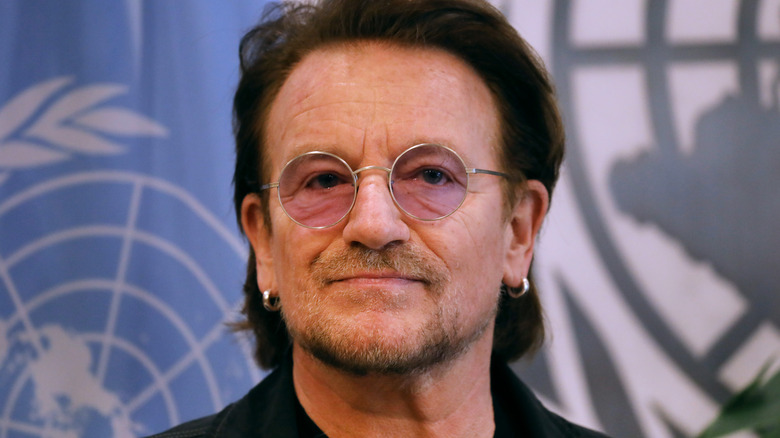 Spencer Platt/Getty Images
Although Jolie and Pitt may no longer be together today, the two, of course, shared good times along with the bad. The couple were also relentless in their humanitarian efforts, creating the Jolie-Pitt Foundation in 2016 and, with its inception, donating $1 million to both Doctors Without Borders and Global Action For Children, Hello! reported. 
This commitment to making the world a better place is something that the pair share with Vivienne and Knox's godfather, Bono, aka the frontman of the beloved band U2 (via Mirror).
"They have been friends for years. Brad is a massive U2 fan and told Bono how much he admired him when they were introduced at a party a few years back. Since then, they've become very close, which Brad is thrilled about," a source told the Mirror back in 2012. "Angelina is inspired by Bono's humanitarian work and gets on with his wife Ali Hewson. Ali's given Angelina some clothes from her ethical clothing range Edun," they added. 
According to the publication, Bono didn't hesitate to accept the invitation, and while Jolie and Pitt are no longer together, it seems like their children have a very strong, and very famous, support system.