The Real Reason Lara Trump Had To Wear Two Casts During Her Wedding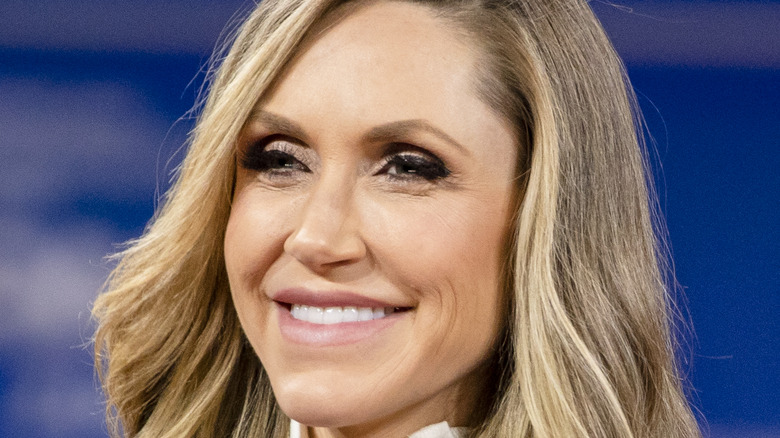 Samuel Corum/Getty Images
When Eric Trump married Lara Yunaska in 2014, it was after a years-long romance that began in 2008, when the "Inside Edition" television producer met the son of a reality TV star and future president, per Town and Country. "We met here in New York. Actually, we were both out one night with friends and being, probably, the two tallest people in the room was really helpful," Lara told Fox & Friends (via Elite Daily). "I think we spotted each other across the room. I was immediately intrigued, and hopefully Eric felt the same way."
The pair were together for six years before becoming engaged, but when they did, it was well worth the wait. Page Six reported that Eric proposed to Lara with a ring from the Ivanka Trump Fine Jewelry Collection, which he presented to his fiancee on the grounds of the Trump Seven Springs Estate in Bedford, New York. Despite the storybook proposal, things took a turn for the worse a year later right before the couple's wedding.
Lara Trump planned the wedding of her dreams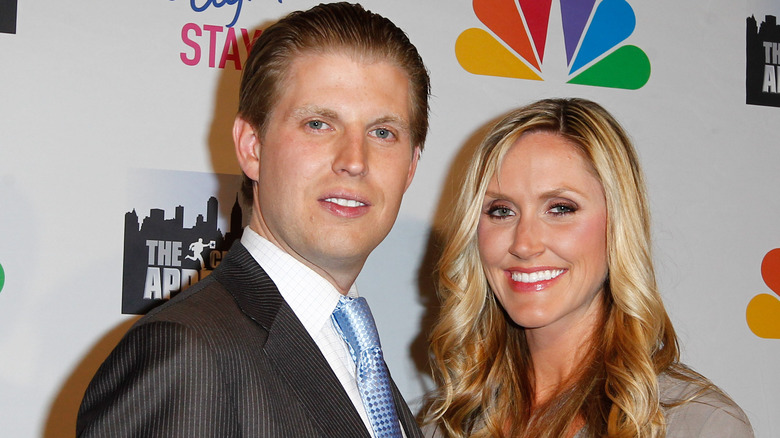 Debby Wong/Shutterstock
Lara and Eric Trump's lavish wedding was planned to take place at Donald Trump's Mar-a-Lago estate in Palm Beach, Florida, where the former president now permanently lives, as of this writing. Per Town and Country, the ex-commander-in-chief had wed Melania Trump there in 2006, and now it was time for his son's big day. Naturally, the entire Trump clan was on hand to celebrate the happy couple's nuptials. Donald Trump Jr. stepped up as his brother's best man, Ivanka Trump was a bridesmaid, her husband Jared Kushner officiated, and the pair's daughter Arabella Kushner walked down the aisle as a flower girl, according to Town and Country.
Lara even had two Vera Wang gowns on hand — one for the ceremony and one for the reception — with new sister-in-law Ivanka supplying glamorous accessories from her own jewelry collection. Town and Country reported that there were more than 400 guests were in attendance, including several New York celebrities who couldn't wait to get in on the fun. Still, there was only one problem.
Lara Trump had a freak accident just before her wedding day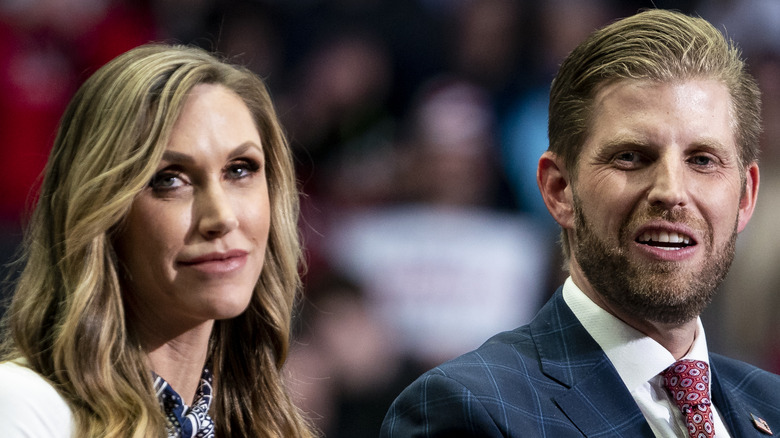 Bloomberg/Getty Images
Two weeks before her big wedding to Eric Trump, Lara Yunaska suffered a horseback riding accident that resulted in her breaking both wrists, according to Town and Country. The future Mrs. Trump posted a sad picture of herself to Instagram, explaining what happened and showing off her bandages. "Wedding countdown: 2 weeks and 2 casts to go! #HopeImAFastHealer," she captioned the photo.
Two weeks may have been an overly optimistic healing timeline, so Lara showed up to her wedding day with two casts, but that didn't mean she couldn't accessorize! Rather than having bulky double casts show in her wedding photos, she wore a pair of fancy fingerless gloves that covered her casts and still allowed her to feel like a princess and enjoy her big day. "I had to get creative with a way to make casts look bridal," Lara told People of her last-minute look. "Fortunately, my wedding planner and my designer came up with some fabulously bedazzled gloves to try and blend these casts," she added.