The True Meaning Of Queen Latifah's Tattoos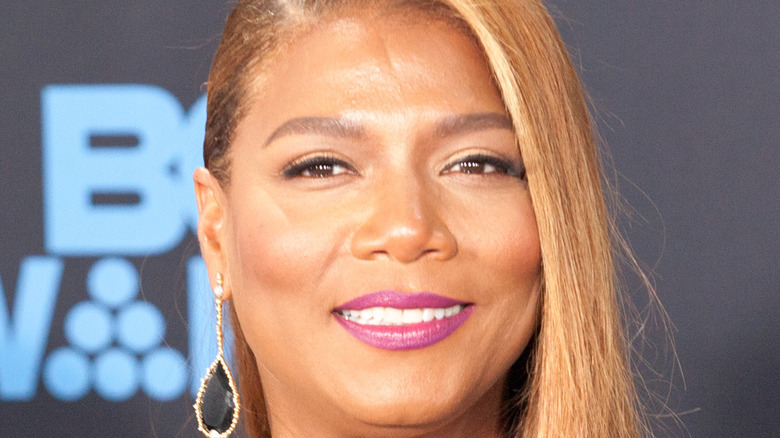 Jamie Lamor Thompson/Shutterstock
We may receive a commission on purchases made from links.
When Dana Elaine Owens was just a kid in Jersey, folks affectionately called her Latifah — an Arabic word meaning "gentle," and it wasn't long before Queen Latifah ascended to her rightful entertainment throne (via Britannica). She was signed by Tommy Boy Records in 1988, and then dropped her debut album, "All Hail the Queen," when she was just a teenager. Since then, she's been a fervent feminist role model, commanding the spotlight with the grace of her Arabic nickname and the power of her crown.
Over the years, Queen Latifah has toggled with ease between being a hip-hop maven, musical and feature film star, Cover Girl spokesperson, author, and talk show host. It's no surprise then that the hip-hop-turned-screen star's body art channels symbolism of metamorphosis and transformation. The mega-star confirmed in an interview with Us Weekly that she has three butterfly tattoos. She summed it up best on "The Ellen DeGeneres Show" when she explained, "I just want to continue to grow into that beautiful butterfly. The caterpillar who turned into the butterfly — that's a symbol of who I want to be."
Queen Latifah's butterfly tattoos channel feminine power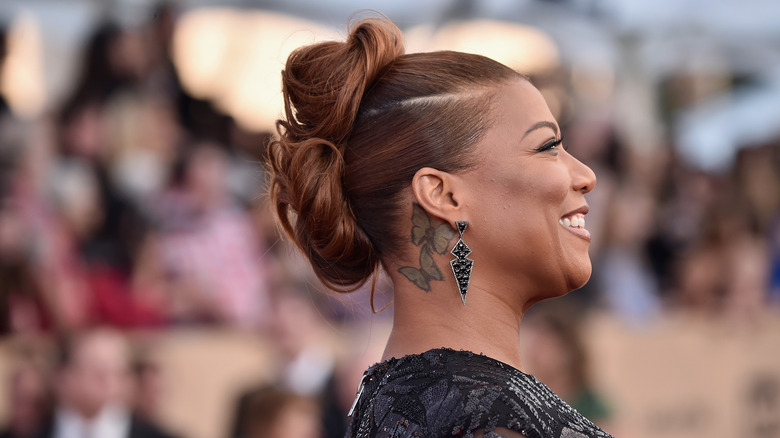 Alberto E. Rodriguez/Getty Images
Queen Latifah's trifecta of butterfly tattoos — on her left hand and behind her right ear — are a powerful reminder of her journey from a kid in Jersey to a multi-award winning megastar. Often associated with themes of transformation, butterflies remind us that anything is possible (via World Birds).
World Birds also explained that, "In the Mayan and Aztec mythology, a butterfly represents Xiutecutli, the god of fire." And to this we say "Yes, honey," because even in her OG days as a fledgling hip-hop artist, The Queen was spittin' straight feminist fire. Lyrics in one of her original anthems, "Ladies First," include the lines, "Some think that we can't flow (can't flow), Stereotypes, they got to go (got to go)," as well as, "Who said the ladies couldn't make it, you must be blind. If you don't believe, well here, listen to this rhyme" (via Genius).
Widely celebrated for clearing a path for female hip-hop artists, this song put her on the map as star, but also a feminist. The Queen has remained an outspoken advocate for equality, self-love, and — as her butterfly tattoos remind us — self-growth.
Ladies, just as The Queen advised Robin Roberts, our advice to you is, "Put on your crown."