Sandra Bullock Reveals The Truth About Her Relationship With Keanu Reeves
Kevin Mazur/Getty Images
Sandra Bullock and Keanu Reeves are two of the most beloved actors in Hollywood. The pair have delighted fans with their bodies of work, and of course the two movies that they've filmed together. The duo first met on the set of the fan-favorite 1994 action film "Speed." The two were still budding movie stars and the film not only boosted their careers but also created a friendship that has lasted nearly 30 years.
During a 2018 interview with Ellen DeGeneres, Bullock admitted that she did have a bit of a crush on Reeves while filming the movie, but claimed that the two never dated (via Entertainment Tonight). "I think about how sweet Keanu Reeves was, and how handsome he was," Bullock told DeGeneres. "It was hard. It was really hard for me to really be serious. He'd look at me and I'd [giggle]. There was just something about me that I guess he didn't like," she joked, adding that it's likely that she and Reeves have stayed friends for so long because they never got intimate.
Months later, Reeves made his own appearance on "The Ellen DeGeneres Show," and revealed that he also had a crush on Bullock while filming "Speed." Reeves revealed that it was "nice to go to work" with Bullock, adding "She's such a wonderful person, such a wonderful actress."
Now, Bullock is spilling even more details about her relationship with Reeves.
Inside Sandra Bullock and Keanu Reeves' friendship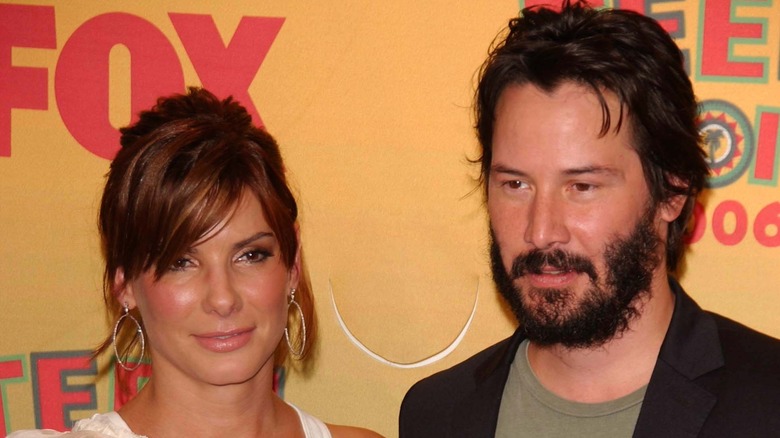 s_bukley/Shutterstock
According to People, Keanu Reeves is set to cover Esquire next month, and in the cover story, Sandra Bullock spoke to the magazine about her longtime friend and co-star. When asked if she and Reeves ever got romantic she simply stated "nope." However, Bullock reveals that if she and Reeves would have gotten together they may have been able to go the distance, or at least maintain their friendship following a romance. "But who knows? Keanu's a guy who, I feel like, is friends with every woman he's ever dated. I don't think there's anyone who has something horrible to say about him. So maybe we could have survived. I don't know," she said.
"But we didn't have to survive anything," Bullock continued. "We just get to grow up together on parallel roads and tip our hats and meet for a dinner and try to work together. And the longer time goes on, the more in awe I am of the human being. Would I have been able to say that if he had dumped me and made me angry? Probably not."
Although they first met on the set of "Speed," the co-stars loved working together so much that they also reunited for the 2006 film "The Lake House." When asked if he would ever work with Bullock again, Reeves replied, "I sure hope so." Of course, fans would be also delighted to see the pair on the big screen together again.