Ted Cruz Just Took His Imaginary Feud With Big Bird To The Next Level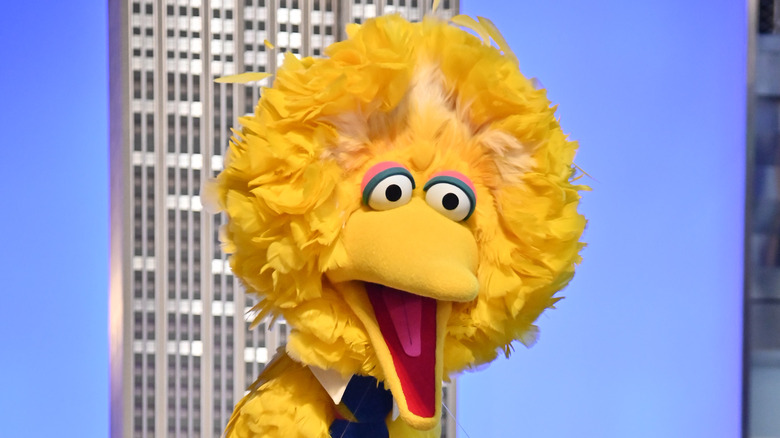 Theo Wargo/Getty Images
If there is anyone (or any bird?) who knows a thing or two about imaginary friends it's Big Bird who, as fans of "Sesame Street" will know, struggled for a while to get the grownups around him to figure out that Mr. Snuffleupagus was real. However, Big Bird won't know too much about imaginary feuds, which is what Texas GOP Senator Ted Cruz seems to have started with this beloved children's character.
If you'll recall, a few weeks back, Cruz decided to put the crosshairs on Big Bird's back when the longtime "Sesame Street" resident came out in a Tweet to support the Biden Administration's COVID vaccination program. Now, Cruz has decided to rekindle that feud by sharing an old meme on Twitter showing other "Sesame Street" muppets feasting on Big Bird with a caption saying "I hope that everyone has a truly wonderful Thanksgiving."
Ted Cruz has used Twitter to launch verbal missiles at his perceived enemies before. Most recently he tried to have a go at Wisconsin Republican Liz Cheney. Despite his attacks, Cruz still has his supporters. Even one social media user came out in support of the Texas Senator, saying, "Most of y'all are so. This cartoon was drawn up years ago.. Don't act like just because big bird came out as a Democrat agenda pushing mouth piece that this means war. This simply is a funny meme" (via Twitter).
Big Bird's supporters didn't let Cruz's tweet slide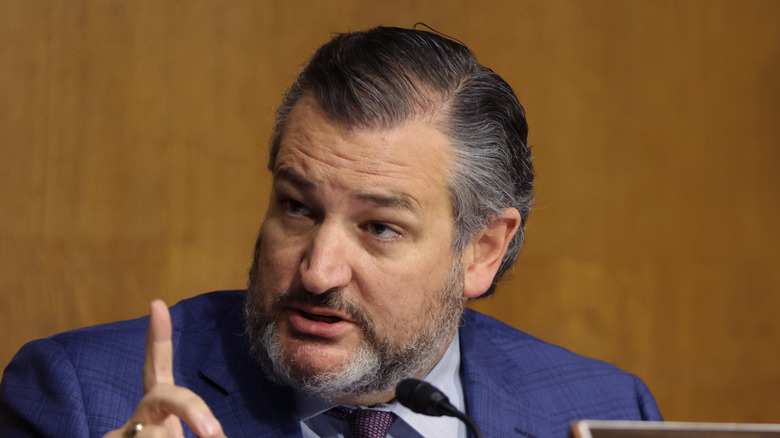 Pool/Getty Images
Since Big Bird doesn't seem to have a single bad-tempered bone in his body, it was left up to other social media users to come to his defense, which they did. Many shared memes referencing Ted Cruz's attempt to leave Texas for Mexico at the height of the state's devastating cold snap, while a few wanted to know just why Cruz couldn't be gracious. "I personally find it strange that a U.S. senator can't offer a simple Happy Thanksgiving to everyone without a bunch of blatant hate for half the country," mused one social media user (via Twitter).
Another said: "What's most disappointing about this is that a U.S. Senator feels legitimately threatened by an 8'2" bird running an insurgency campaign against him. Says a lot about Ted Cruz's confidence."
This social media user asked people to stay focused on the bigger picture. "America, don't take the bait," he said on Twitter. "He doesn't give a s*** about Big Bird. It's just a distraction. Stay focused. We have extremely important issues to address/solve. Cruz has no answers, hence his childish attraction to Big Bird. Let's go forward and let Cruz play with himself." In mid-October, The New York Times named Cruz as one of the main reasons for the holdup of dozens of State Department nominees to key U.S. embassies around the world.