Did Donald Trump Really Say This About His Son Barron?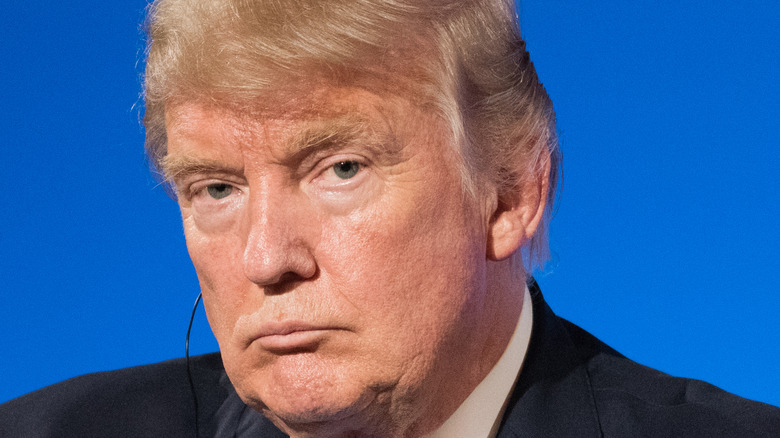 Frederic Legrand - COMEO/Shutterstock
Jonathan Karl shared a conversation he had with Donald Trump that involved a surprising revelation about Barron Trump. Karl, a political journalist, recently appeared on CNN's New Day to discuss his new book, "Betrayal: The Final Act of the Trump Show," and CNN's John Berman asked specifically about a particular meeting that took place.
As the head of the White House Correspondents Association, Karl and another reporter, Zeke Miller, went into the Oval Office to talk to Trump about possibly attending the White House Correspondents Dinner. Previously, Trump had skipped the meal, and Karl said, "I hadn't even invited the guy. I wasn't sure I wanted to invite him. He had called the press the enemy of the people. I wasn't going to beg him. I wasn't even going to actually ask him. I just said, 'We respect your decision. If you want to come, you're welcome to come. If you don't want to come, that's fine'" (via MSN).
'Donald Trump, it seemed, was comparing me to his teenage son, Barron,' said Jonathan Karl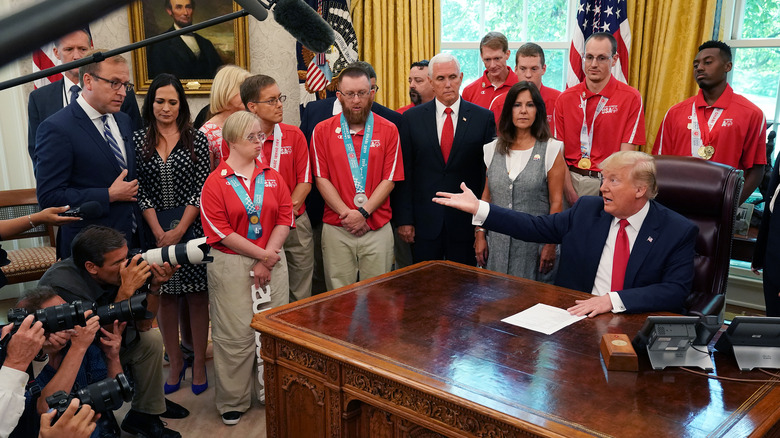 Chip Somodevilla/Getty Images
During this meeting and as pointed out in the book, Donald Trump said to Zeke Miller, "Jonathan [Karl] is very cool. He's like my son."
Trump then reenacted a conversation he had with his actual son, Barron Trump: "Do you love your dad? I don't know. But he does. But he's too cool, the kids."
"Donald Trump, it seemed, was comparing me to his teenage son, Barron," Karl stated, "and he was comparing my lack of excitement about his possible appearance at the White House Correspondents Dinner with his son's reluctance to say out loud that he loved him."
When discussing this moment of Barron not wanting to say out loud that he loved his father, Karl went on to say, "There have been many surreal moments. I can't say if it was the most, but it was certainly in the top, top five."
"It is odd, to say the least," CNN's John Berman agreed (via MSN).
Despite this news, Donald Trump seems proud of his son and reportedly calls him regularly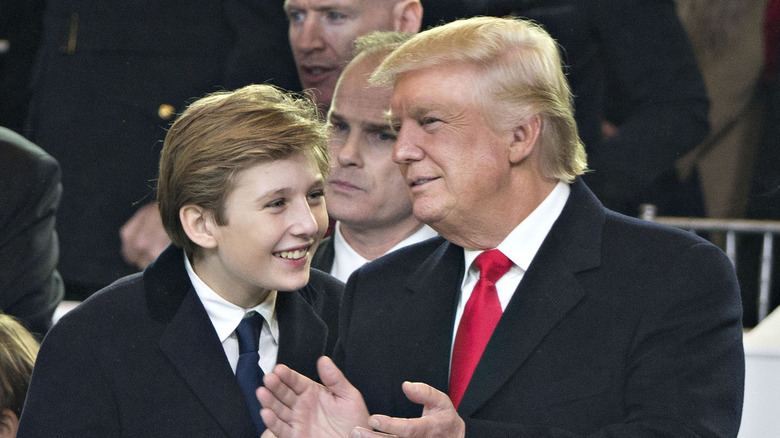 Bloomberg/Getty Images
Despite the fact that Barron Trump apparently does not say "I love you" to his father, Donald Trump, the two may have a closer relationship than some would think.
First of all, according to body language expert Judi James, their body language has shown that Trump is proud of his son. "[Trump] tends to stand him directly in front of himself, clutching both his shoulders in a gesture of pride and endorsement," she told Express.
Furthermore, Trump is reportedly a fan of regular check-ins with his son, who is the youngest of five and the only child of Melania Trump (via Town & Country). While at the Conservative Political Action Conference last year, Mick Mulvaney, who was the acting White House Chief of Staff, shared that Trump called his son multiple times. "The president's just a really caring father, and you don't see that," he said (via U.S. News & World Report).