The Heartbreaking Death Of Chuck Schumer's Father Abe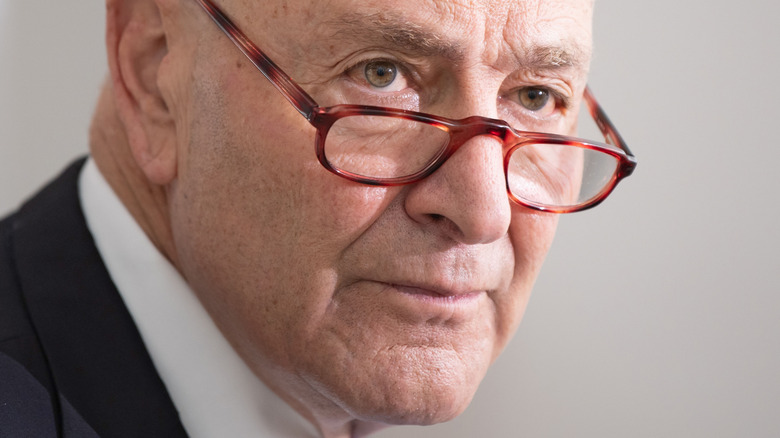 Ron Adar/Shutterstock
Thanksgiving will be a little less warm this year for the family of Senate Majority Leader Chuck Schumer, who announced on November 24 that his father, Abe, has died at the age of 98. 
The senator, who hails from New York, took to social media to share a family photo along with the announcement, as he said: "My father, Abe, 98, passed away this evening. In so many ways — he personified the greatest generation. He took whatever was thrown at him no matter how difficult, did his job, never complained. An amazing husband, parent, grandparent, great-grandparent. We love him & will miss him."
While his cause of death is not clear, the senator has said that his father had been in the hospital for some time because he was trying to recover from a medical procedure to treat a heart ailment, per the New York Daily News. On Veteran's Day, Schumer shared a photo of his parents, both in wheelchairs and proudly sporting masks with the American flag with the caption: "My dad, Abe, is 98 years old. He served our country proudly in the Pacific in WWII. And I'm thankful for all he's done for our country and our family."
Schumer's colleagues sent messages of sympathy
According to Senator Chuck Schumer's website, Abe was a native New Yorker who grew up in the upstate area of Utica and was a war veteran who operated radars for flights going over the Himalayas during World War II. After the war, the elder Schumer is said to have taken over the family's exterminating business — and it was through his father's experiences that Chuck Schumer says he learned about the struggles experienced by entrepreneurs who had set up small businesses.
The Senate Majority Leader's social media feed was filled with messages offering sympathies for his family's loss. Republican Senator Chuck Grassley reached across the aisle to send his condolences, saying, "From one Chuck to another I'm sorry to hear of the death of Sen Schumer's father Barbara & I are praying for the Schumer family."
New York Governor Kathy Hochul, who replaced Andrew Cuomo in August, also tweeted at Schumer, saying, "Bill and I send our deepest sympathies, Senator. May his memory be a blessing."