Here's How Andrew Cuomo's Replacement, Kathy Hochul, Will Make History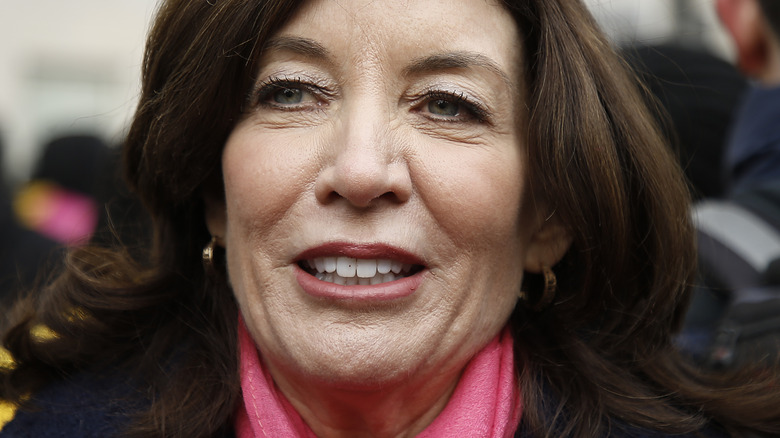 John Lamparski/Getty Images
New York State Governor Andrew Cuomo made shockwaves around the country today when he announced his resignation from his role (via NPR). Cuomo's resignation comes on the heels of Attorney General Letitia James's official 165-page report that Cuomo sexually harassed 11 women and, upon one of his accusers coming forward, attempted, alongside his advisors, to retaliate against her.
Cuomo's first two accusers, former aides Lindsey Boylan and Charlotte Bennett, first came forward in February, at which point more women shared their experiences of Cuomo being inappropriate with them, be it forcibly touching, kissing, or making inappropriate comments. Boylan said there was a "a culture within his administration where sexual harassment and bullying is so pervasive that it is not only condoned but expected."
"This is a sad day for New York because independent investigators have concluded that Governor Cuomo sexually harassed multiple women and, in doing so, broke the law," James said in her press conference simultaneous with the report's release. "No man — no matter how powerful — can be allowed to harass women or violate our human rights."
Although Cuomo denied the findings of the report, calls for him to resign came fast and furious — most notably from President Joe Biden.
"I think that, given the circumstances, the best way I can help now is if I step aside and let government get back to governing," Cuomo announced.
New York State's first female governor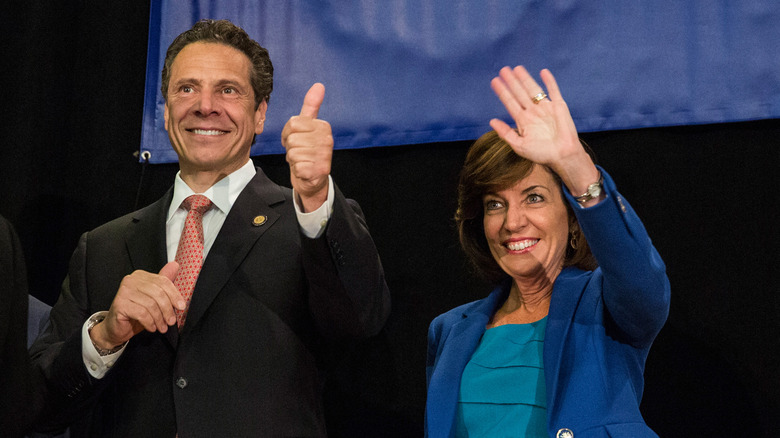 Andrew Burton/Getty Images
With Cuomo's resignation — which becomes effective on August 24 — Lieutenant Governor Kathy Hochul assumes the office of Governor. In doing so, Hochul will become the first female governor in New York State history (via New York Times).
"Kathy Hochul, my lieutenant governor, is smart and competent," Cuomo said upon announcing his resignation. "This transition must be seamless. We have a lot going on. I'm very worried about the Delta variant ... but she can come up to speed quickly."
Hochul previously served as a U.S. Congresswoman, representing upstate New York, from 2011-2013. Cuomo selected her as his running mate when he sought office in 2014 (via FastCompany).
"More than anything else, she was tenacious," Hochul's former boss and mentor Congressman John LaFalce recalled. "She just turned the stone as many ways as you could to see what was underneath it and she didn't let it go. By the same token, she was probably the most popular person in the office."
Hochul released a statement as the news of Cuomo's resignation broke, writing "It is the right thing to do and in the best interest of New Yorkers. As someone who has served at all levels of government and is next in the line of succession, I am prepared to lead as New York State's 57th governor."
If you, or anyone you know, have been a victim of sexual assault, help is available. Visit the Rape, Abuse & Incest National Network (RAINN) website or contact RAINN's National Helpline at 1-800-656-HOPE (4673).