This Is How You Should Be Using Leave-In Conditioner Based On Your Hair Type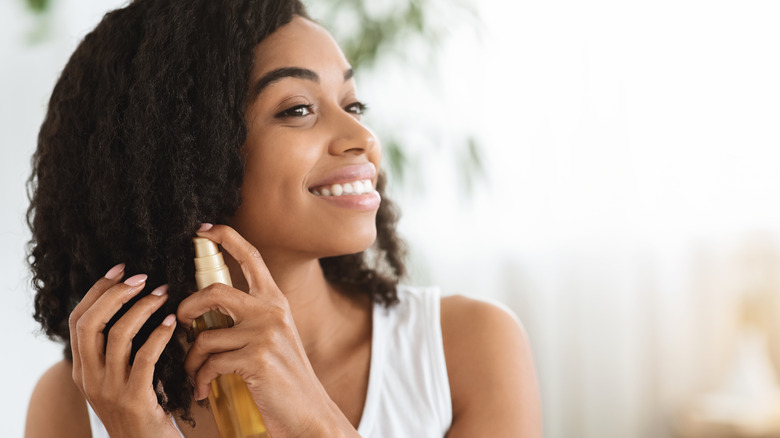 Prostock-studio/Shutterstock
No matter your hair type, a leave-in conditioner can impact the health of your hair and help you achieve the locks of your dreams. As Bustle reported, a leave-in conditioner can nourish dry and damaged hair without weighing down even the finest strands. "Leave-in-conditioner is a lightweight product that provides extra moisture, detangles, and prevents hair damage," celebrity hairstylist Angela Stevens told Bustle. "Unlike normal conditioner, leave-in-conditioner does not need to be rinsed out and is suitable for all hair types, particularly dry, color-treated, or curly hair." As its name suggests, leave-in conditioners are typically applied to damp strands, and, compared to deep conditioners, are actually not rinsed out of the hair after application.
For starters, a leave-in conditioner is essential for those who use heated tools, like straighteners, blow dryers, and curling irons on a regular basis. A leave-in conditioner like the Dae Cactus Flower Leave-In Conditioner can be applied to damp hair prior to the use of heated tools, as it protects your hair from up to 450 degrees of heat, per Cosmopolitan. On a similar note, damaged hair will benefit from a leave-in conditioner, like It's A 10 Miracle Leave-in Conditioner, which contains ingredients like amino acids, argan oil, and green tea leaf extract that repair current damage and protect against future damage, according to Bustle.
Leave-in conditioners can benefit all hair types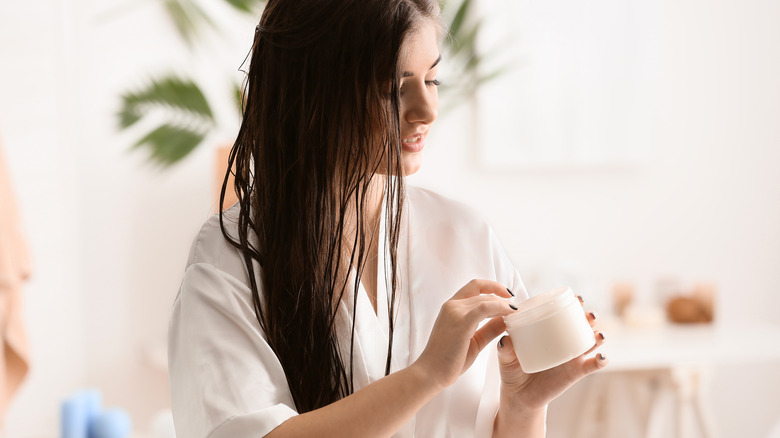 Aquarius Studio/Shutterstock
Can't find a way to quench those thick, curly locks? Try a leave-in conditioner. Women with natural hair will benefit from leave-in conditioners that protect from heat damage, reduce breakage, and contain ingredients like shea butter and manuka honey that treat brittle and frizzy hair, according to Byrdie. Curly hair will benefit from a thick, frizz-reducing leave-in conditioner that doubles as a lightweight styling cream to enhance the natural curls, like the Kinky-Curly Knot Today Leave-In, per Bustle. If your hair is wavy, find a leave-in conditioner that can be applied to damp hair prior to brushing and styling that can assist in detangling, fighting frizz, and adding a bit of definition to your waves. According to Cosmopolitan, the best leave-in conditioner for wavy hair is the Ouai Leave-In Conditioner.
On the other end of the texture spectrum, fine hair can also benefit from a powerful leave-in product. If you have thin or fine hair, you should be searching for leave-in conditioners that moisturize and build follicle strength. According to Bustle, those with this hair type should only be applying leave-in conditioning products to the ends of your hair in order to avoid a greasy situation up top. Along the same vein, those with incredibly short hair should be applying a lightweight, moisturizing leave-in conditioner from mid-strands to the ends of the hair.