The Heartbreaking Death Of Broadway Composer Stephen Sondheim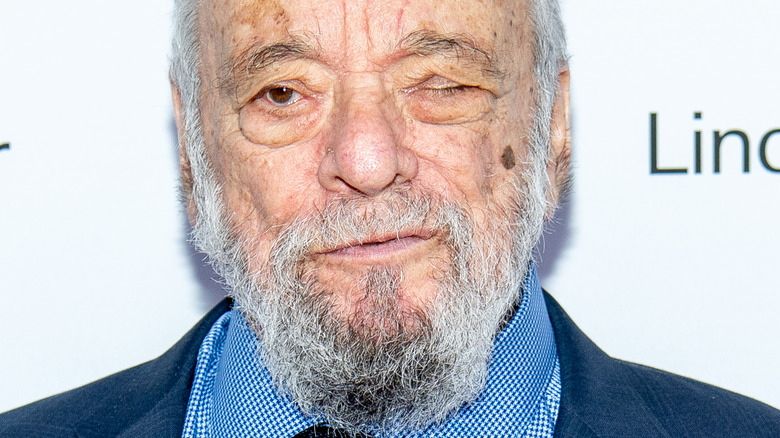 Roy Rochlin/Getty Images
The theater world has lost one of its giants. Stephen Sondheim, the acclaimed composer of such Broadway hits as "Into the Woods," "Sweeney Todd: The Demon Barber of Fleet Street," and "Company," has died at age 91. The New York Times and other outlets confirmed that Sondheim died at his home in Connecticut.
The New York-born son of a designer and dress manufacturer was lucky enough to be grade-school classmates with the son of Oscar Hammerstein, who would become his mentor, per Vanity Fair. After studying music at Williams College, Sondheim broke into Broadway as the lyricist for Leonard Bernstein's classic musical "West Side Story." (He later admitted being reluctant to do it, because he didn't want to be thought of as just a lyricist.) His next gig was as lyricist for "Gypsy," and his clever rhymes and turns of phrase impressed even the great Cole Porter. Sondheim's first credit as composer/lyricist was "A Funny Thing Happened on the Way to the Forum," in 1965. 
From there, Sondheim and his work both blossomed, as he helped transform musicals beyond simple song-and-dance entertainment into thought-provoking theater works. 
Stephen Sondheim redefined musical theater
Stephen Sondheim often chose unusual subject matter for his musicals. "Sweeney Todd" is the tale of a murderous Victorian-era barber out for revenge; "Assassins" gives voice to political villains like John Wilkes Booth (via Encore Tickets). Even "Into the Woods," a mash-up of familiar fairy tales, turns dark in its second act as the characters realize that "wishes come true, not free." (Bernadette Peters, seen here, starred as the Witch in the original production.) 
Sondheim received multiple Tony Awards for his work, including one for Lifetime Achievement. His honors also include the Pulitzer Prize for drama (for "Sunday in the Park With George") and the Presidential Medal of Freedom, conferred by Barack Obama (via The Washington Post), as well as a Broadway theater named in his honor. Not content to retire, the prolific composer was working on another musical at the time of his death. Titled "Square One," it had just had a preliminary reading with Peters and Nathan Lane in the leads (via Broadway World). Sadly, this project will likely be buried along with him. 
In a statement (via The Guardian), producer Cameron Mackintosh eulogized: "The theatre has lost one of its greatest geniuses and the world has lost one of its greatest and most original writers. ... But the brilliance of Stephen Sondheim will still be here as his legendary songs and shows will be performed for evermore. Goodbye old friend, and thank you from all of us."