Celebs Mourn The Death Of Stephen Sondheim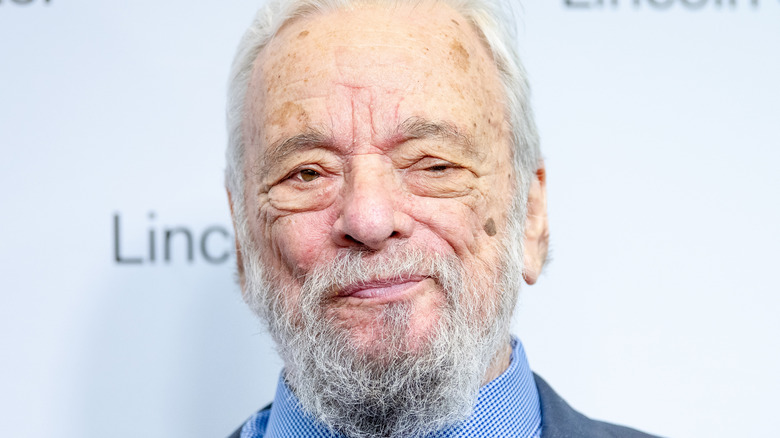 Roy Rochlin/Getty Images
The lights are burning much less brightly on Broadway following the death of Stephen Sondheim. The incomparable composer and lyricist of such musicals as "Sweeney Todd" and "Into the Woods" died suddenly at his Connecticut home on November 26, 2021 (via The New York Times). Despite his age of 91, the news of his death came as a shock to the theater world. A revival of his show, "Company," just reopened in New York, and he was reportedly working on yet another show (via Broadway World).
Naturally, tributes are pouring in from all over, including many well-known names. Hugh Jackman, a theatre vet himself, wrote on Twitter, "Every so often someone comes along that fundamentally shifts an entire art form. Stephen Sondheim was one of those. As millions mourn his passing I also want to express my gratitude for all he has given to me and so many more. Sending my love to his nearest and dearest."
Bradley Whitford, who plays Sondheim himself in the new movie "Tick, Tick...BOOM!," wrote a "Rest in Peace" message and included a longer eulogy that said in part, "Audacity is too tame a word to describe his fearless need to push the limits of what the American musical theater could contain."  
Acclaimed actress Viola Davis mourned, "RIP legend, icon, greatest composer Mr. Stephen Sondheim! The angels must be singing sir.....Godspeed! Thank you for leaving an incredible legacy." And Marlee Matlin recalled a memorable encounter, writing, "Remembering when Stephen Sondheim came to see our Deaf West show, 'Spring Awakening' but sat in the back of the theater and just took it all in. Broadway has lost a musical genius."
Another acclaimed Broadway composer sent a heartfelt tribute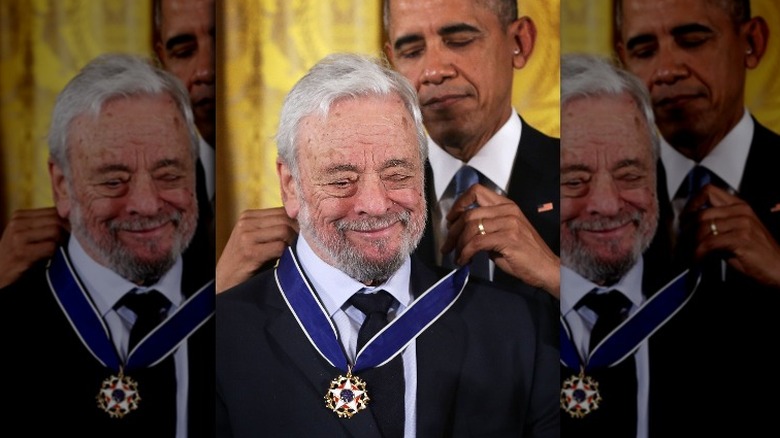 Alex Wong/Getty Images
Among the Broadway vets to eulogize Stephen Sondheim was Bernadette Peters, who starred in Sondheim's "Into the Woods" and "Sunday in the Park with George." She tweeted, "I am so so sad to lose my friend Steve Sondheim. He gave me so much to sing about. I loved him dearly and will miss him so much.  Thank you for all the gifts you gave the world Steve."
Andrew Lloyd Webber, a theater legend in his own right, wrote, "Farewell Steve, the musical theatre giant of our times, an inspiration not just to two but to three generations. Your contribution to theatre will never be equalled."
But the tribute that arguably stands out most came from Lin-Manuel Miranda, whose groundbreaking theatrical work wouldn't have been possible without Sondheim paving the way. He wrote, "Future historians: Stephen Sondheim was real." He went on to add, "Last week, when I wrote him to say his ears must be burning from the countless Sondheim kindnesses being shared from the generations of writers he mentored, he wrote this in reply." Attached was a note that Sondheim had written to Miranda, which said, "Thanks for the nice boost to my spirits, Lin. It's an aspect of my life I'm proud of. I feel as if I've repaid (partially, at least) my debt to Oscar." The "Oscar" in question was another legendary lyricist, Oscar Hammerstein, who mentored Sondheim early in his career (via PBS).
The "Hamilton" and "In the Heights" composer concluded, "Steve: you repaid your debt to Oscar 1000 times over. We love you. I love you. THANK YOU. "