Long Island Medium Theresa Caputo's Baby Shower Pic Has Fans Seeing Red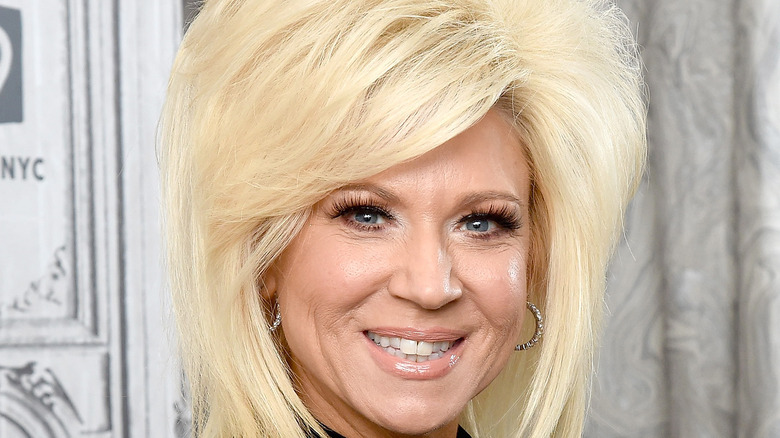 Gary Gershoff/Getty Images
Theresa Caputo, the star of "Long Island Medium," is famous for her ability to channel the spirits of the dearly departed and deliver messages of hope and comfort to their loved ones. But some of her fans think she should have consulted with someone in the great beyond before she chose her wardrobe for a recent special occasion.
Theresa's daughter, Victoria Caputo, was married in May 2021 to pizzeria owner Michael Mastrandrea in an elegant ceremony where the guests dressed in black and white (via E! News). The couple was eager to have a family, and their wishes came true. Just 12 weeks later, Victoria announced on Instagram that "a special delivery" would be arriving in February 2022. A gender reveal party in September 2021 brought the news that baby Mastrandrea will be a girl. Theresa was one of the guests who got to squirt pink paint onto the couple's white shirts, as this video shows.
Just before Thanksgiving 2021, it was time for the family to party once again, this time at Victoria's baby shower. As seen in yet another Insta post, guests gathered at the elegant Fox Hollow catering venue on Long Island for a festive day that included a pink-and-gold-themed floral photo wall, a doughnut wall, and drag performer Tina Burner, a "RuPaul's Drag Race" winner. Both mom and daughter posted photos to their social media accounts, including some of Theresa and Victoria together. Some fans were left swooning with joy, but others were less impressed.
Theresa Caputo's dress got mixed reviews
Both the mom-to-be and the proud grandma-to-be wore eye-catching dresses to the baby shower: Victoria Caputo wore a long lacy dress from Pink Blush Maternity, while Theresa Caputo wore a fitted dress with a colorful pattern resembling spray-painted graffiti — she tagged Dolce & Gabbana in her caption. "There are no words for the feeling of your baby having a baby," she wrote. 
"Long Island Medium" fans sent hundreds of congratulatory messages, many of which focused on the women's dresses. Theresa's choice of outfit got mixed reviews. Among the raves were comments like, "You women are so beautiful," "You are going to be the best sexy grandma ever Teresa," and "Omg T that DRESS (flame emojis)," were among the positive comments. 
Then there were the naysayers, some of whom felt that Theresa was trying to steal her daughter's thunder with such an attention-getting dress. One said, "Theresa I love you BUT why can't you dress down a bit and let your daughter be the stand out. Just sayin." Theresa's trademark 'do — a cross between a beehive and a mullet — left one commenter saying, "There are no words for that hair." One follower wasn't taken with either outfit. "She looks like she is wearing her wedding gown, and the 1970s called for you," they wrote. 
One commenter made it clear that they're a fan of the "Long Island Medium" star, but not so much of her wardrobe choice. "First, I love you," they wrote. "2nd I would like to be in a place in my life where I'm standing in my closet with several outfit choices and thinking to myself 'which is the most appropriate for my daughters baby shower' and this is the choice I make."