How Ron DeSantis Saw A Glimpse Of Fame As A Child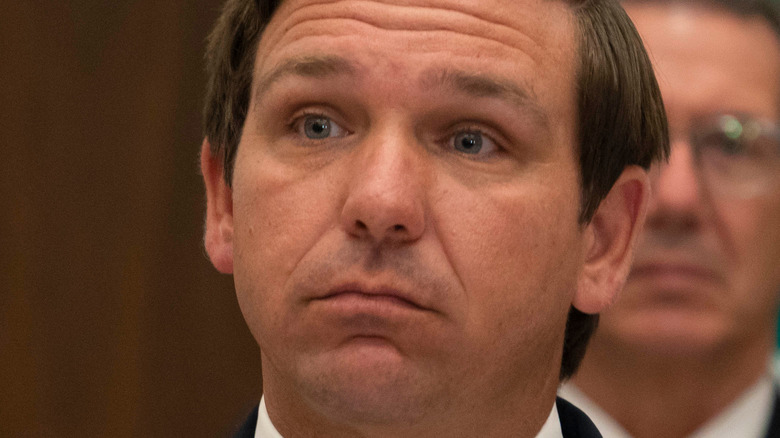 Hunter Crenian/Shutterstock
Florida Governor Ron DeSantis is one of the most well-known Republican governors as of this writing. His controversial handling of the coronavirus pandemic, in which he rejected mitigation methods in the beginning and then banned schools from having mask requirements when the 2021 school year started (via NBC News), has earned him the nickname "Ron DeathSantis" (via Florida Politics Review) in some political circles. After all, on September 13, 2021, nearly 1,000 Floridians died from COVID-19 over the prior three-day period, according to News 10.
Some even say that DeSantis is planning to run for president in 2024 using a very Trumpian campaign, with former president Donald Trump being someone who shunned the use of masks during the pandemic's first year while he was still the country's commander-in-chief. In fact, as Florida Politics reports, a November poll from Echelon Insights shows DeSantis ahead of all other potential GOP nominees if Trump does not run. Clearly, DeSantis is a man who seeks fame and even saw a glimpse of it during his childhood years.
Ron DeSantis found fame with America's favorite pastime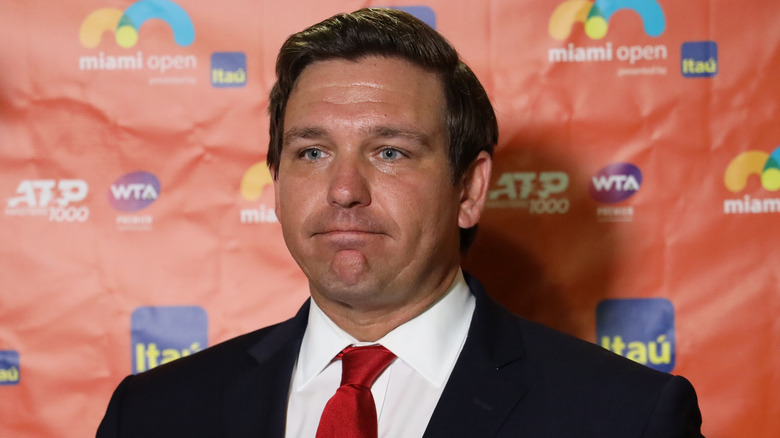 Leonard Zhukovsky/Shutterstock
Ron DeSantis may be all about politics now, but as many young boys are, when he was young he loved sports, especially baseball. A native Floridian, DeSantis was a member of the Dunedin National Little League Team. The team did so well way back in 1991 that they made it to the Little League World Series in Williamsport, Pennsylvania that year, according to Money Inc.
Baseball even followed DeSantis into his college life where he was captain of the varsity baseball team while earning his undergraduate degree at Yale University in Connecticut, via Money Inc. After college and then law school at Harvard, as well as a stint in the Navy, DeSantis seemed to veer from his baseball roots and began edging into politics, first as a federal prosecutor and then as a member of the House of Representatives in 2012 (via The National Governors Association). He remained in Congress until he was elected to the Florida governorship in 2019.