The Sweet Way Jennifer Aniston Celebrated 1 Year With Her Dog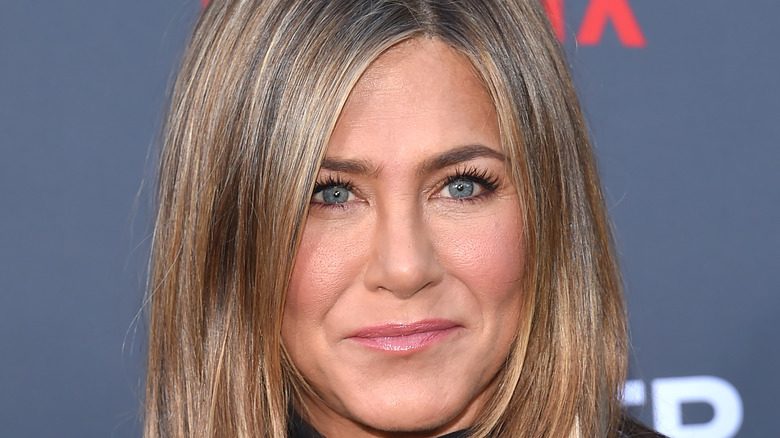 DFree/Shutterstock
There are celebrities we just love to keep up with and Jennifer Aniston falls squarely in that category. The actress of "Friends" fame has been adored for years since she captured the imagination (and millions of hearts) as Rachel Green on the NBC show. Watching the actress for 10 seasons (and marathon-watching once yearly afterwards) has reserved for her an unending measure of goodwill and affection that effectively makes her happiness the happiness of numerous "Friends" fans.
Speaking about how she maintains her happiness these days, the 52-year-old told People in June that she's pretty keen on therapy. "I've really gotten a lot of therapy," she said. Being a famous person has its perks but can also be a bit destabilizing and if anyone would understand the magnitude of that, surely it is Aniston who has been in the public eye since her breakthrough in 1994. "Just being a public person, there's a lot of amazing things that come with that. But there's also a lot of tough stuff because we're only human, and we tend to walk around with bulls-eyes on our heads," she confided in People.
However, nothing seems to be killing her joy or dulling her spark these days, not with the positive energy she experiences with the amazing people in her life, and surely not with her adorable dogs!
Jennifer Aniston celebrated her dog's first birthday — and it was just too cute
One of the biggest bundles of joy in Jennifer Aniston's life right now is Lord Chesterfield, a white Great Pyrenees mix that the "Friends" alum adopted a year ago (via Best Life).
Commemorating the anniversary of the canine's entrance into her life, she posted a bunch of cutesy social media photos alongside a beautiful caption loaded with affectionate emojis. "One year with my lovable, squeezable, I'll call it... talkative (barks at air), cuddly, and not-so-little-anymore Lord Chesterfield," she wrote on Instagram.
Aniston has been open about the journey of Lord Chesterfield's adoption from the very beginning, sharing his arrival in 2020 with her teeming followers on social media. "Hi! I'd like to introduce to you the newest member of our family ... this is (a very tired) Lord Chesterfield. He stole my heart immediately," she wrote at the time (via Instagram).
The dog mom has two other canine darlings that she dotes on, according to the Daily Mail — a grey Schnauzer mix named Clyde and a black and white Pit Bull mix lovingly called Sophie, per Pets Radar.
"I'm in a really peaceful place... I have people in my life who are everything to me, and I have beautiful dogs," she told People earlier this year, before adding that: "I'm just a very fortunate and blessed human being." Particularly because of these three furry family members of hers, we really couldn't agree more!