Inside Heidi Klum's Relationship With Naomi Campbell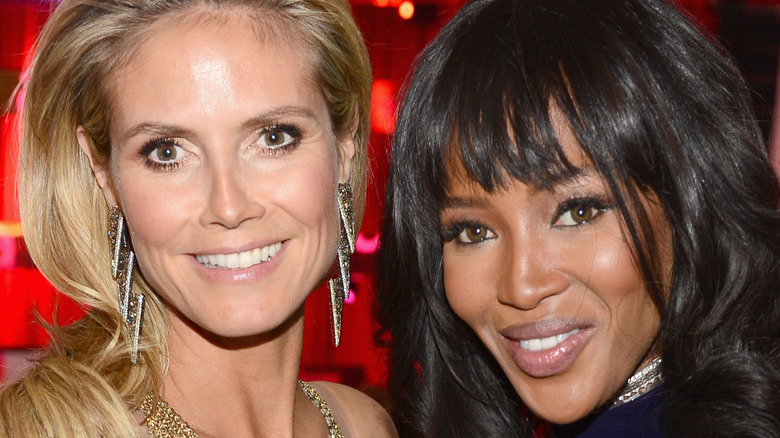 Dimitrios Kambouris/Getty Images
The '90s brought with it change and prosperity. The United States saw the rise of grunge, Microsoft, and supermodels (via Google Arts & Culture). The era was ushered in by a prominent, now-historic black and white photo on the cover of the January 1990 Vogue featuring Naomi Campbell, Cindy Crawford, Linda Evangelista, Tatjana Patitz, and Christy Turlington, all in the nude.
"Using black-and-white photography was really important in creating the supermodel. Every time I tried to shoot them in color, because their beauty was close to perfection, it ended up looking like a bad cosmetics advert. With black and white, you can really see who they are. It toned down the commercial interpretation that color gives. What's so striking about black and white is how it really helps a sense of reality to come through," the picture's photographer Peter Lindbergh explained.
While the five models had been working through the 1980s, in the 1990s they became known as the "Original Supermodels" or "The Big Five." Over time, other models like Kate Moss and Claudia Schiffer would ascend to their ranks as well. By the late '90s, so too would Heidi Klum and Tyra Banks.
And as in any high pressure career, competition can breed some unfriendly rivalries. Such is the case for Naomi Campbell and Tyra Banks, certainly, but how about Naomi Campbell and Heidi Klum (via Goalcast)?
Klum's high praise for Campbell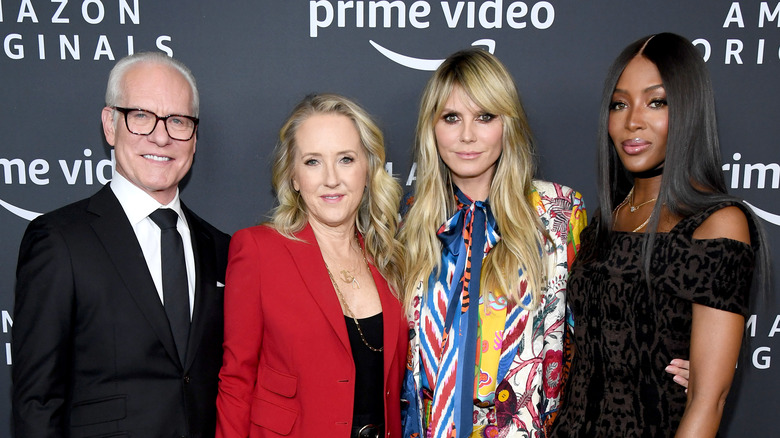 Kevin Mazur/Getty Images
When you run in the same circles as someone, odds are good that you might end up in the same dating pool. Such was the case for Heidi Klum and Naomi Campbell. In the late '90s, Campbell began dating Italian businessman Flavio Briatore (via The Sun). The pair became engaged in 1999, but split four years later, with Campbell telling outlets at the time, "I'm not going to be a trophy."
Not long after, Briatore began dating Klum. Although Klum quickly became pregnant by Briatore, the two went their separate ways before their daughter, Leni, was born in 2004. In 2009, Klum's then-partner Seal formally adopted Leni.
While sharing an ex of this significance would typically drive a wedge between friends, this doesn't appear to be the case for Klum and Campbell. When Klum was putting together her reality show "Making the Cut," she recruited Campbell to be a judge, telling Vanity Fair, "She's a real fashion icon. She also isn't afraid to speak her mind."
Like any regular pair of friends, supermodel or otherwise, Klum and Campbell still clash from time to time — most notably on Klum's show (via People). However, drama makes for good reality TV, and if there's anyone who knows that firsthand, it has to be Klum and Campbell.