Here's What Camila Cabello Looks Like In Real Life Vs. Instagram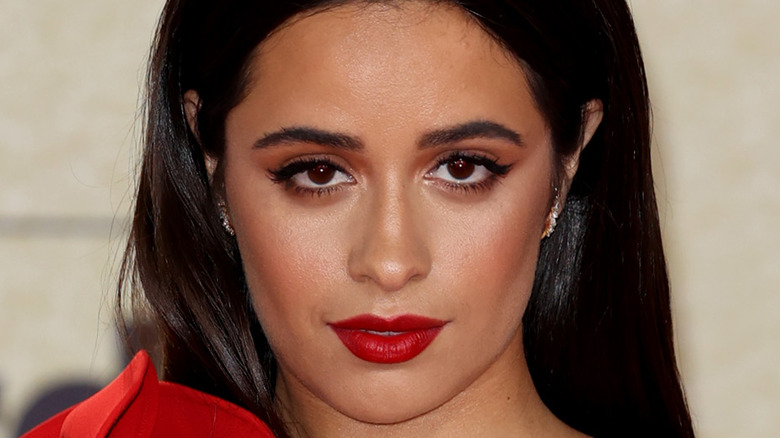 Rodrigo Varela/Getty Images
Before the advent of social media, celebrities were at the mercy of paparazzi every time they dared to venture out in public. Now, it's easier for famous types to control the narrative. Whether they're posting supposed "no-makeup" selfies on Instagram or keeping it glam 24/7, it's easier for them to dodge potentially unflattering street pics. 
But at this stage, we all know that Instagram isn't real. Even behind-the-scenes images are heavily curated, meaning it's hard to know what someone actually looks like. Although icons like Madonna rarely let the veil slip, younger A-listers are more likely to be snapped while going fresh-faced, or in workout gear with messy hair. This is the case with newly single pop star Camila Cabello, who is frequently spotted around LA without a stitch of makeup on. Although the "Señorita" hit-maker is no stranger to getting glammed up for the red carpet, she's also comfortable keeping it low-key in her day-to-day life.
Camila Cabello isn't afraid to cut a casual figure
These days, you're (thankfully) less likely to see celebrities being shamed for having cellulite or for putting on a few pounds. In fact, after being photographed jogging with her stomach out in all its glory — you know, the way many people look when they're running in a crop top — Camila Cabello took to TikTok to celebrate her "curves and cellulite and stretch marks and fat," rather than hiding. The pop star also flat out refused to apologize for not "tucking it in" for the photos. 
During an August 2021 appearance on U.K. talk show "Lorraine" (via Hola!), Cabello opined that social media can be useful for setting the record straight about what's truly real. "For me, like posting about that video that I posted about my body and being like, 'I have cellulite and stretch marks and gain weight sometimes and that's normal' — having messages like that feels really liberating," she admitted. 
Although Cabello has to take a break from the conversation at certain times, the "Cinderella" star acknowledged that she likes to keep it real on her social platforms. "The thing I'm thankful for social media is that it lets me kind of take control of my own narrative and actually share who I am, as opposed to people telling other people who they think I am," she told Hola! Cabello's expression in the above photo says it all — she knows she has nothing to be ashamed of.