Donald Trump Jr.'s Comments On LeBron James Have The Internet Seeing Red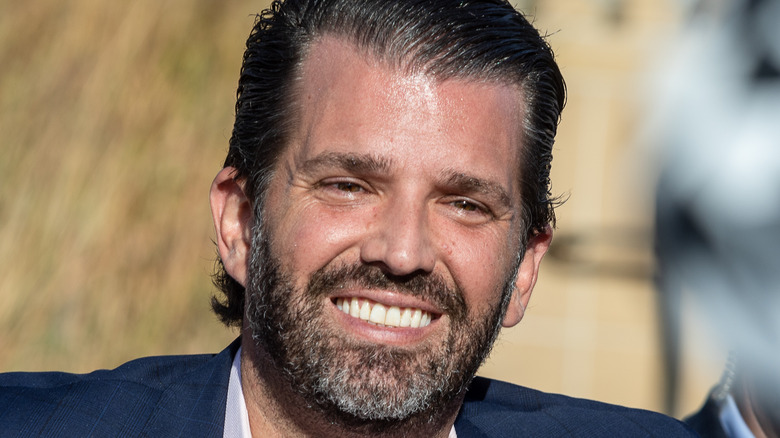 Chris Manning/Shutterstock
On Sunday, a pair of hecklers were ushered from the Los Angeles Lakers-Indiana Pacers basketball game in Indianapolis after making inappropriate comments directed toward Los Angeles Lakers player LeBron James. According to Fox News, James was actually the one who alerted referees to the violation of the NBA Fan Code of Conduct. While it is unclear exactly what the fans said to James, there is a theory circulating social media that the two hecklers were making threatening or derogatory remarks about James' children. "When obscene gestures and language come into it, (it) can't be tolerated," James told reporters after the game concluded with a win for the Los Angeles Lakers, per USA Today. "There's a difference from cheering for your team and not wanting the other team to win and things I would never say to a fan and they shouldn't say to me."
Though they were ejected from the game, according to Fox News, the man and the woman who have yet to be identified did not receive a lifetime ban for their mysterious actions during the game on Sunday. However, a comment about this exchange between James and the ejected fans made by Donald Trump Jr. is still making headlines.
Donald Trump Jr. called LeBron James a b**** on social media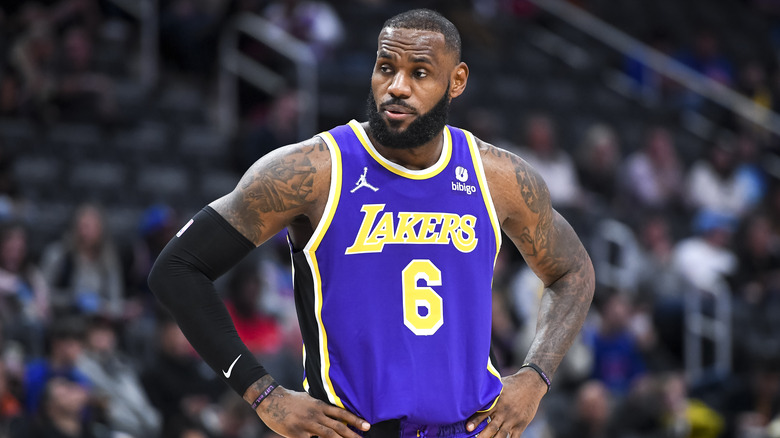 Nic Antaya/Getty Images
In two Instagram posts made on his official account, former President Donald Trump's son, Donald Trump Jr., poked fun at the incident that took place between LeBron James and the unruly fans at the Los Angeles Lakers-Indiana Pacers basketball game on Sunday. The first post featured a video of the interaction between James and the fans, along with the caption, "Is there a bigger b**** in pro sports than LaSnitch?" The second Instagram post turned the interaction into a meme, with Trump Jr. putting a "Karen" wig on James and captioning the photo, "LaKaren wants to speak to the manager!!!"
Almost immediately after posting those comments about James to his Instagram page, fans of James were quick to throw shade at Trump Jr. "Don Jr. out here calling Lebron James a b****," a Twitter user said. "I'm sure Donny would definitely say that in Lebron's face. He's the roughest, toughest trust fund baby ever seen." Other Twitter users were quick to point out the fact that, while James has worked hard for his fame and accomplishments, Trump Jr. is famous for being Donald Trump's son. Donald Trump Jr calling LeBron James a "b****" for having a couple sitting court-side kicked out of a game for saying, 'I hope your son does in a car wreck.' Don Jr — literally no personal accomplishments. Born white. And rich. The end. Here's LeBron's legacy..." another Twitter user said while retweeting a post detailing the basketball player's accomplishments.