Here's What Goldie Hawn Looks Like Going Makeup-Free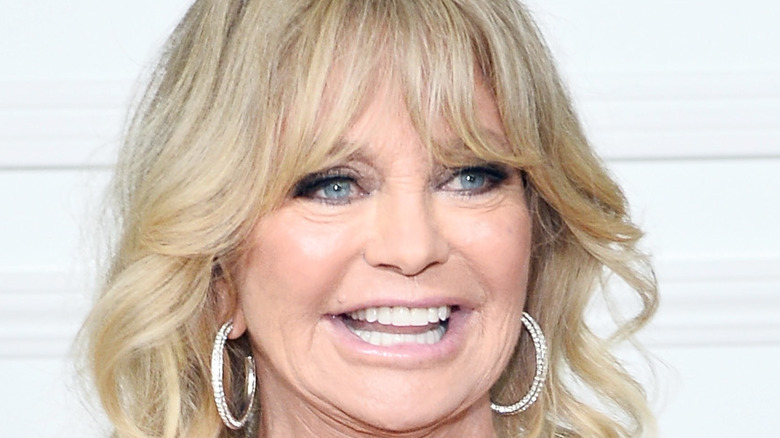 Stefanie Keenan/Getty Images
Goldie Hawn somehow gets more beautiful with each decade that passes. The actor turned 75 in 2021, and, per British Vogue, Hawn has lost none of the glamour that first brought her to international prominence. 
It helps, of course, that the stunning star has another living legend by her side in the form of longtime partner Kurt Russell. Per Page Six, the A-list couple first became romantically involved all the way back in 1984, after working together on "Swing Shift." They never got married, purely by choice. 
"We like the choice and we chose to stay," she said. "We're always asked why we are not married. Why? What is marriage going to do for us?" The actors are content with sharing their lives together, being happy, and growing old in style. 
Clearly, having Russell by her side has been good for Hawn. She doesn't appear to be overly concerned with growing older in the public eye, either, mainly because Hawn takes excellent care of herself behind the scenes, as evidenced by this makeup-free shot.
Goldie Hawn embraces aging to an impressive extent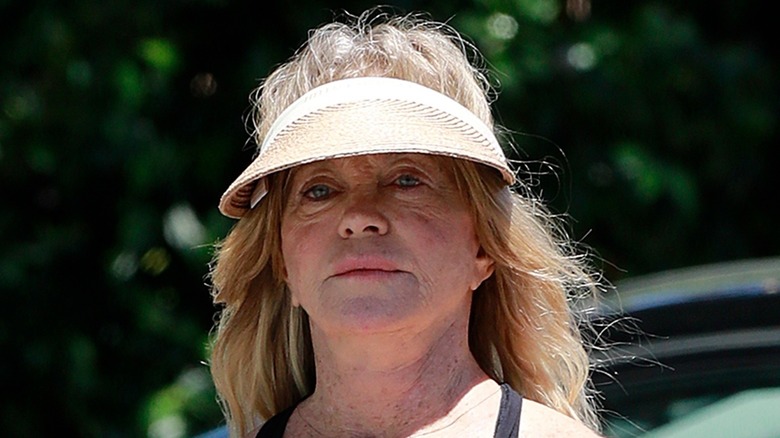 Backgrid
Goldie Hawn isn't hiding her makeup-free face from anyone — and rightly so. While female celebrities are consistently celebrated for defying the aging process, the "First Wives Club" star seems content to simply let time do its thing. 
It helps that she remains totally gorgeous in her later years, of course, but when questioned about what the "secret" to looking great at any age is, Hawn told People, "I don't have one. I really don't."
She elaborated: "It's not a secret. I try to drink my juices. I try to work out every day a little bit. I find moments in the day. I have short meditation spurts during the day, if I don't have a long one in the morning, which sometimes the phone rings and you're off and running, but I do find time to get quiet. I hike. I bike. I try to have as much fun as possible."
As a friend close to the beloved star told Closer Weekly, "She always says you're as young as you feel, and she still feels like a 30-year-old. She's healthy and vibrant and comfortable in her own skin." Although Hawn claims not to have a secret to looking great at any age, the real secret is arguably that she constantly shines from within.
As the lady herself put it (via Closer Weekly), "If your eyes still look at life with wonder, then you will [feel] young!" No makeup required!