After The Queen Stepped Down As Head Of State, Barbados Gave Rihanna This High Honor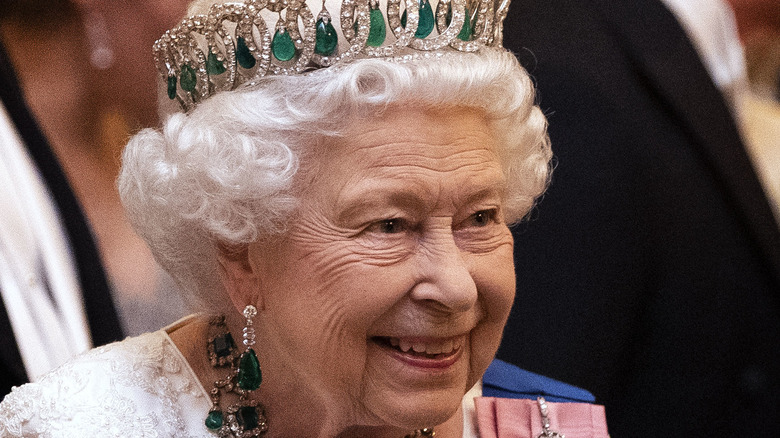 Wpa Pool/Getty Images
After serving as its head of state since the 1960s, Queen Elizabeth has officially stepped down from the role in Barbados. The country, which Great Britain colonized in the 1600s, gained its formal independence from the UK in 1966, but it wasn't until October 2021 that Barbados elected its first president and announced that it would "fully" leave behind its colonial past. The queen's duties as the head of state are mostly ceremonial, and she is currently the head of state of 15 other countries: Antigua and Barbuda, Australia, Bahamas, Belize, Canada, Grenada, Jamaica, New Zealand, Papua New Guinea, Saint Kitts and Nevis, Saint Lucia, Saint Vincent and the Grenadines, Solomon Islands, and Tuvalu (per Forbes). Jamaica has also expressed its desire to remove the queen as its head of state.
As for Barbados, leaders insist that the decision to remove Queen Elizabeth as its head of state isn't meant to be divisive. "Barbadians want a Barbadian Head of State. This is the ultimate statement of confidence in who we are and what we are capable of achieving. Hence, Barbados will take the next logical step toward full sovereignty and become a Republic by the time we celebrate our 55th Anniversary of Independence," Barbados Governor General Sandra Mason said during a speech (via NBC News).
And one of the nation's first acts as a new republic was to bestow this honor on one of its favorite citizens.
Rhianna is one of only 11 people to receive this honor from Barbados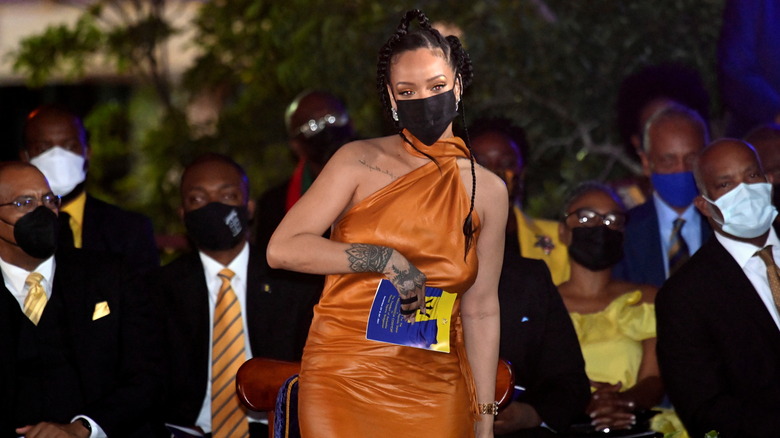 Pool/Getty Images
The prime minister of Barbados has completed one of her first duties in her new role: declaring Rhianna a National Hero of the country. The singer, who was born and raised in Barbados, received her country's highest honor during a November 2021 ceremony in Bridgetown. "On behalf of a grateful nation, but an even prouder people, we therefore present to you the designee for National Hero of Barbados, Ambassador Robyn Rihanna Fenty. May you continue to shine like a diamond and bring honor to your nation by your word, by your actions," Prime Minister Mia Mottley said during the event (per ABC News).
Rhianna, who is the 11th person and the second woman to receive the reward, has spoken frequently about growing up in the Caribbean nation. "I was just a little island girl riding bikes, running around barefoot and flying kits in the cemetery, but I had big dreams. Dreams that were born and realized right here," she said (per Caribbean Journal). And she hopes her success — the entrepreneur has reached billionaire status — can encourage other children to do the same. "...It feels good to be able to inspire young women and boys, who like me, come from humble beginnings, who come from parents who are immigrants or who are immigrants themselves, to be able to do this," she told Hot 97.